Cyberpunk 2077 is probably the most hyped game at the end of this year. Coming from the same developer behind the Witcher 3 – CD Projekt RED, the game promises to be a new masterpiece on both PCs and the next-gen consoles. In fact, you can even enjoy the game on macOS via the Geforce Now service. Cyberpunk 2077 has been officially released for a few days and it received a lot of controversial comments. Most players seem to love its gameplay, story, and amazing graphics. On the other hand, there have been reports of bugs and glitches. So what exactly are these bugs and glitches and is Cyberpunk 2077 still worth buying now? Let's find out.
An Overview of Cyberpunk 2077
Cyberpunk 2077 is an open world game set in a futuristic world. You will play as V, a mercenary outlaw going after a one-of-a-kind implant that is the key to immortality. The game also boasts a bit of star power: the "Matrix" actor Keanu Reeves portrays Johnny Silverhand, a character in the game. Storyline, it's very well-written. To avoid spoilers, we can only say that it's has everything: life lessons, humor, and touching moments.
Its gameplay is a mix of action, FPS, and RPG. If you have played other games like GTA V, Borderlands, or Sleeping Dogs, it will take no time for you to get used to this game mechanic. As V discovers the fictional Night City, you will fight crime, do jobs, discover secrets, solve puzzles, build relationships with NPC, and much more.
The RPG elements in this game are also quite diverse. With every level or cornerstone you've achieved, you will get perk points that can be used to boost your character abilities. In addition, there are also a wide range of equipment and modes to further help customize your own playstyle. With the right build, you can be a silenced hitman, a razor-fast assassin, long range hacker, or a berserking brute.
The Graphic is just tremendous. Any little details are well crafted and fit the future theme well. The cars, the buildings, or even people design are very detailed. It's not a surprise if you spend hours just to witness all the corners of the beatiful Night City
Performance
When it comes to the performance, Cyberpunk 2077 has done a quite nice job. We ran some test on a mid-range-specced PC with medium presets and the game can run smoothly and still provides a tremendous graphic experience. Here are our specs:
CPU: Intel Core i5 -9400F @2.9GHZ
RAM: 16GB Kingston
GPU: GeForce GTX 1660 Super 6GB GDDR6
Mainboard: MSI B365M Pro VH
SSD: 256GB king specs
OS: Windows 10 64-bit
On this setup, we are able to run the game smoothly at 50 – 60 fps with everything set to Medium.
We barely experienced any fps drop during gameplay. In fact, the only time we got a spike in frame rate is when we move our character from a specific zone of the NightCity to another one. Even in intense combat with flashy effects, the game still ran stably at roughly 50fps.
On top of that, Medium-graphic settings don't mean blurry or pixelated graphics. We might not get the same graphics experience as what we saw in the trailers, but every aspect of the game is still detailed and gorgeous.
If you have a more powerful setup, especially with a stronger GPU, you will be able to play the game with higher graphics. Furthermore, if you have a high-end graphics card, you can enable Deep Learning Super Sampling (DLSS) that boosts your frame rates.
The Bug and Glitches
Unfortunately, Cyberpunk 2077 still has quite a large amount of bugs and glitches that can worsen the player's experience. Complaints about the game's performance began not long after it was released on Thursday. Gamers took over the social media with voice frustrations over error messages and other performance problems.
At first, you may find some hilarious glitches like T-Posing character, invisible car, or naked NPCs that appear around the map. Next, you may find some graphic bugs like broken shadows or grainy display.
However, there are also some game-breaking bugs that kill your character, or prevent you from progressing through the story. Most of the time, these bugs can be dealt with by reloading the latest save point. However, this also means that you have to sacrifice up to hours of playtime just to fix a dumb glitch or bug. This is especially annoying if you got some neat drops and have to reload your game again.
Developer's Actions
Unlike many developers nowadays, CD Projek RED knows how to learn from users complains and fix their game's problems. In fact, the studio has enacted the 1.04 update that fixes a lot of the graphic issues and frame rate drops, especially on the base PS4 and Xbox One.
In addition, the developer has announced on Monday that they apologized and offered refunds to players who were disappointed in the game's performance, after days of complaints over glitches and poor visuals on console platforms following its release last week. The studio also promises that future updates will continue to improve the game as well as bring big playable content to players. Specifically, a round of updates will arrive within the next week, followed by larger patches in January and February.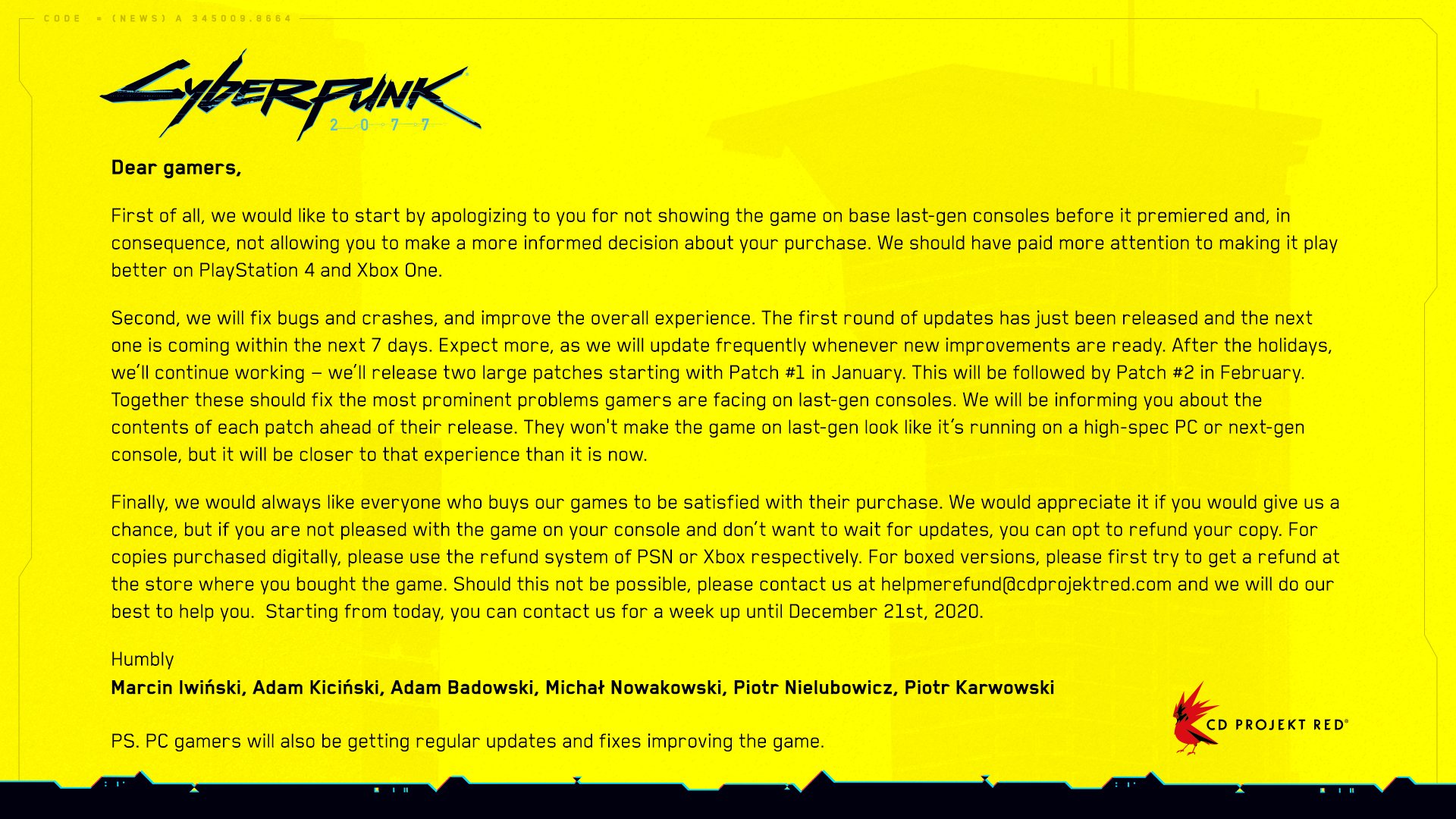 All the Cyberpunk updates are also said to be available for Free with users who purchased the game on both PC and consoles.
Is Cyberpunk 2077 is still Worth Buying now?
In our opinions, YES!. Even though there are still some flaws, you will have an amazing experience with this game. As mentioned, big updates are coming soon that will improve the gameplay and bring new content. However, if you now have a base PS4 or Xbox One, then we recommend you wait for the update. The performance on the base last-gen consoles is inacceptable with lags, frame-rate drops, and crashes.
Are you experiencing bugs and glitches in Cyberpunk 2077? Let us know in the comments below.
Was this article helpful?