Apple recently introduced the new M1 Mac models that come with performance boost while leaving the design unchanged. The new lineup has impressed any Mac fans since launch day. However, there is a big concern amongst M1 Mac adopters that the new M1 Macs do not support the Boot Camp Assistant. This is a tool that allows users to install the Windows OS on Macs running x86 chips. Luckily, we got some good news today: It is possible that x86 Windows Apps will run on Apple M1 Mac via software called CrossOver.
So what is CrossOver? How does it work? And how can this software run x86 Windows Apps on the new ARM-Based Mac? Let's find out in this article.
What is CrossOver?
Like Parallels Desktop, CrossOver is also a popular alternative to BootCamp Assistant to run Windows software on your Mac. It was developed by CodeWeavers based on the WineProject. The app costs about $15.95 per year, but users can get a 14-day free trial. You can check out the CodeWeavers home page for more details.
How Does It Work
With Boot Camp, you will need to install the Windows OS itself directly on your Mac in order to run Windows software. This is not always convenient as it can take up a huge amount of storage and resources on your Mac. Besides, you will have to restart your Mac anytime you want to switch to another operating system.
Meanwhile, CrossOver allows you to install popular Windows programs on Mac OS without any virtual computer, rebooting, or even a full version of Windows. Everything you need to do is download it, set it up, and then use it to install the software you want. It will translate the application programming interface (API) of window apps into their Mac equivalents. In other words, once you install any Windows app via this tool, you can use these apps just like any app written for the macOS.
CrossOver Allows x86 Windows Apps to Run On the new M1 Macs
Both Apple and Microsoft have confirmed that at least for now, the new ARM-based Macs will no longer support Windows through Bootcamp. However, CodeWeavers, the developer of the CrossOver, has announced that CrossOver will work on the new M1 Mac lineup. Specifically, the latest version of this tool, CrossOver 20, will emulate Windows Intel binaries on macOS via Apple's Rosetta 2 technology, which emulates x86 binaries on the new Apple Silicone Mac hardware.
The developers have installed and run a number of Windows software and games including Among Us and Team Fortress 2. Although there were still freezes and lags during gameplay, it was a smooth experience. You can check out CodeWeavers blog here for the gameplay videos.
Currently, CrossOver 20 can only run on the macOS Big Sur 11.1 beta released recently in which Apple has applied new fixes for the Rosetta 2 technology. If you are running the latest beta version of macOS, you can now try Windows applications on the new Mac models with CrossOver 20.0.2.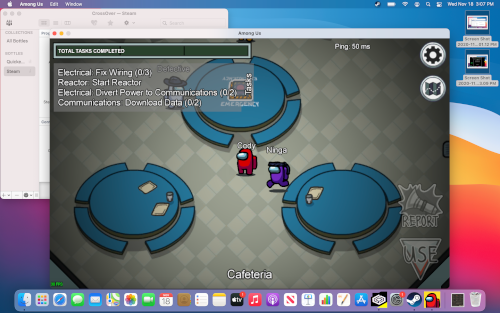 Do you play games on your Macs? Share with us in the comments below!
How To Install And Use Crossover on your Mac
These following steps will help you install and use crossover on your Mac:
Head to the Codeweaver download page and get Crossover
Go to your Downloads folder and locate the Zip file you downloaded.
Double-click the file to open it. Archive Utility will Open it up and decompress the contents of the archive.
CrossOver will then start for the first time and it will ask if you want to move the app to Applications. Click on the choice you want
On the next screen, click the Install a Windows Application button.
Type the name of the application you want to run. CrossOver will search its database and display appropriate matches.
Click on the application you want to run. CrossOver will display compatibility information on it from its database, telling you how likely and how well it will run on your Mac
Click the Continue button.
Click the Choose Installer File. A Finder window will slide down over the app and allow you to navigate to where you have the installation file stored.
Select the app's installer.
Click the Use this installer button. You'll return to the Select an Installer Source screen.
Click the Continue button. Keep in mind that CrossOver will not find and download the software you want to run for you. You actually have to have the installation file for the software you want to run.
When you install an application for the first time, CrossOver will create a bottle and automatically place your application in it. When you install new applications, CrossOver will also give you hints about which apps can work and play well in the same bottle.
Select a bottle and run your apps!
To find more about bottles and other tips, you can check out the official guide here
---
And that's how the Crossover will work! Do you play games on your Macs? Share with us in the comments below!
Was this article helpful?