You will find it extremely easy to transfer your files between your Mac and your iPhone or iPad, thanks to Apple's cohesive ecosystem. However, when it comes to transferring files between Mac and Android devices, it is not that simple. In this article, allow me to guide you on how to transfer files between Mac and Android devices using some simple methods. Let's check them out.
Use The Android File Transfer App
Knowing the disadvantages of the macOS when it comes to transferring files to Android, Google has introduced the Android File Transfer application for Mac users to deal with this issue. With this app, you can easily transfer your videos, pictures, or music via a USB connection. Everything you need to do is:
Download the Android Transfer App on your Mac, it's completely FREE here
Open the AndroidFileTransfer.dmg that you just downloaded.
Drag Android File Transfer to Applications
Double click Android File Transfer. A prompted notice windows should show up as a quick security check. Click Open to continue
Connect your Android phones with your Mac via a USB cable. The Android Transfer App will open up automatically. If it doesn't, check your notifications bar and change the USB settings to File transfer/MTP mode
In the App's windows, simply browse the files that you want and drag them to your desktop or any folder. On the other hand, you can also drag any files on your Mac to your phone storage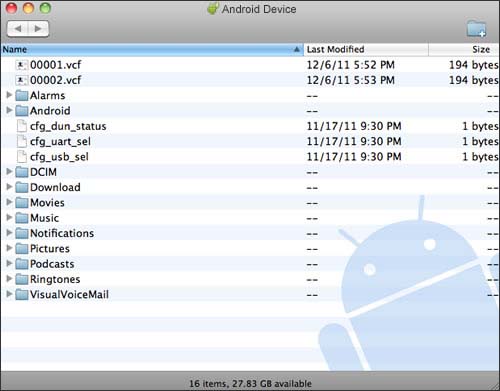 A quick note is that this app only supports macOS 10.7 or higher, so you may want to use the below alternatives if your Mac is running an older version.
Use Google Drive
In fact, iCloud is the key feature that makes it extremely easy to transfer files between Apple devices. Similarly, Google also has Google Drive for file sharing between Android devices and computers. Luckily, Google Drive is also available on macOS.
Everything you need to do is:
Open the Drive app on your phone. It should come installed by default or you can get it here
Log in with your Google Account
Upload all the files you need to transfer to your drive
On your Mac, head to the Google Drive site
Log in with the same Google Account that you are currently signed in on your phone
Download all the transferred files.
Vice versa, you can upload the files from your Mac and download them to your Android phones via Google Drive
Use Portals
If you don't want to use a USB connection or Cloud storage, Portals will help you share your files rapidly via Wi-Fi. This means they don't count toward your mobile data limit and the files will go through your devices very quickly. Here is what you need to do:
Connect your Mac and Android phone in the same Wi-Fi
Download Portals App on your phone here
Head to Portals website on your Mac
You will see a QR code here, open the Portals app on your phone, and follow the on-screen instructions to scan it
Now your Phone and Mac has been connected, you just need to drag the files from your Mac to the web browser and get them on your phone
When received, the music files will go into the Music folder and the images will go to Gallery. All other files will be saved in a new folder in the internal memory called Portal
However, there is a bad thing about Portal. It allows you to transfer your files from your Pc to your phone only.
There you go, now you know how to transfer files between your Mac and Android devices. Leave a comment if you have any questions!
Was this article helpful?