The Spooky Season is here!!!! It's the season of horror movies, scary costumes, and of course horror games. PCs are always the best platform to play horror games, but what about mobile devices? In fact, there are some great thriller games that are available on mobile that test your nerves during the spooky season. So today, I'd like to introduce you to the top 5 Android games for Halloween 2020
1. Into The Dead 2
This game is the sequel of the famous thriller/runner game "Into the dead", which has over 70 millions downloads on the Google Play.
The game is very simple yet challenging and thrilling. In the game, you embark on the journey to save your family, while trying to stay alive in a human-eat-human world. Equip yourself with a powerful arsenal and do whatever it takes to survive. All you need to do is to sweep, slaughter hordes of zombies or whatever is moving. In a world where no one is safe, how far can you reach and survive?
Try yourself for FREE here
2. Five Nights at Freedy's
Five Nights at Freedy's is a big name among horror fans worldwide. First released in 2014, the game quickly gained its popularity out there. The first game was a big success, which led to the launch of multiple sequels in the years that followed. The game is now available on all platforms.
The game is centered on a fictional pizza restaurant called "Freddy Fazbear's Pizza", where you play as the night security guard. However, you will have to defend yourself from the malfunctioning, homicidal, and haunted animatronic characters by tracking their movement through the facility using security cameras. The game is thrilling with tons of jump scares, which makes it one of the best games for Halloween. To be honest, this game scares the living daylights out of me every time I play it.
Each version of the game is available on the Play Store for $2.99. You can check them out HERE
3. Dead Effect 2
Dead Space is a horror shooter that follows in the footsteps of a warrior on a spaceship and offers amazing graphics and challenging gameplay. In the game, you fight against the hordes of undead to survive, while uncovering deep secrets in the spaceship.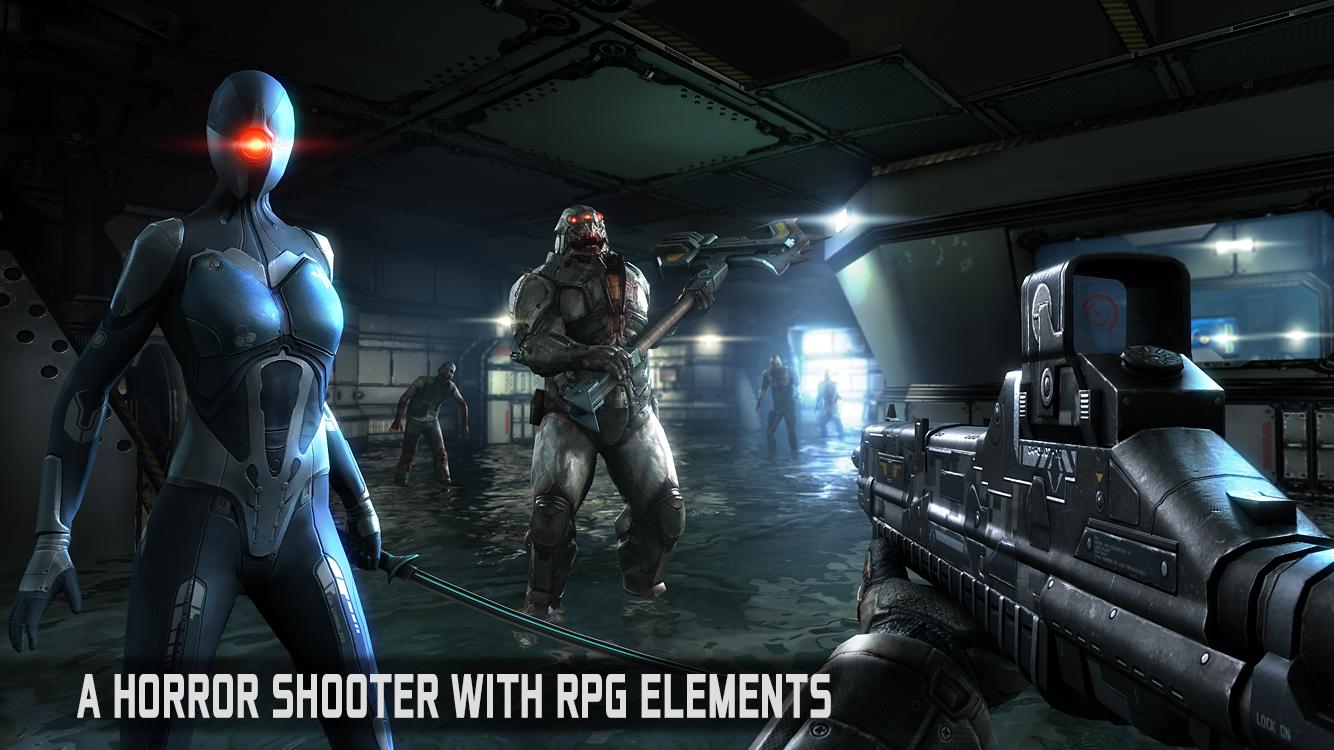 Get the game for Free HERE
4. DISTRAINT: Deluxe Edition
If you love detective games, Distraint will be your perfect choice. It is a horror-novel style of game. Basically, Distraint: Deluxe Edition is a little bit different from regular horror games when it focuses on psychological horror. In the game, you will play as Price, a debt collector. In order to secure a partnership in a famous company, Price seizes the property of an elderly woman. At that very moment, he finds out the price of his humanity. This is his story and the tale of his regrets. The game is dark and grim but it has its share of dark humor. The 2D side-scrolling art is also a strong point of the game.
It is available on the Play Store for $4.49. Get it HERE
5. Dead by Daylight
Dead by daylight is one of the most played horror games on PC and PS4, now it has been ported to mobile devices.
It is a 1-vs-4 survival game. You can either team-up with 3 other players or play as the Hunter. The game features numerous characters from famous horror movies, tv shows, and comics like Michael Mayer, Ghostface, and Bubba Sawyer
Get it HERE
That's it! my top 5 Android games for this year's Halloween. If you got a favorite, share with me in the comments below.
Was this article helpful?