A few years ago, the MacBook Pro used to be the top choice for anyone looking for a  laptop thanks to its elegant design, efficient tools, and high security operating system. MacBook Pro models still come at a hefty price, but issues like a confusing Touch Bar, lack of connection ports, terrible keyboards, or low gaming capability make them somewhat overpriced. On the other hand, laptops from other brands like ASUS, Dell, HP, or Lenovo are getting more and more varied in designs and powerful in specs. With a much lower budget, you can get a laptop that can rival the MacBook Pro.
So if you are looking for a MacBook Pro alternative, we have some for you here.
Dell XPS 13
Price: starting at $999 from Dell.
Overview:
Dell's latest XPS 13 model is probably the best rival/alternative to the 13-inch MacBook Pro. 
The Dell XPS comes with up to 10th Generation Intel i7 Processor and up to 32GB of RAM equipped. This will guarantee a high processing power that's considerably equal to the new M1 chip on MacBook Pro in specific apps. It also offers up to 2TB of HDD storage and a 256GB SSD for better loading speed. Dell XPS helps you deal with anything you throw at it.
Design-wise, the XPS 13 has a thin design, solid construction, and an all-metal shell. The extremely thin bezels on this laptop mean the screen portion is larger than what you get on the 13-in MacBook Pro. You also get the option for a 4K screen, which is considerably sharper as well. Some configurations include touch-based screens with a UHD+ resolution as well. It only weighs around 2.64 pounds, so you  won't have any trouble carrying it from place to place
On top of that, The Dell XPS 13 provides more connectivity than the MacBook Pro with two Thunderbolt 3 ports, a MicroSD card slot, and a 3.5mm audio jack. This laptop even comes with a USB-C to USB-A adapter so you can connect it to an external keyboard or mouse. Moreover,  it includes a long-lasting battery that will get you through your most busy days.
HP Spectre 360
Price: starting at $1199
Overview
The HP Spectre 360 is one of the best 2-in-1 laptops that you can find on the market nowadays, which functions as both a computer and a tablet.
To start with, it has a breathtaking design with a sturdy look while staying thin and light. HP has equipped the Spectre 360 with an AMOLED touch display with 4K resolution, stylus support, and the ability to swivel 360 degrees on all the configurations. Like the MacBook Pro, this convertible laptop also has the options for a 13-inch screen and a 16-inch screen. Along with an integrated Intel Iris Plus graphic card, it will grant you a beautiful graphics experience.
Spec-wise, the Spectre 360 is equipped with the Intel Core i7-1065G7, which is an absolute powerhouse of a chip. In addition, it can have up to 16GB RAM with up to 512GB of SSD storage. Technically, you won't have any trouble in tasks that require raw power like video editing or music processing.
For connectivity, The HP Specter x360 has all the necessary connections: USB 3.0 ports, USC-C ports, SD card readers, and a Thunderbolt 3 port. HP also promises that this laptop's battery will last for 13.5 hours of constant usage. This is even better than some of the MacBook Pro configurations. It gets charged via the USB-C port and it charges from empty to 100% in less than an hour.
The downside of the Spectre 360 is that it can heat up quite rapidly when running heavy tasks like 3D rendering or 4K video editing. It's also not a laptop for gaming either, due to the lack of a proper graphic processor.
Dell XPS 17 9700
Price: Starting at $1,349.99
Overview:
If you want a laptop with a large screen and powerful configuration, a perfect replacement for the MacBook Pro 16, the Dell XPS 17 9700 is here for you.
It's undeniable that the XPS 17 is a huge size laptop due to the 17-inch screen display. However, it's not bulky at all. Like the XPS 13 version, this laptop also comes in a slim and extremely delicate design. This is mostly thanks to the four-sided InfiniytEdge screen, which includes impressive thin bezels surrounding the actual display. Technically, you will get as big a screen as possible without making the rest of the laptop too chunky. On top of that, the thin bezels not only keep the overall size of the XPS 17 9700 down, they also make the laptop looks nice and modern as well.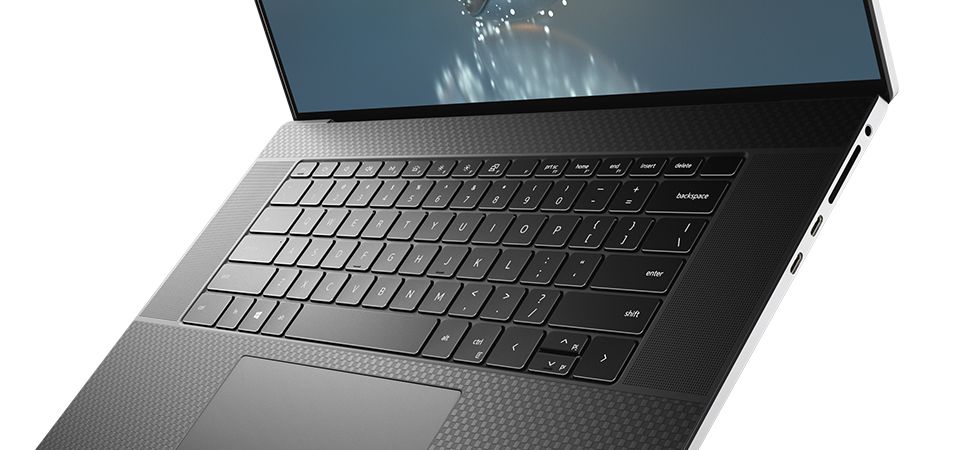 While OLED screens are getting popular on modern laptops, the XPS 17 comes with a 4K-IPS screen instead.  It looks fantastic and offers accurate colors for photographers and other digital creatives. The XPS 17 also features a WVA (Wide View Angle) panel combined with Dolby Vision technology, which displays sharper and more vivid images even in low-light conditions. In terms of display, it seems that the Dell XPS 17 9700 can confidently match the MacBook Pro 16-inch, even surpasses the rival in some aspects.
When it comes to performance, the XPS 17 is simply a powerhouse. It is equipped with a 10th-generation Intel i7 Processor, 16GB of RAM, and even an NVIDIA RTX 2060 graphics card. Whether you want to do heavy works like 4K video rendering or play AAA games, it's no trouble for this super laptop. Furthermore, its battery life goes beyond 10 hours, even when performing a strenuous task, 
Like the XPS 13, this version also has two Thunderbolt 3 ports, a MicroSD card slot, a 3.5mm audio jack, and USB-A to USB-C adapter.
Lenovo Think Pad X1 Carbon
Price: starting at $1,198
Overview:
If you need to type a lot, the Think Pad X1 Carbon will be the right replacement for a MacBook Pro.
The ThinkPad Keyboards are famous for their snappy keys with tactile feedback and an ultraslim design. They also offer a surprising amount of travel, which makes the ThinkPad X1's keyboards extremely satisfying to type on. In addition, your fingers and wrist will be in extra comfort while typing in your documents thanks to the slightly curved keys and a soft-touch deck. 
For the overall design, The Think Pad X1 Carbon is a thin and lightweight laptop. It uses magnesium alloy for the chassis and is covered with a smooth matte layer, creating a luxurious, sophisticated feeling. The lid made from Carbon Fiber- the material used for making an airplane, which helps the laptop become more durable while staying lightweight.
Displays wise, the Think Pad X1 Carbon has a 14-inch FHD or WQHD screen on the basic configuration. You also have the choice to upgrade the display up to 4K HDR with Dolby Vision support. This will grant a sharp and bright graphics experience whether you are watching movies, editing presentations, or scanning through your document. 
The Think Pad X1 Carbon is equipped with Intel's 8th generation Kaby Lake-R CPUs, offering powerful performance and allowing for support for multi-tasking. It also comes with the options for up to 16GB of RAM and 512GB of SSD hard drive. Tasks like Full HD video rendering or heavy Excel file editing won't be an issue for you. However, the Intel UHD 620 integrated graphics processor makes gaming on this laptop quite limited.
For connectivity, The X1 Carbon includes two Thunderbolt 3 ports, an Ethernet dock connector, two USB 3.1 Type-A ports, an HDMI 1.4 input, and a headphone/mic combo jack
The Verdict
These are our best laptops to rival the MacBook Pro. Each has its own unique features that can offer you options to replace the expensive MacBook Pro. In our opinion, we'd prefer the Dell XP 17 the most. It's a beautiful laptop with an amazing display, powerful performance, and barely any downsides. 
So what do you think? Which laptop will be the best alternative to the MacBook Pro? Share your opinions with us in the comments!
Was this article helpful?