Previously, we have covered the benefits of an external graphic processor (eGPU) and how to use it with your Mac. Basically, the eGPU will boost your computer's 3D graphics performance when using specific apps or playing 3D games. If you are planning to grab one for your Mac soon, we have some suggestions for you. Here are our best 3 eGPU for MacBook Pro on the Market.
Sonnet eGFX Breakaway Box
Price:  $ 279.99 for 650W version and  $ 249.99 for 550W version. Check them out here.
By record, the Sonnet 650 was the first eGPU to be officially endorsed by Apple back in 2017. Apple has used this set to showcase the possibilities of using an eGPU with a Mac at the Worldwide Developer Conference (WWDC).
The best thing about the Sonnet eGFX Breakaway Box is that it's incredibly quiet despite having immense power. In fact, you barely will hear fan noises even under extensive use and heavy load.
If you are working on 4K video editing on your MacBook Pro,  the Sonnet eGFX Breakaway Box is definitely your choice for an eGPU. It provides a huge performance boost when doing some video editing with Final Cut Pro X. The Sonnet box comes with its own 350W power supply and the neat thing is that once connected to your Mac via Thunderbolt 3, it actually provides power to your Mac too. Therefore, this eGPU is very useful if you don't have access to a power supply.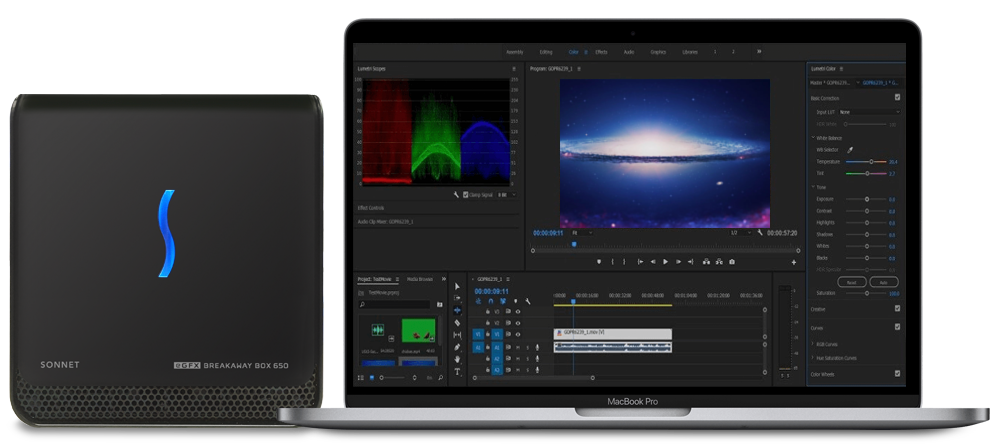 Like most eGPUs, you won't find any trouble with slotting the graphics card to it and your Mac will automatically detect it when you plug in the Thunderbolt cable.
There are 2 versions of the Sonnet eGFX Breakaway Box: 550W and 650W. The difference between them is the power they can provide. The more powerful the model, the bigger and more powerful graphics card they can support, and the more charging power they provide to your MacBook.
On the downside, It is quite big and can take up a huge amount of space on your desk. In fact, you may feel like it's a giant compared to most external drives. Furthermore, it needs to be fairly close to your Mac due to the rather short 0.5m Thunderbolt 3 cable. However, some Adobe applications are not well-optimized for this GPU and Adobe still has a lot of work to do.
Note that the Sonnet also does not support running Windows through Boot Camp.
Pros:
Extremely quiet.
Supports Thunderbolt 3.
Easy to plug and play graphics card.
Perfect for 4K video editing on Mac using Final Cut.
Provides plenty of battery charge for MacBook Pros (both 550W and 650W Models).
Cons:
Maybe too big in size for some desk.
Limited Thunderbolt cable length (0.5m).
Some bugs with High Sierra but improved in later updates.
Does not support Boot Camp.
Razer Core X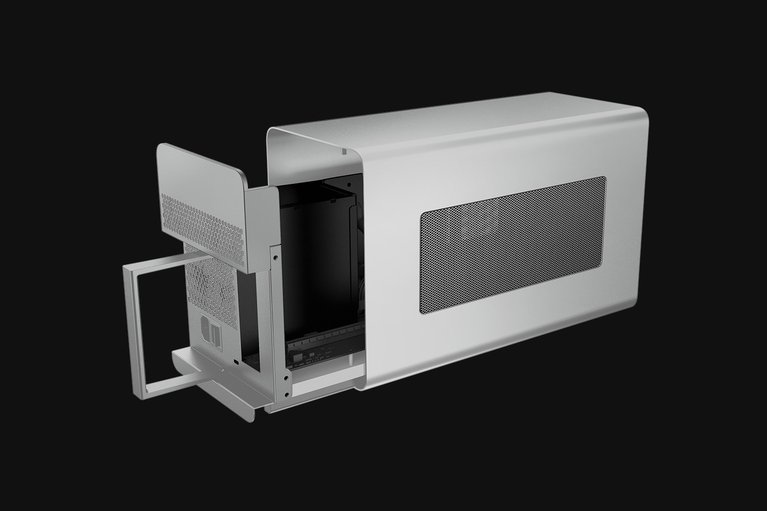 Price: $299.99
The Razer Core X Thunderbolt 3 external graphics card enclosure is actually optimized for Razor laptops but it works fantastically with Macs.
Like other Razer products, this eGPU does provide a premium style but it's still extremely easy to fit in a graphics card. The sleek exterior looks like something that could have even been designed by Apple and there are no tools required to slot in a graphics card. All you need is a single thumbscrew.
The Razer Core X isn't exactly portable but it's reasonably compact measuring about a foot long, half a foot tall and a few inches wide. It does however accept bigger 3-slot wide cards and includes an internal 650W power supply which explains why it's a bit bulky.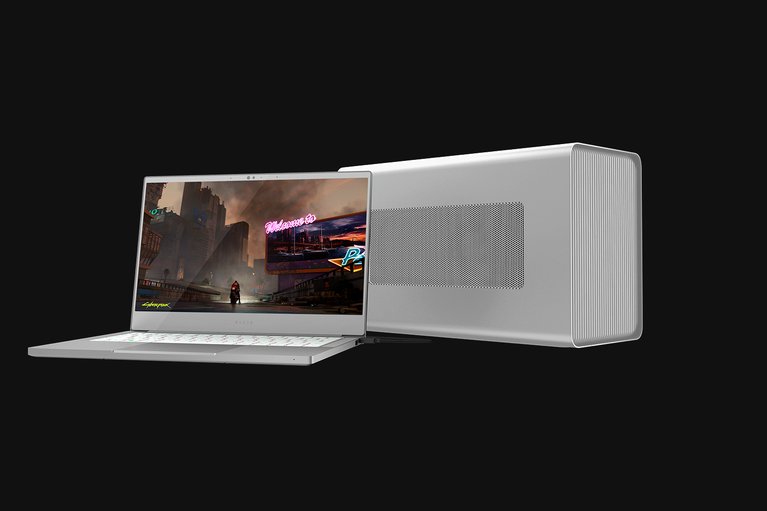 Like the Sonnet eGFX Breakaway Box, it's also incredibly quiet. In fact, you barely hear anything even though it's equipped with 4 cooling vents to let heat escape.
If you want to utilize multiple 4K displays with your Mac, then the Razer Core X is undoubtedly the best choice. Especially if you pair it with a Radeon AMD Vega 64 or Radeon VII. You'll definitely notice how the Razer Core X reduces heavy-loading time on your Mac and performance is generally very impressive whether it's gaming, video editing, rendering, or running 4K monitors.
Pros:
Looks like an Apple product
No tools required to slot in a graphics card
Runs multiple 4K displays with ease
Includes built-in 650W power supply
Fast, quiet performance
Cons:
Takes up quite a bit of space
Akitio Node
Price: $300
Akitio is based in California and specializes in doing everything in-house designing and creating new Thunderbolt peripherals, including external hard drives for Macs and eGPUs. The products are extremely reliable, functional, and are quickly gathering a dedicated following of fans.
Like the Sonet Box, the Akitio Node is very easy to set up and can be used with plug and play support for graphics cards. The Akitio Node has a PCIe (x16) slot that is capable of fitting in full-sized graphics cards and also double-width cards. The Node also has a built-in power supply which provides enough power to your cards during intense gaming sessions.
The Akitio Node is pretty quiet but the extra power supply can make some noises when putting it through paces. Another downside of the Node is that it's also a big unit and takes up a lot of space on your desk. In addition, the front part of the unit is also quite soft. So you will need to be careful when moving it in order to not to dent it.  Luckily, it has a useful carry handle on the back which makes it a bit easier to transport and move around than many other eGPUs
If you're planning on buying an eGPU for gaming on your MacBook Pro, we'd say the Akitio Node is arguably one of the top choices as its got all the power for high-end games but is still technically portable due to the carry handle. It's also possible to play Windows-only games with the Akitio Node as it supports running Windows in Boot Camp on your Mac.
Pros:
Easy to set up and use
Accepts all sizes of graphics card
Includes extra power supply
Supports Boot Camp for Windows only games
Cons:
Size
Power supply makes more noise than Sonnet
Thunderbolt cable length (0.5m)
Final Thoughts
And that's our best 3 eGPU for your MacBook Pro. To be fair, all 3 of them are powerful and affordable, which will give your Mac a massive boost in graphics performance. In our opinion, we prefer the Razer Core X, simply due to its sleek design.
So what is your choice? Let us know in the comments!
Was this article helpful?