Sometimes you may delete some messages on your iPhone by accident or to free up some storage. However, now you want to restore those deleted messages but you don't know how to do it. Don't worry, we got your back. In this article, we will show you some ways to restore deleted messages on your iPhone.
Restore Deleted Messages By iCloud
If you have created a backup of your iPhone on iCloud or iTunes, you can easily get your messages back from a backup. To restore your messages through the iCloud, you need to reset your phone to factory settings and then use the iCloud to sync your settings. You can check out Apple's guide on how to factory reset your iPhone here.
After you iPhone has been factory reset, you will have to go through some initial setup wizard on your phone, just like when you first bought it.
After the setup wizard is complete, move to the Apps & Data section, and tap Restore from iCloud Backup.
Enter your Apple iCloud ID and password.
Select the backup you want to use. Tap Show all backups to see older backups stored in iCloud. Select the most recent backup that contains your undeleted messages.
It will take a while to restore your backup from iCloud.
Once done, the deleted messages will reappear on your iPhone.
Backups From iTunes
If you have not backed up your data on iCloud but have synced with iTunes, you can completely restore deleted messages using iTunes.
Note: This method only works when you have synced, backed up your phone data with iTunes before deleting messages.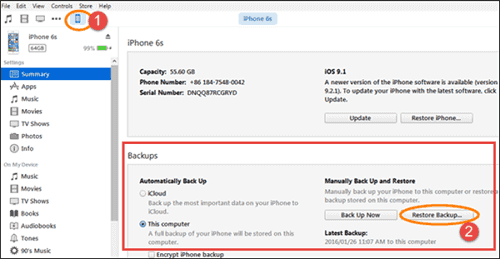 Connect your iPhone to the PC you've synced with.
On iTunes, select your iPhone device's icon and go to the recovery window.
Navigate to the Backup and then click Restore Backup
Next up, select the backup you want to recover your messages from.
Click Restore .
All the data that you have synced with iTunes will be restored on your iPhone after a few minutes, including your deleted messages
Recover Deleted Texts By Contacting Your Phone Provider
If you have no luck in finding your text messages from your backups, the next step should be to contact your phone provider. Some companies – although not all – will keep a record of your text messages, and you're entitled to access them.
Some providers let you do this by simply logging into your account online; others require you to go through customer services. The answer may be no, but it costs nothing to ask.
Use Third-Party Apps
In the case that you haven't synced your data with the iCloud and iTunes, using third-party apps will be your best shot to restore the deleted messages. There are plenty of them, but we recommend you use PhoneRescue
PhoneRescue works effectively to restore your missing data. These include photos, videos, call logs, contacts, and of course deleted messages. It is very easy to use:
After you have installed the app on your computer, connect your iPhone to that computer.
A message will pop up on your phone to ensure that the data connection is reliable. Tap Trust.
Click Continue on PhoneRescue's window to allow the software to recognize your device.
In the next window, select the Data Recovery Mode, click on Recovery from IOS Device and then click on the blue arrow at the bottom right.
You will see the "Please select the type of data you want to recover" window. Choose the data you want PhoneRescue to scan and restore and click OK
The scanning process will begin, do not disconnect your iPhone during the process.
After the process is done, the apps will show you all the data that you can restore, including your deleted messages.
Select them and click on the phone icon at the bottom right corner. Your data will be restored to your phone
Now you know how to restore your deleted Messages on your iPhone. Let us know in the comments if you have any questions.
Was this article helpful?