In November 2020, Apple introduced the new generation of MacBook with the new ARM-based chipset- the M1 MacBook. But Apple is not the only company to offer an ARM-based chip on its laptops. In fact, there are quite a few Windows laptops that also get this chipset under the hood. Microsoft's Surface Pro X is probably the most notable name among these devices. The question now is, which one between Microsoft and Apple made a better ARM-Powered system? In this article, we will have some comparisons between Microsoft's Surface Pro X and M1 MacBook Pro to find the answer to this question.
Price
Microsoft's Surface Pro X costs at least $999 while the M1 MacBook Pro's pricing starts at $1,239.00
Design
There are many differences in terms of design between these two ARM-based laptops.
The Surface Pro X is a 2-in-1 device, which can flexibly switch between tablet or laptop mode. This is thanks to a detachable keyboard and a touch screen that you can operate with the Surface Pen. Meanwhile, the MacBook Pro and MacBook Air running Apple's M1 chip are traditional clamshell laptops.
The Surface Pro X  is constructed from aluminum, with a matte black or platinum case. It has a much thinner bezel than any other Surface model. The Pro X comes with a 13-inch PixelSense touch screen with a resolution of 2880×1920 and nice sensitivity. This convertible laptop is extremely thin and light. It weighs only 1.7 pounds and just 7.3mm at its thinnest point. Microsoft Surface Pro X also comes with a kickstand at the back that can help you prop the device and use it anywhere you go easily. These features make the Surface Pro X a super portable computer.
On the other hand, Apple's MacBook Air and MacBook Pro 2020 look is not much different from their Intel counterparts. They have the same screen size of 13.3 inches with a resolution of 2,560 x 1,600 pixels. Both of them are also thin and light. The M1 MacBook Air comes in around 2.8 pounds in weight and 0.6 inches in thickness. The M1 MacBook Pro is just a little bit heavier at around 3 pounds.  Like their predecessor, the 2020 MacBooks also have the signature aluminum finishes. They are both equipped with a new Magic keyboard and a Force Touch touchpad. The MacBook Pro alone has a Touch Bar, which allows for access to quick shortcuts.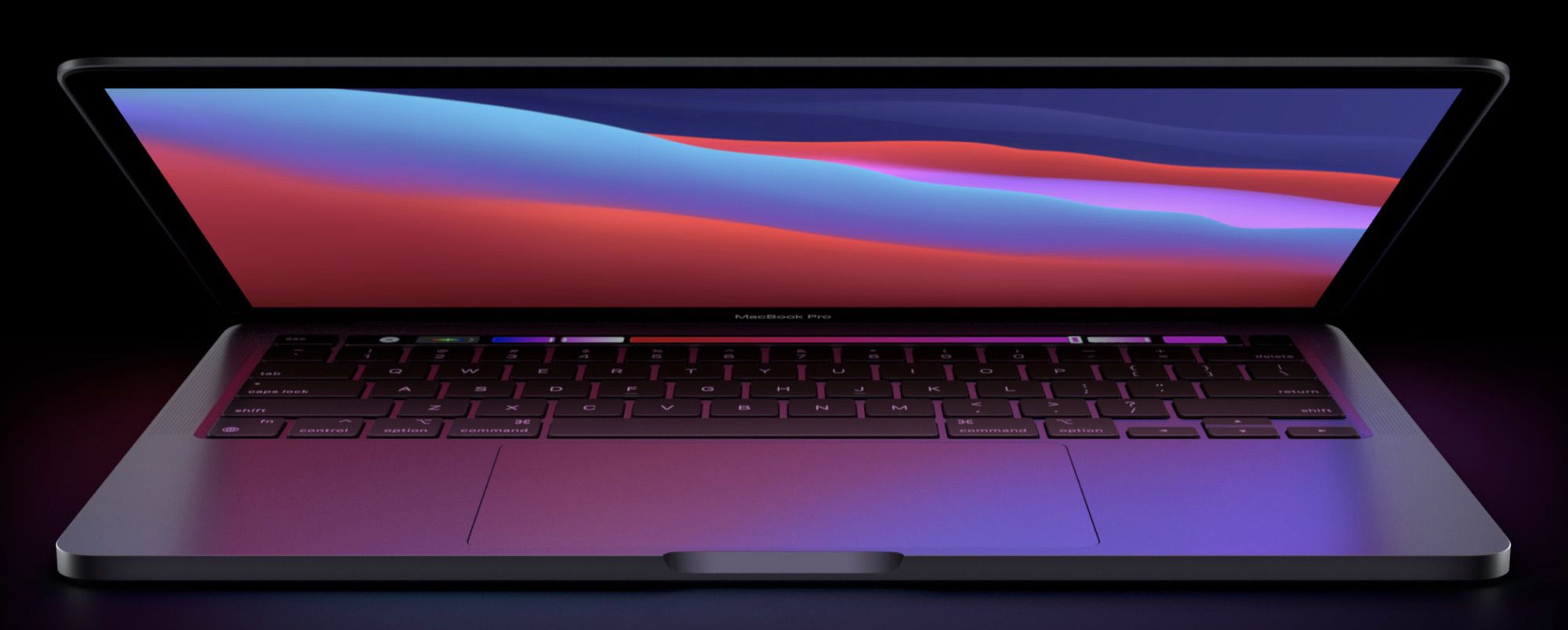 Specs
Although both the Surface Pro X and M1 MacBook Pro have an ARM CPU at their core, they do offer very different specifications and configuration options.
The M1 chip has a clock speed of 3.2 GHz. It has an 8 core CPU and 8 core GPU, while the Neural Engine has 16 cores. According to Apple, its CPU and GPU are up to 2.8x faster and 5x faster than the Intel chip in the previous Pro version. It's built on the 5nm process, allowing Apple to pack more transistors into the same physical dimensions as older Intel CPUs based on 14nm and 10nm processes. For RAM and Storage options, the M1 MacBook Pro offers 8GB or 16GB of memory and 256GB to 2TB of storage.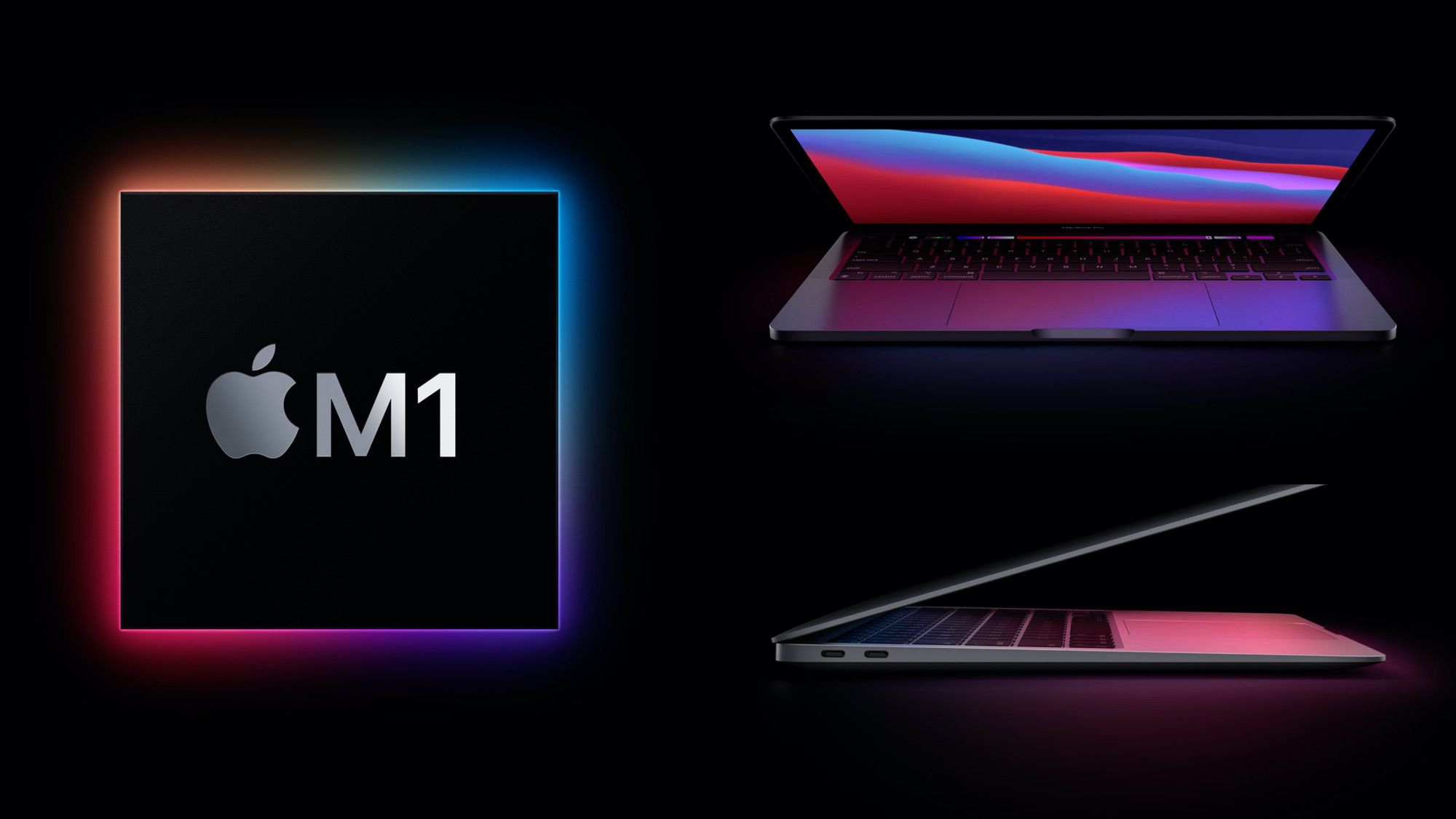 On the Surface Pro X, Microsoft put in an SQ2 chip, which is built on a less dense 7nm process and mainly based on Qualcomm's Snapdragon 8cX Gen 2 chipset. The CPU on the latest Surface Pro X model has 8 cores and 8 threads. Its base clock speed is 1.8 GHz and can be boosted to 3.1 GHz when needed. The Pro X comes with an integrated Qualcomm Adreno 690 graphic processor. Microsoft also equips the Neural Network accelerator on the SQ2 chip, for use in Eye Tracking. Microsoft's Surface Pro X is able to be configured with either 8GB or 16GB of RAM, and SSD storage options range from 12GB to 512GB. Unlike on MacBook models, the Surface Pro X storage is user-upgradable.
App Compatibility
One of the biggest issues users are facing with the Surface Pro X and M1 MacBook  Pro is app compatibility. With the shift to ARM-based chipset, there are worries about getting apps to work correctly, especially legacy apps.
For the M1 MacBook, it seems like this problem is not going to trouble users that much. Apple is allowing developers to port both iPad and iPhone apps to the Mac with the Universal App Program, which creates a big potential for the Mac applications market in the future. In addition, thanks to Rosetta 2, users can run apps written for Intel-based Macs without having to update them. Therefore, it's safe to say that most apps that run on an Intel-based Mac should run on the ARM-based MacBook Pro just fine.
Meanwhile, Microsoft is still struggling a lot with the same issue. Specifically, Surface Pro X only works with 32-bit apps, while 64-bit apps won't be able to run on its system. It's up to the developers to recompile their apps for the ARM architecture (ARM64) in order to make them work on the Surface Pro X. But even when they do, the performance on those apps will drastically worsen due to the simulation. Surface Pro X is not able to run a wide range of apps, games, and hardware drives, which may be very inconvenient for its users in some situations. Microsoft even had a warning for this problem on its own site.
Luckily, after a long delay, Microsoft has finally released the 64-bit x86 emulator for Windows on ARM. With this tool, programs compiled for Intel and AMD's 64-bit processors can now run on the platform. 
Benchmark Performance
Thanks to the mentioned tool, it is possible now to run a benchmark between the Surface Pro X and M1 MacBook. And that's exactly what the amazing lads at PC World did. They have run a series of test on both MacBook with M1 processor and Surface Pro X with SQ1 processor. And the results were not good for the Pro X processor at all. In fact, the MacBook Air M1 pretty much surpassed the Surface Pro X when it comes to performance.
Here are some of the tests
In Geekbench 5 test, the M1 MacBook processor got 1,750 (single-core) and 7,454 (multi-core) points, while the Surface Pro X gets 731 and 2,734 points.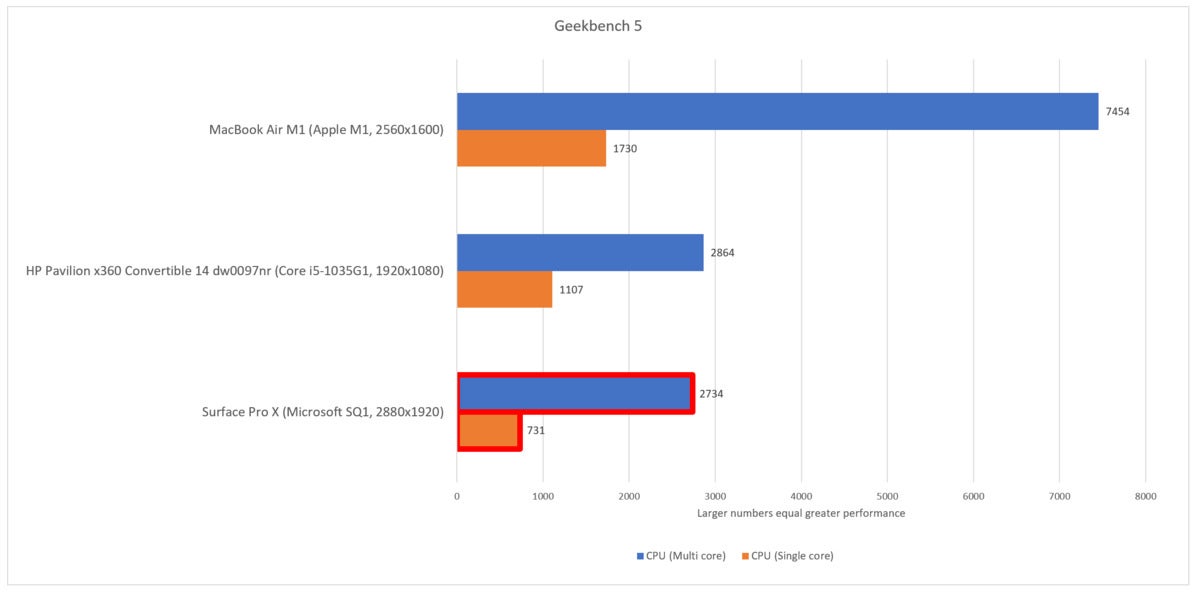 In the Cinebench R23 test, which is more of a pure CPU performance test, Apple's M1 held more than a fourfold performance advantage over the Surface Pro X. Specifically, the result gave the M1 processor and Microsoft's SQ1 1,496/6,838 and 371/1,604 points respectively.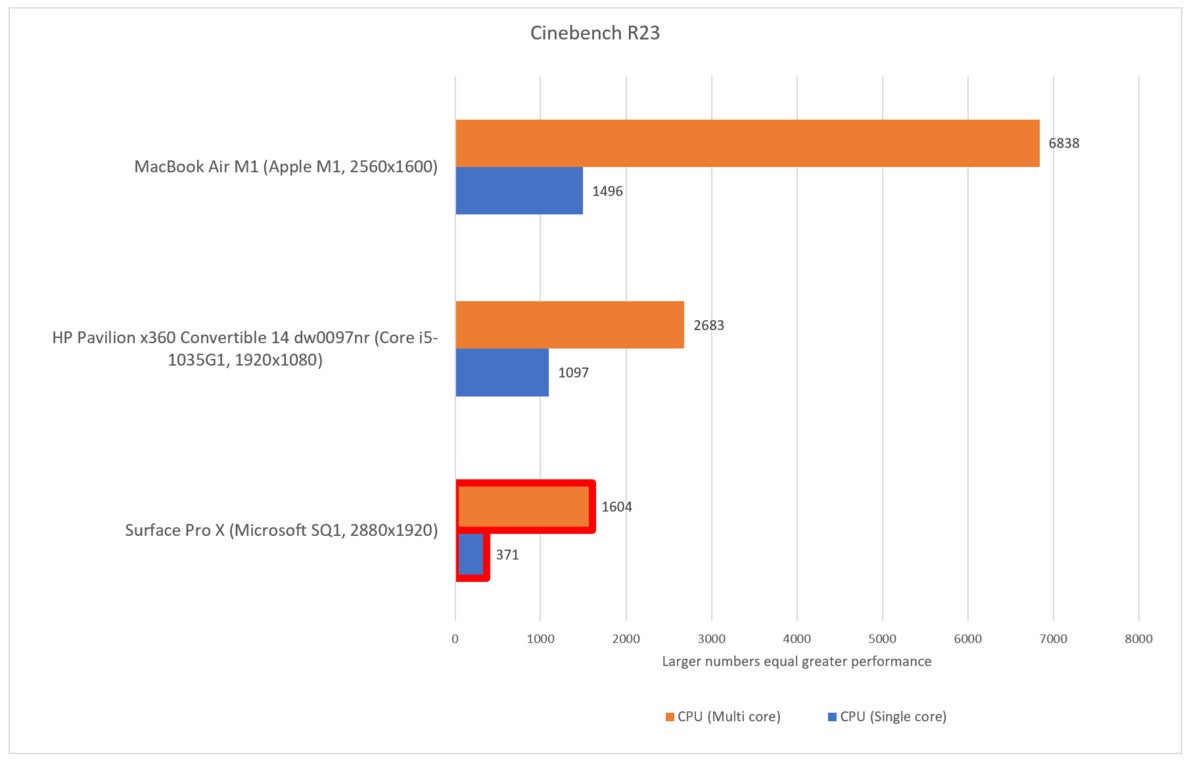 Next, the PC World team ran a few tests using HandBrake, an open-source video transcoding tool and a popular benchmarking tool for video processing power between different computers.  It took the M1 MacBook Pro 1,415 seconds to convert a 12-minute 4K video into 1080p while it took the Pro X 2 hours to complete the conversion.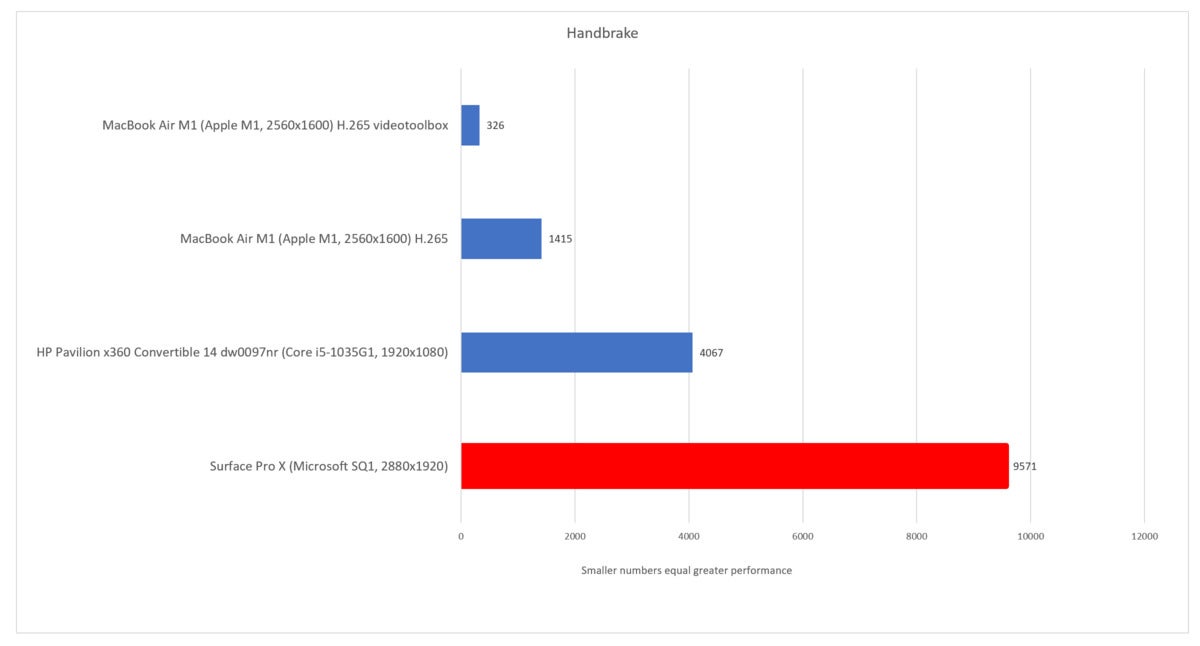 With these results, we can see how powerful the M1 Apple Silicone chip is compared to the ARM-based Qualcomm chip on the Surface Pro X.
Connectivity and Battery Life
On the MacBook Pro, the connectivity options include two Thunderbolt 3 ports, USB-4, and a headphone jack. It also supports Wi-Fi 6 and Bluetooth 5.
Microsoft's Surface Pro X is a bit different. It has two USB-C ports, one proprietary Surface Connect port for charging, and a Nano SIM card slot. It doesn't support the new Wi-Fi 6 standard. However, thanks to the Qualcomm chip, the Surface Pro X has the ability to connect to 4G/LTE. This feature comes in handy as it keeps you stay connected even when there's no Wi-Fi or hotspot nearby.  
In terms of the battery life, the MacBook Pro can last up to 17 hours of web browsing and 20 hours of video playback. The battery life on the Surface Pro X is rated at 15 hours for typical use. However, most users can only get to around 9 hours of real-world usage.
Final Thoughts
It's clear that the M1 MacBook Pro is far too superior to Microsoft's Surface Pro X in raw powers. All the specifications and tests have shown how impressive Apple's M1 tech is. But to be honest, choosing which one to buy simply depends on your use case. If your work requires a huge amount of raw power like 3D video encoding or music composing, the new MacBook Pro and MacBook Air will be a wiser choice. 
The Surface Pro X, on the other hand, is ideal for regular office jobs like drafting documents, making excels sheet, or presenting your presentation. The touchscreen and Stylus support will be much more convenient to work with.  In addition, the fact that the Pro X is a convertible laptop grants the Pro X more mobility compared to the Apple's MacBook. And the 4G/LTE connectivity is really a upper hand.
What about you? Which one do you choose between the M1 MacBook Pro and Microsoft Surface Pro X? Share your opinion with us in the comments!
Was this article helpful?