We've compared the M1 MacBook Air with other laptops from other brands like Dell's, Lenovo, and Microsoft. The M1 Apple Silicone has proved its advantages and disadvantages over these rivals. It's safe to say that the M1 MacBook Air is a good choice for an entry-level laptop. Meanwhile, the iPad Pro 2020 with iPadOS14, A14 Bionic Chip, and the Magic Keyboard has become more of a laptop than ever before. So, for many fans, the debate right now is which to choose in the price range of under $1000 – The M1 MacBook Air or iPad Pro 2020.
In this article, we will go through the key differences between these 2 Apple devices to see which one is the right choice for you.
Design
It's undeniable that the M1 MacBook Air got a big raw power boost thanks to the new processor. But apart from the changes under the hood, it still looks identical to the previous generation. That's not completely bad, as it still has the iconic wedge-shaped and sleek design. However, the 0.5-inch and 0.3-inch bezels look quite outdated when compared to the current laptop design trend.
Meanwhile, the iPad Pro has 0.2-inch bezels on all sides, which makes it feel more modern than the MacBook Air. It also comes with a flat-edge design that Apple also features on the iPhone 12 lineup, giving it a super sexy look.
The 2020 iPad Pro is a little bit smaller than the M1 MacBook Air size, 11 x 8.4 x 0.2 inches compared to 12 x 8.4 x 0.6 inches accordingly. The thinner chassis on the iPad Pro makes it a plus point for many users. However, if you use the Magic Keyboard with the iPad Pro for a laptop-like experience, it will add an extra 0.4 inches of thickness, making it equal to the Air. Additionally, the iPad Pro weighs only 1.4 pounds, which is half of the MacBook Air's weight at 2.8 pounds. But if you add the Magic Keyboard, it will be heavier at a total of 3 pounds.
So, it's clear that the iPad Pro design perks will be an advantage when you just use it as a tablet. However, if you pair it with a Magic Keyboard for a laptop-like experience, it will be less convenient than the MacBook Air.
Port and Connectivity
The MacBook Air rarely beats other laptops in a port battle. But in this case, it is the winner between these 2 devices.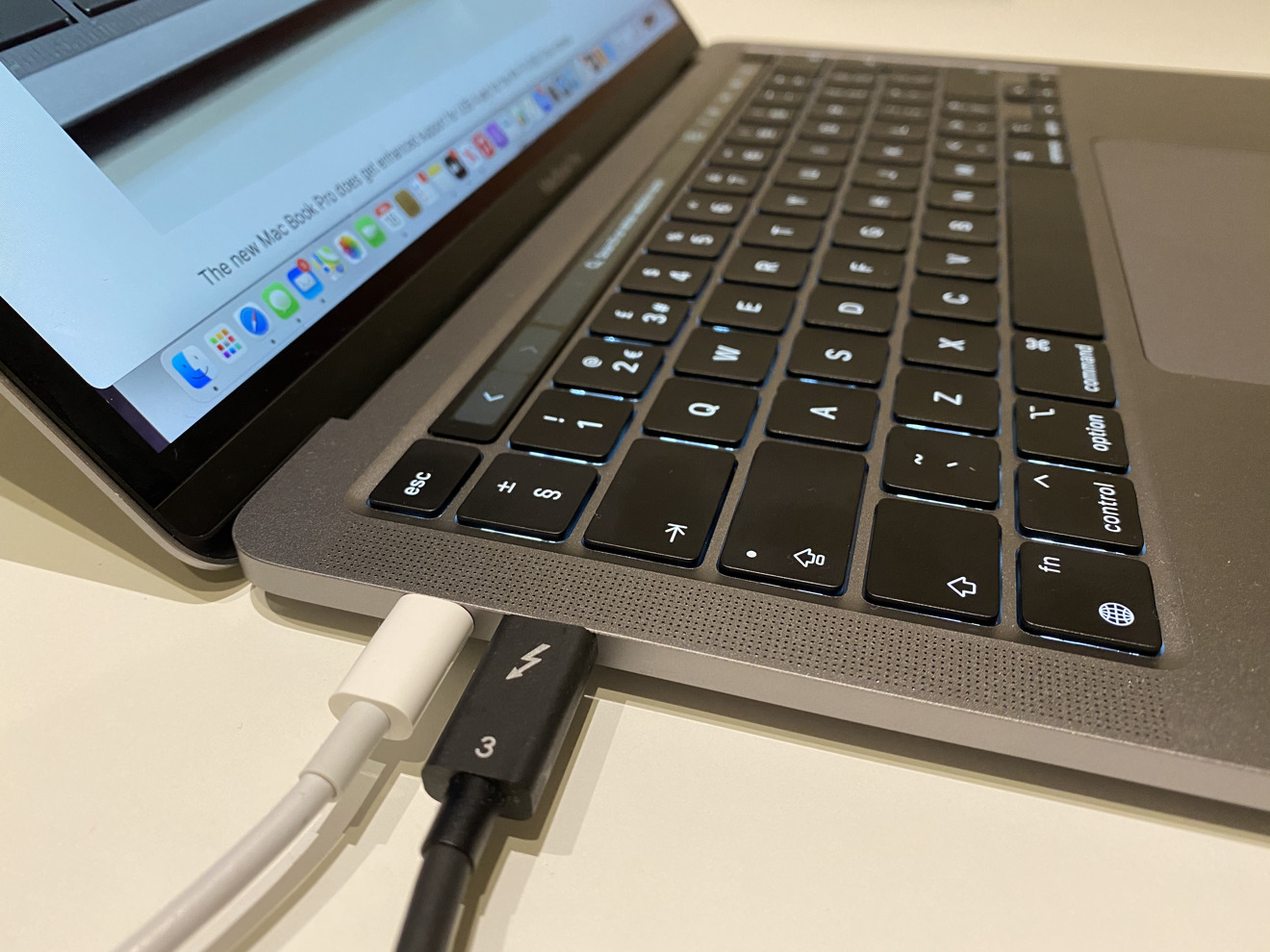 Specifically, it features two Thunderbolt 3 ports, two USB-C ports on both sides, and a headphone jack. These ports allow the MacBook Air to connect to different external accessories and devices. Meanwhile, the iPad Pro 2020 only has a sole little USB-C port, which clearly provides less connectivity.
Display
The iPad Pro might have some disadvantages in ports and portability while connecting to the Magic Keyboard, but its display is simply superior in many ways.
Both devices feature a beautiful Retina display. But according to experts, the iPad Pro's display produces 122.9% of the sRGB gamut and 559 nits of brightness. This means it is slightly more colorful and a lot brighter than the MacBook Air at 114.3% & 365.8 nits.
In addition, while they both feature True Tone white balance, the technology on the MacBook Air's screen is quite outdated. Like other Mac models, its display still features a 60 Hz refresh rate, which is a big disadvantage when comparing to its Windows rivals. On the other hand, the iPad Pro has a 120 Hz ProMotion display refresh rate, which enables everything on your screen to move more smoothly and look that much nicer. 
And of course, touch input is a massive plus point for the iPad's screen. While there are several 2-in-1 laptops out there, Apple still does not equip a touch screen on any Mac models.
Keyboard and Accessories
You may not know that Apple has given the same name for both the MacBook Air and iPad Pro's typing input. In fact, they both feature the Magic Keyboard. However, there are big differences between them. The MacBook Air's keyboard and mouse (touch pad) comes pre-built inside the device like any other desktop. Meanwhile, the iPad Pro's Magic Keyboard doesn't come included when you purchase the iPad. Instead, you have to pay an extra $349 as it's an accessory. It can also be detached and attached to the iPad easily, which is a nice convenience to have.
And there's also the Apple Pencil, which is another purchasable accessory. This stylus is made for users who love being creatives and doing hand-writing. Unfortunately, It only supports the iPads and does not work on the Mac models. But there are many great WACOM tablets and pens for the MacBooks on the market. So this is not much of an advantage for the iPad Pro.
Performance
As they are running different operating systems, it's quite hard to compare the performance of the MacBook Air' and the iPad Pro. The MacBook Air is equipped with the new M1 Apple Silicone Chip, which gives it a huge boost in performance. Now the MacBook Air can handle pretty any daily tasks for your work including photo editing, video processing, and more.
Meanwhile, the iPad Pro's A12Z chip is quite outdated, but it is still extremely powerful to handle power-demanding tasks and games.
The best way to compare these two processors is by using a comparable benchmark that runs on both systems: Geekbench 5. In this test, the iPad Pro 2020 scored 4,635, which is less than the M1 MacBook Air's score of 5,925. Therefore, we could say that the M1 chip is performing better.
Battery Life
The MacBook Air's battery outlasts the iPad Pro by quite a lot.
In a battery test of web surfing at 150 nits of brightness, the MacBook Air stays still for 14 hours and 41 minutes, while the iPad Pro can only last 10 hours and 16 minutes.
Software and Applications
The combination of the Apple Silicone chip and macOS Big Sur on the new MacBook Air allows it to run iPhone and iPad apps. This is called the Universal App Quick Start Program. However, being able to run iOS/iPadOS apps on Mac doesn't mean that these apps are going to be written for the Mac. They might be designed for a smaller phone screen with touch input instead.
Additionally, the M1 MacBook Air can also run legacy apps from its Intel-based predecessor via Rosetta 2. These apps can run quite stably in most cases. But some pro-level applications, such as Adobe Premiere Pro, are still facing glitches, freezes, and other performance issues.
On the other hand, the 2020 iPad Pro simply runs its iPadOS correctly and natively. There's no sight of Apple having its macOS apps run on any iPad models yet.
Final Thought
So with a quite similar price tag, we think the M1 MacBook Air is the overall better device between these two. It offers more power, connectivity, and versatility in applications for your needs.
Of course, the iPad Pro still has its own advantages, but only if you're using it as a tablet. A better screen, more mobility, and the ability to feel integrated with your work via the touchscreen might be the Pro's best-selling points. However, for a laptop-like experience, it has to be combined with a Magic Keyboard that reduces its overall size quite a lot. Not to mention the $349 Magic Keyboard's hefty price. That's more than a third of the price of the entry-level M1 MacBook Air. In fact, there are upgrade options for the M1 MacBook Air. For example, you can upgrade the Air to the 8-core GPU, more RAM, or more storage. In fact, that depends on your use case.
After all, both the M1 MacBook Air and iPad Pro 2020 are powerful and reliable devices. And it really depends on how you use them to decide which one is better.