Samsung has recently unveiled its new 2021 flagships – the Galaxy S21 Series. To be honest, these phones are quite impressive with their new features and performance boost. And as usual, the community is now looking forward to seeing how Apple will reply to its rival with this year's iPhone. Even though the iPhone 12 lineup just came out a few months ago, there are different predictions about the next "iPhone 13" coming out this year.
In this article, let's dig in some leaks and rumors to get a better look at the upcoming iPhone line up.
The Next iPhone Might Not be iPhone 13
If Apple keeps its naming shenanigans, it would be obvious that the next flagship line will have the name "iPhone 13". However, according to Bloomberg, Apple's own engineers refer to the 2021 iPhone among themselves to be an "S" upgrade. It means that the next handset could be named iPhone 12S instead of iPhone 13. Jon Prosser, a famous YouTuber/leaker, has backed this idea up. Specifically, he said that due to the negative connotations given to the number 13 in some cultures, there might not be an iPhone 13 ever.
If this is the case, this will not be the first time Apple changes its iPhone naming. We used to see a few outliers such as the iPhone X, which was followed by two consecutive full-number series (11 and 12).
When Will The iPhone 13 Come Out?
Apple has a quite consistent schedule for launching its new flagship models. Usually, the new handsets are introduced at the beginning of September and then go for sale a short time later.
Due to the Covid 19 pandemic, Apple had to delay the launch of the iPhone 12 line up to a split launch in October 2020. In fact, two of the iPhone 12 models did not go on sale until November. But reports are indicating that Apple will go back to the regular September launch window this year,
Design and Size
According to Ming-Chi Kuo, a famous Apple analyst, the 2021 iPhone series will also consist of 4 models with 3 different sizes like last year's models. So, there might be two models with 6.1-inch displays, one with a 5.4-inch display, and one with a 6.7-inch display.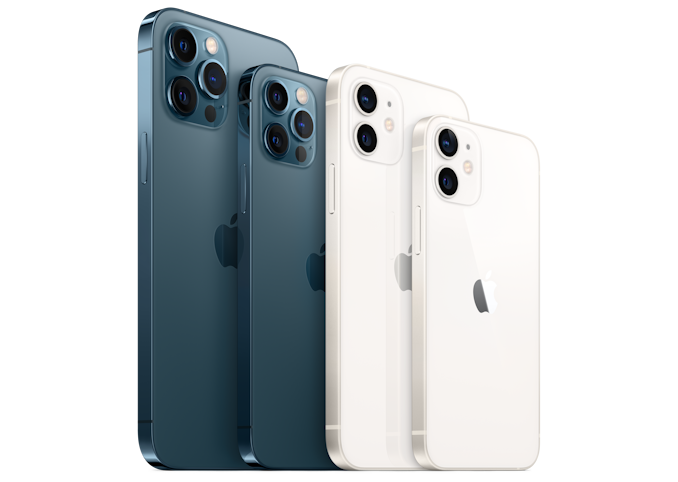 Design-wise, the new square edges design on the iPhone 12 lineup has received positive responses from a big part of customers. In addition, there are no reports or rumors indicating that Apple is planning to deviate from this design in 2021. Therefore, we can expect that the next iPhone series will get some changes under the hood, but not the overall design.
New Displays With ProMotion/120Hz refresh rate
While a wide range of Android phones already boasts a 90Hz or even 144Hz refresh rate on their display, Apple's 60Hz displays seem to be falling behind. This was one of the biggest disappointments about the iPhone 12 models as they were expected to include a higher refresh rate screen. Meanwhile, it is also quite surprising as Apple's iPad Pro range has taken advantage of the faster-refresh rate displays for a while to enable their ProMotion feature.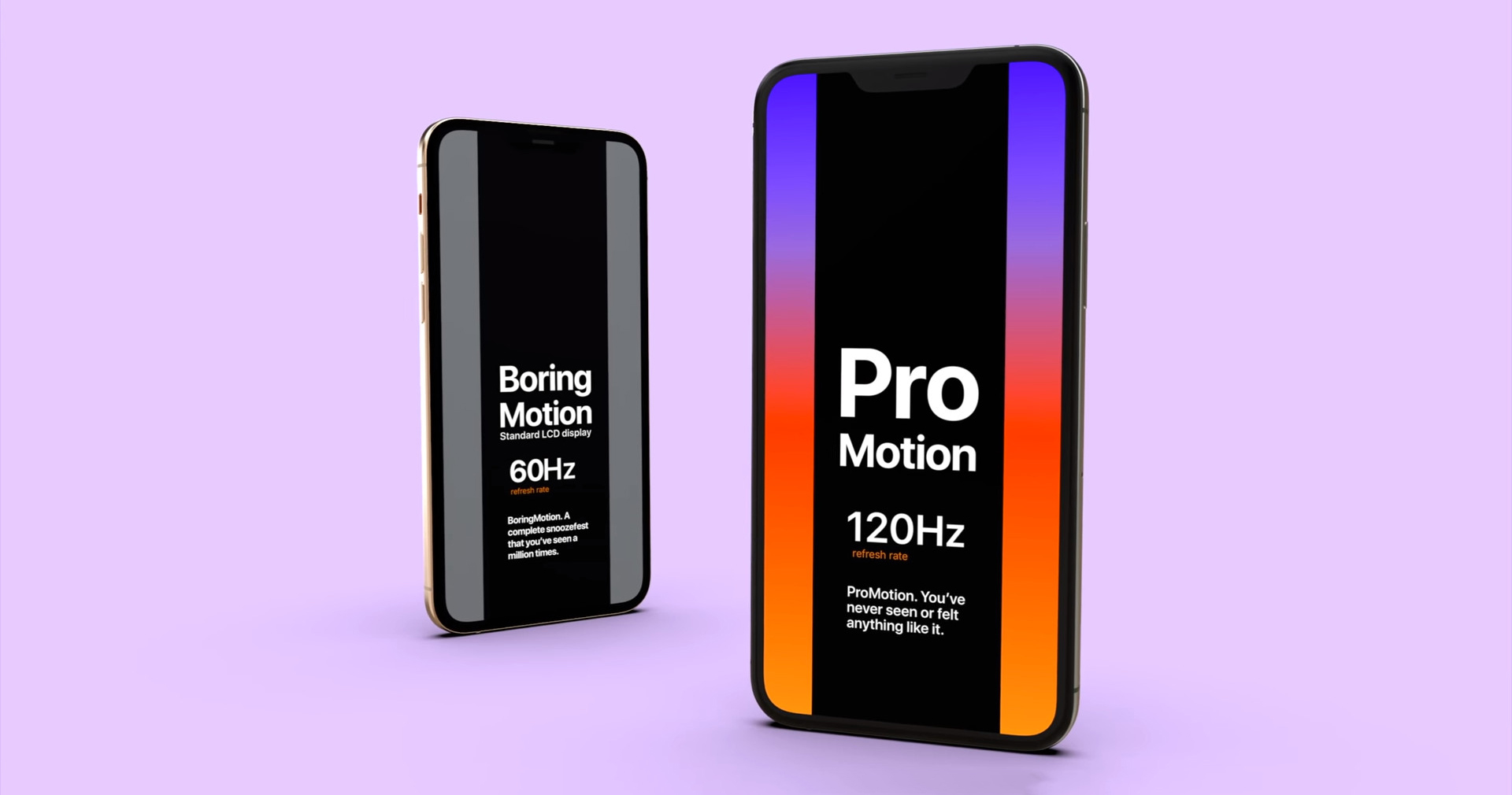 But if the rumors are true, the "iPhone 13" lineup will get a big update in displays. According to reports, the 2021 iPhones are expected to feature a ProMotion display with a variable refresh rate display. This is thanks to LTPO adoption.
LTPO is the same technology Apple equipped on the Apple Watch. It could signal the inclusion of an always-on display option, as well as 120Hz capability.
Bloomberg also reported that the iPhone 13 has "the potential of an Apple Watch-like always-on mode…"
New Processor
In the past few years, Apple tends to introduce a new processor alongside the announcement of their latest flagship lineup. For example, the tech giant introduced their A14 Bionic processor within the iPhone 12 models. So this year we can expect a similar thing will happen with the iPhone 13. The new process is likely to be called the A15 processor. It will probably be produced by TSMC on an enhanced 5nm process. We can also expect some small but significant improvements to the new iPhones' CPU and GPU performance, along with a faster Neural Engine, image processor, and enhanced energy efficiency.
A Smaller Notch
While most iPhone users have been familiar with the black box on the top of their screens, the notch is still a divisive feature. There are plenty of reports indicating that Apple will have some re-design on the new iPhone's notch. Accordingly, the new notch may be smaller and narrower. Hopefully, the new design will offer more screen estate on either side for status symbols like battery life and connectivity
Camera Changes
The Cameras are rumored to get some big improvements on the next iPhone line up.
The next generation of iPhones will all offer a LiDAR scanner for a better 3D experience. This is based on an apparent agreement between Apple and Sony. Accordingly, the LiDAR scanners will be used for new iPhone models for at least the next three years.
In addition to this change, according to Ming-Chi Kuo, the ultra-wide-angle lens on Pro models will have its aperture changed from f2.4 to f1.8. This will double the amount of light that can be admitted and improve low-light performance. Reports also suggest that at least the Pro models on the new iPhone line up will feature a Time-of-Flight camera
Camera Bump Size Changes
According to a recent MacRumors report, while the iPhone 12 and 12 Pro have camera bumps around 1.5mm to 1.7mm, the iPhone 13's bump will be 2.51mm, and the 13 Pro's will be 3.56mm. The increased size will prevent the lenses from sticking out as much as they do on the older phones.
Battery
There aren't any specific rumors or leaks about the next iPhone line's battery yet. However, if Apple sticks with the same form factor/size lineup as the iPhone 12, we can expect that the next iPhone models will have similar battery capacity for each respective model. The adoption of LTPO and variable refresh rate could bring the advantage of lower power drain, boosting battery life in the new iPhone models. In fact, LTPO technology is able to extend the battery performance of a device by up to 15%.
According to a tweet from leaker L0vetodream on Twitter, who has a very reliable track record, the battery capacities of the new iPhone lineup are much bigger than their predecessors. Specifically, the iPhone 13 Pro Max will have a 4,352mAh battery, while the iPhone 13 and iPhone 13 Pro have 3,095mAh batteries, and the iPhone 13 mini's battery clocks in at 2,406mAh ( compares to 3,687mAh on iPhone 12 Pro Max, 2,815mAh on iPhone 12/12Pro, and 2,227mAh on iPhone 12 mini). While these capacities are certainly better than the previous generations but compared with other brands' high-end phones, Apple's batteries still fall short. For instance, the batteries in Samsung's Galaxy S21 lineup range from 4,000 to 5,000 mAh
Fast-charging
A post on MacRumors suggests that the next iPhone generation will feature a faster-recharging technology. iPhone 13 may be able to be recharged with up to 25W when connected to a compatible adapter, which should further reduce battery recharge times. This would be a decent upgrade as we can use chargers with higher power on the iPhone 12 lineup, but they in fact don't really benefit from anything over 20W.
Improved Connectivity
When it comes to connectivity, the whole iPhone 13 lineup will almost certainly once again feature 5G, this time using the Qualcomm Snapdragon X60 modem. Rumors indicated that the 2021 iPhone models, or at least the Pro versions, will have both mmWave and Sub6 GHz 5G connectivity. For beginners, Sub6 offers a much faster and stabler speed compared to mmWave. A DigiTimes report claims that Apple will incorporate Wi-FI 6E in the iPhone 13, joining the likes of the Samsung Galaxy S21 Ultra and Xiaomi Mi 11 Pro
Improved 5G Connectivity
Rumors indicated that the 2021 iPhone models, or at least the Pro versions, will have both mmWave and Sub6 GHz 5G connectivity. For beginners, Sub6 offers a much faster and stabler speed compared to mmWave.
There will be no USB-C in the iPhone
A report from Jon Prosser earlier this year states that Apple will never adopt USB-C in its iPhone. Instead, Apple is planning to release one 'portless' iPhone. It means that at least one of the upcoming iPhone 13/iPhone 12S models might come with no ports at all. If this is true, this model will have to rely on wireless connectivity and charging, or Apple will introduce a smart connector to get the job done. Regardless, there will never be a USB-C iPhone.
1TB of storage
Jon Prosser also reported via his Twitter account that the iPhone 13 models might come with double storage as current models. It means customers will get up to 1TB of storage on the new iPhones. Of course, most users don't need that much storage space. But anyone who loves filming in high resolution may benefit.
Under-screen TouchID
There are different sources suggesting that the next iPhone line up will feature both FaceID and an Under-screen Touch ID. This was first mentioned by the leaker @L0vetodream on Twitter back in October 2020. John Prosser also backed up this leak right afterward.
In January 2021, reports from Bloomberg and Ming-Chi Kuo also claimed that the 2021 iPhone will have a Touch ID below the screen. The Wall Street Journal added more details to this theory later that month. Accordingly, its article suggested that Apple is working on an in-display fingerprint sensor that might use optical technology. Apple also obtained a patent for an under-screen fingerprint scanner recently. So it's clearly something the company has been working on.
The introduction of the under-screen Touch ID would mark a major change to the biometric systems that Apple has used for flagship devices since the launch of the ‌iPhone‌ X. It also will be a big help for users who are unable to unlock their phone with FaceID while wearing a mask in the Covid pandemic.
Vapor Chamber Thermal System
According to Ming-Chi Kuo, Apple is aggressively testing the vapor chamber thermal system (VC thermal system). This is the technology used to keep the device cooler when it is under heavy workloads. Kuo believes that this system is essential for the high-end iPhone models as they are getting more powerful in computing power and faster 5G connection speed. The iPhone 12 lineup, the first 5G-enabled iPhone series, was reported to be heated up when connecting to this new ultra-speed network.
But it isn't clear if this technology will appear on the 2021 iPhone lineup or not. According to Kuo, VC thermal system's reliability test results still haven't met Apple's high requirements. It's more likely that the tech giant will equip the VC thermal system on its flagship in the future.
Meanwhile, there are already some companies like Samsung, Razer, and LG that have applied the VC thermal system on their smartphones.
iOS 15 and other features
Apple just introduced the newest version of the iPhone operating system – iOS 15 at the recent WWDC. The new incarnation brings several enhancements to Apple's flagship. The new features include new FaceTime features, a robust sharing platform, better notification management, and a lot more. All of these features will be available on the iPhone 13 when it ships in the fall, along with others that are exclusive to the new hardware, including the rumored always-on display.
Price
Again, there are no specific rumors about the price of the iPhone 13/iPhone 12S yet. But in recent years Apple has followed the simple strategy of introducing a new phone at roughly similar price points. Therefore, we can expect that the new iPhone will have similar pricing to the current iPhone 12 lineup, which starts at $799 for the entry-level model.
---
And that is what we know so far about the upcoming iPhone 13. Please note that these are just rumors and predictions. We will continue to update if any big news about the 2021 iPhone lineup show up. So make sure you stay tuned for the latest information.
Was this article helpful?