Apple recently has released the beta 2 update for iOS 14.5 and iPadOS 14.5. Users who have enrolled in Apple's developer program can get this update right now. The new beta 2 comes with a handful of changes and new features compared to previous versions. Here is everything that's new on iOS 14.5 beta 2.
New Emoji
iOS 14.5 beta 2 adds over 200 emojis to the iPhone collection. These include a flaming heart emoji, broken heart emoji, bearded emojis, and further diversifying couple emojis with new skin tone and LGBTQ+ pairings. Apart from new emojis, this new update also revamps some of the old emojis. For instance, the Headphones emoji is now taking the form of Apple's latest over-ear headphones – the AirPods Max.
You can read more about the new emojis in this Emojipedia post.
New Shortcuts
Apple also added several new Shortcuts actions in this beta update. For example, there are new actions for taking a screenshot and reviewing the latest screenshots. These actions can be incorporated into various Shortcuts, making it easier for users to capture their favorite moments.
There are also new actions for enabling/ disable orientation lock and switching between cellular data modes. Specifically, with the Voice Voice & Data mode action, there are options to switch between 5G, 5G Auto, and 4G/LTE data modes.
Unlock iPhone With Apple Watch
This is probably the most desired and long-awaited feature on iOS 14 updates. Recently, A lot of users found it's extremely inconvenient to use FaceID when wearing a face mask. Thanks to this new feature, you can now bypass FaceID and unlock their iPhone easily by flipping on a nearby Apple Watch.
FaceID has never been a big issue since day one. However, the necessity of mask-wearing through the Covid-19 pandemic has extremely limited FaceID's usefulness.
Software Up to Date Text
Back when Apple released the first beta for iOS 14.5, it tweaked the software update note to say "Your iPhone is up to date with all of the latest bug fixes and security enhancements". But on the new beta 2 update, the text has been changed again. Now it just reads "iOS is up to date," and the green checkmark has been removed. This may be a placeholder text for an upcoming change.
Apple Music
The Music app also gets some new features. The app now includes new swipe gestures for adding songs to your queue or the Music Library. In addition, there are several new pop-up menus for other controls when long-pressing on a song such as "Play Last" or "Show Album". In the Library, the download button has been replaced by a three-dot menu that allows users to access a wide range of options for a specific song. For more detail on this feature, you can check out this Reddit post.
Tinting Screen Fix
Some Reddit users reported that the iOS 14.5 beta 2 update has fixed the green tint issue that has been affecting several iPhone 12 screens. Specifically, some iPhone 12 models exhibit a gray or green glow on their displays. This issue was acknowledged by Apple back in November 2020 and it seems like the tech giant has found a way to deal with it.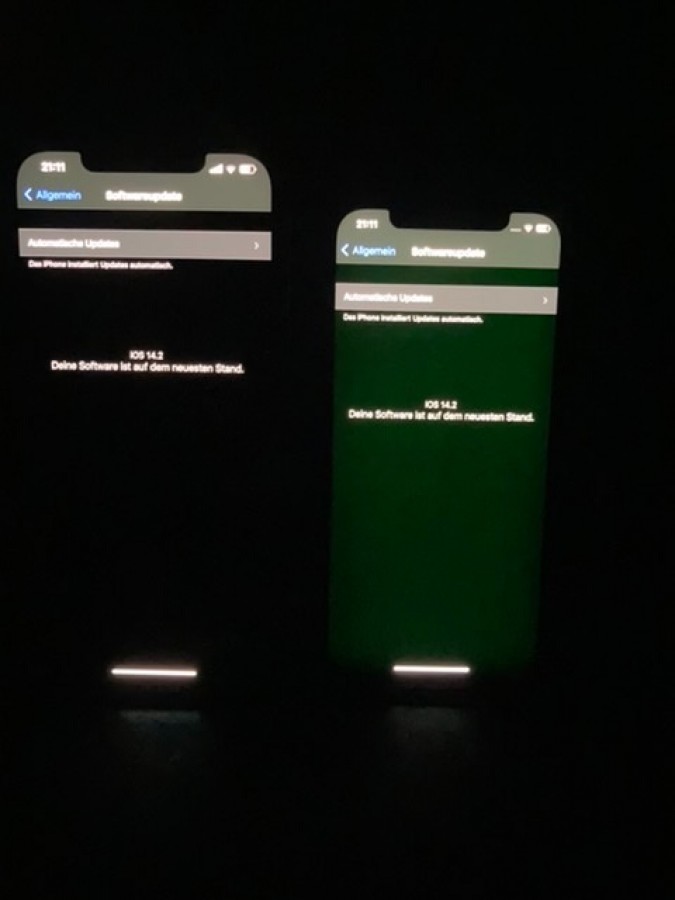 However, not all the affected iPhone 12 users get this fix. For some users, there are improvements, but for others, the issue still appears to exist. So, it's unclear that the beta 2 update has addressed the tint issue or not.
iPad Smart Folio Security
Apple also added a new privacy feature on some iPad models that mute the built-in microphone whenever the Smart Folio is shut. By doing that, it will prevent apps from accessing the microphone when the iPad is not in use.
Apple first introduced this feature in the 2020 iPad Pro models, but it is coming to other models. This feature is now included on the 8th-generation iPad, the 4th-generation iPad Air, the 2nd-generation 11-inch iPad Pro, and the 4th-generation 12.9-inch iPad Pro.
Other Small Changes
There are also some smaller changes included in this update:
Apple has redesigned the App Store Privacy labels to make them easier to distinguish in Dark Mode.
It is possible Spotify or other music streaming services as your default audio player for Siri.
Apps can ask to connect to your Game Center friends for enhanced multiplayer
How To Access iOS 14.5 Beta 2 Update
As mentioned, any user who has enrolled in Apple Developer Program can get iOS 14.5 Beta 2 via an over-the-air update. You can check out Apple's detailed guide about this program here.
In case you don't want to enroll in the Developer Program, you can wait for the public beta coming out the next few days.
---
And that is everything new on iOS 14.5 beta 2 update. If you have any questions, please let us know in the comments!
Was this article helpful?