Using cloud storage to save documents and other files is a no-brainer for users nowadays. A cloud storage allows you to back up your data as well as access it from multiple devices. Thanks to this convenience, there are several platforms that offer this kind of storage for users. Notably the Apple iCloud and Microsoft OneDrive. Both are good cloud storages with several useful features, but choosing between these two may be a little confusing to some users. With that in mind, we are here to help.
In this article, we have made a comparison between iCloud and OneDrive to help you find out which one suits you best.
What are iCloud and One Drive?
OneDrive is the cloud service of Microsoft which allows users to store, exchange, and transfer data online. OneDrive belongs to Microsoft's ecosystem, so it is directly built into Windows 10, allowing users to quickly access their files without the need to download an additional software or app.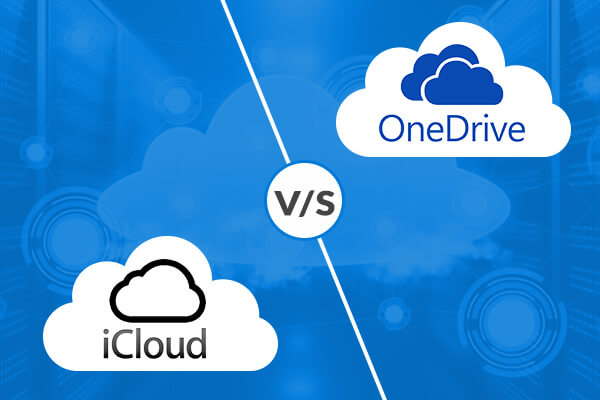 iCloud is a cloud-based storage service designed exclusively for Apple devices' users to sync their files across their devices. Once you stored your files on iCloud Drive, you can access, download, edit them from your iPhone, iPad, or MacBook. Every change you make will be automatically synced on the other devices
Storage
Both platforms offer 5GB of free space. If you want more, you must subscribe to a monthly plan.
For OneDrive, you can pay $1.99 a month for additional 50GB of storage. Or you can get a bundle that includes OneDrive and Office365. This bundle costs $6.99 a month for an individual and $9.99 a month for 5TB of storage and includes support for 5 users.
For iCloud Drive, you get the options of:
50 GB for $0.99 a month
200 GB for $2.99 a month;
2 TB for $9.99 a month
These storage options include iOS device backups, iCloud Photo Library, and more. If you get the last two plans, you can use family sharing to share the cloud storage with up to 6 persons. On top of that, Apple recently introduced the Apple One that offers the ultimate collection of Apple services for a very affordable price. You can check out Apple One here
Our thought:
To answer which one is better in this faction, it really depends on how you want to use your cloud storage. iCloud offers more upgrade options but OneDrive offers bigger maximum storage. In our opinion, iCloud is winning in the storage faction. 50GB is good enough for a casual user that can store many back-ups and photos. Besides, the $0.99/month price is really cheap for what you can get.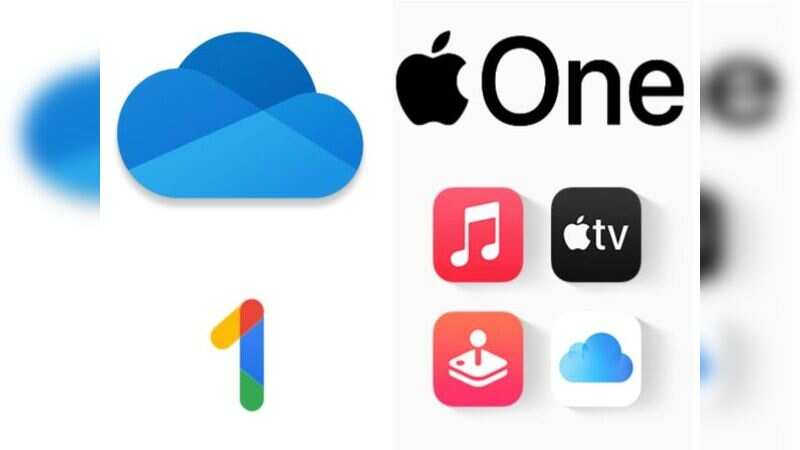 Syncing Speed
Syncing speed is the speed at which the cloud storage synchronizes your uploaded and edited data to the drive as well as to other devices.
OneDrive can provide users a fast and satisfying sync speed thanks to a large number of servers sited all around the world. On top of that, the block-level copying on One Drive will speed up the syncing process of Office 365 files across your devices. Specifically, it will sync your files by copying the Office files that have changed rather than the whole file.
On the other hand, the syncing speed on iCloud is not as good as other cloud services, including OneDrive. This is especially true when it comes to syncing large files. In addition, Apple doesn't really provide any options to speed up iCloud's syncing speed.
Our thought:
It's clear that OneDrive is winning in syncing speed, especially in syncing large-sized files. Meanwhile, despite having a unified ecosystem, the syncing speed of iCloud on Apple devices is quite bad compared to other could drives.
Security
In fact, the security has been an issue for OneDrive for quite a long time. The file encryption feature is only limited to the business plan. This means you need to pay more. Therefore, users on basic plan are vulnerable to hackers and malware attacks. But recently, OneDrive has added some features to improve its security. The drive offers both business and personal users the ability to recover files that have been attacked in the last 30 days. This feature used to be exclusive to business plans. In addition, Microsoft added a password-protection to OneDrive Links, which gives the user more control over their sharing files.
Meanwhile, on iCloud, the data is encrypted using 128-bit AES and TLS in transit, which grants great security to your files. The encryption keys also bounds with your Apple ID so no strangers, even Apple itself, can access them. However, that doesn't mean iCloud's security is invincible. It has one flaw, which is the fact that your iCloud mail has no encryption at all.
Our thought:
There's no doubt that Apple iCloud has the edge in security. Your files will be encrypted for free. It will protect your personal data from strangers, even Apple itself. On the other hand, we love to see the improvements in the security that Microsoft added to OneDrive recently. However, it costs extra to get your files encrypted, which leaves the free users' data much more vulnerable
Features
OneDrive can be integrated with most of Microsoft's services. Therefore, you will find it extremely convenient to manage your Words, Excels, or PowerPoint files across your devices. In addition, OneDrive is also available on most of the platforms, including iOS, Android, Windows, and macOS. That said, OneDrive does not support third-party data storage, which could be disappointing for some users
iCloud Drive, on the other hand, can be accessed on all Apple devices out there. For Mac users, it can help you backup your desktop folders and documents. You can still access iCloud from a Windows PC or Android device, but you only have limited control over the files stored there.
Our thought:
To be honest, we prefer the OneDrive features to those of iCloud. As we work a lot on Words, Excel, and PowerPoint, we can easily store and share our works with co-workers thanks to OneDrive multi-platform support. The third-party apps data storage issue can be annoying, but it's bearable. On the other hand, iCloud still provides a great backup option for your app data, and both native and third-party apps. But, it is still an Apple product that works best on Apple devices.
Pros And Cons
In short, iCloud grant user more security and utilities for your online store. Meanwhile, OneDrive offers a faster syncing speed and multi-platform supports. Both drives have their own advantages and disadvantages. Here is a table to recap the pros and cons of iCloud and OneDrive:
| | | |
| --- | --- | --- |
| | iCloud | OneDrive |
| Pros | Great security | Fast syncing speed |
| | Various upgrade options | Available on iOS, Android, macOS, and Windows |
| | Easy to store and manage iOS/macOS data | Works perfectly with Office365 applications |
| Cons | Slow syncing speed | Low security |
| | Only offer limited control on other platforms | No third-party apps data storage |
The Verdict
And that's our comparison between iCloud and OneDrive. To say which one is better, it really depends on your use case. If you are now tied to Apple's ecosystem, then go for iCloud. If you are looking for the best storage service for Windows, then we recommend you give OneDrive a try.
What do you think? Let us know in the comments below.
Was this article helpful?