People often dismiss Apple as making Mac machines that look good on the surface, but do nothing when it comes to hardware processing power. This is true for those who want to do some graphics-heavy tasks like AAA games or professional movie making. In addition, there is barely anything you can do to upgrade your Mac's specs from inside to improve its performance. Luckily, Apple has acknowledged this downside of the Macs. Thanks to the adoption of thunderbolt ports, now Mac owners can improve the graphics capabilities of their Macs by adding an external graphics processor or eGPU in short. So what exactly is an eGPU and How to use it?
What's an eGPU?
An eGPU is a type of graphics card that gives your Mac a real performance boost for 3D graphics. To be precise, an eGPU actually consists of two components that you normally have to buy separately.
The first part is the graphics card itself, also known as a GPU. However, current Mac models don't have any expansion slots that would allow you to install an additional GPU into it. Therefore,  you have to install the GPU into an external box which often called an 'enclosure'. This box will sit outside the Mac.
The enclosure is just an empty box that contains a PCIe expansion slot and a power supply for the graphics card. You can then simply insert your new graphics card into the expansion slot inside the enclosure. And then connect the enclosure to your Mac via one of its Thunderbolt 3 ports.
What Are The Advantages of an eGPU?
Obviously, the biggest advantage of an external graphic processor is boosting the graphic performance of your Mac. eGPUs also allows you to quickly transform your lightweight laptop into a heavy and powerful heavyweight desktop computer capable of running high-end graphics software or the latest AAA games. In addition, With the additional power that an eGPU provides, you can add additional screens to your setup for better multitasking. Some eGPU and graphic card setups allow up to four 1080p displays or up to three 4K displays connected to the box — depending on the graphics card.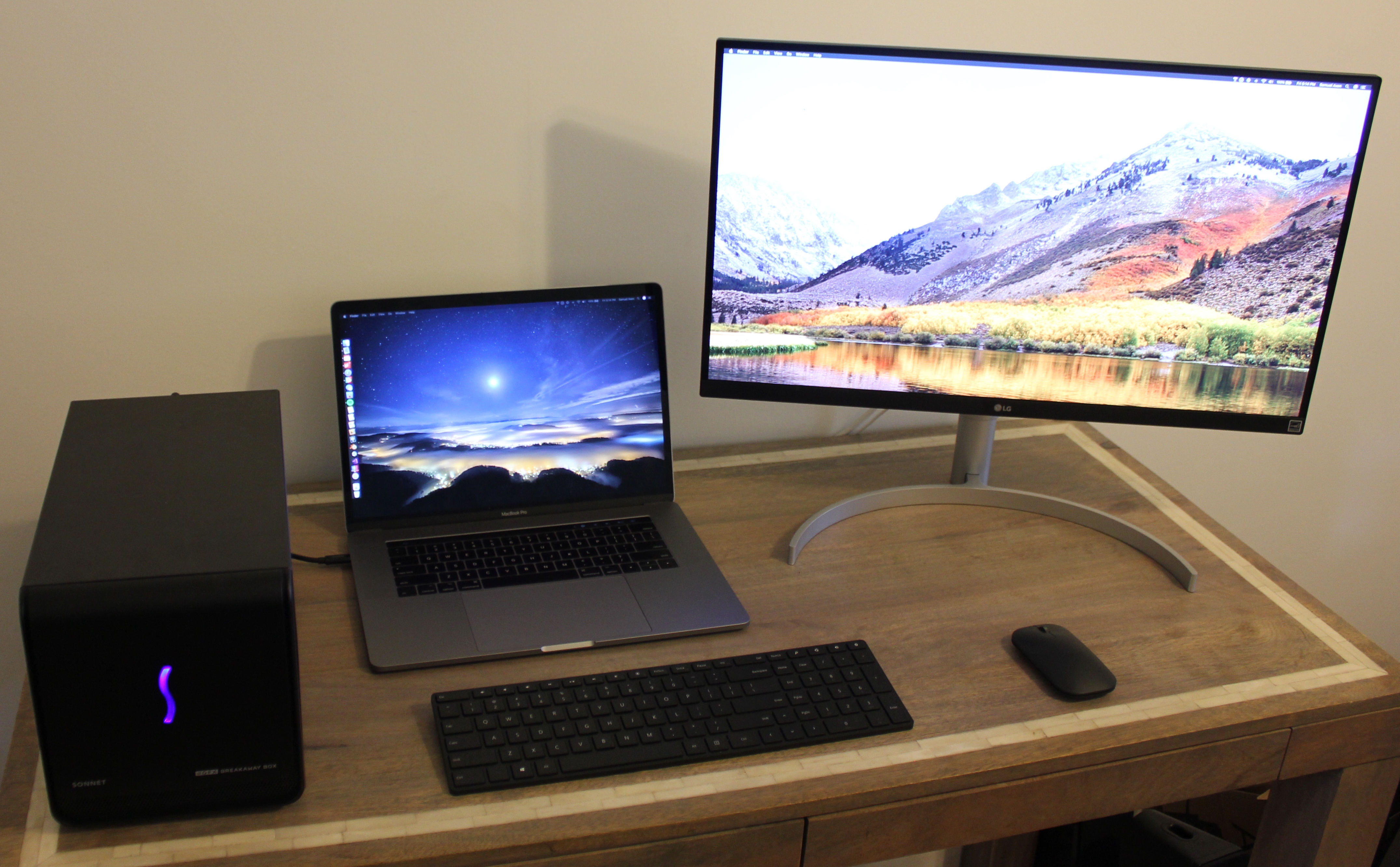 Which Graphics Cards Are Suitable For eGPU?
The bad news is that most eGPU enclosures are simply sold as empty boxes with no graphics card inside them. This means you have to budget a minimum of $300 just to buy the empty enclosure on its own, and then add the cost of your new graphics card on top. The process of installing the graphics card can be a little troublesome as well. Especially for Mac users who haven't come across the eGPU technology before.
In fact, Apple has collaborated with digital cinema production manufacturing company, Blackmagic Design to create their own eGPU set which is sold in the Apple Store. The Blackmagic eGPU features Radeon Pro 580 graphics with 8GB memory, 36 compute units, and a base clock speed of 1,200MHz. Check it out here.
It might be more expensive than the no-card enclosures, but they're very quick and easy to install. You will get the instant plug-and-play upgrade that doesn't involve any work with a screwdriver. However, the graphics card is built inside the enclosure, so you can't replace it and upgrade to an even more powerful graphics card in the future.
However, there are other alternatives available depending on your budget, and upgrade preference. Before you decide to purchase your eGPU, keep in mind that at the moment Apple's macOS only officially supports AMD-based GPUs. You can also get an Nvidia based eGPU to work on the Mac, but expect it to require some extra tinkering.
Which Macs are compatible with eGPUs?
Officially you need a Thunderbolt 3-equipped Mac, running macOS High Sierra 10.13.4 or later to use an eGPU. If you are having one of the more recent Intel Macs with a USB-C interface, you are pretty much good to go. Most GPUs use a USB-C connection and will be automatically detected by your Mac when you plug them in and should work straight away. In addition, macOS High Sierra 10.13.4 or later are also required to make the eGPU work.
Unfortunately, the new Apple Silicon Mac models do not support eGPUs including the Apple-promoted Blackmagic eGPU. This is considered a big disappointment for the Mac community. Hopefully, in future upgrades, Apple will add the eGPU support to M1 Macs.
How to use an eGPU with a Mac
Once you've gone through the steps to enable eGPU support (if required), you can plug the eGPU unit into one of your Thunderbolt ports.
Plug the eGPU in. Apple recommends using a Thunderbolt port on the left-hand side of the MacBook Pro for the maximum performance.
Once plugged in, the eGPU should be automatically recognized by your Mac.
A new icon will appear on the Apple menu bar:
If you can see the icon, it means that the eGPU has been and is ready to go. (This is also the icon you will need to click on to safely disconnect your eGPU unit once you are ready to unplug it.)
Now you need to configure some settings before you can use the eGPU with your applications.
If you are running macOS Mojave or later, go to your Applications folder.
Find the application you want to use with the eGPU. It could be one of the apps that require high 3D graphics performance like Final Cut Pro X, DaVinci Resolve, or 3D games
Right-click on the app, select Get Info from the drop-down menu
Halfway down the app info window, in the General tab, you should see a tick box with a Prefer External GPU option. Tick it.
Now, whenever you open that app, it should use the eGPU unit instead of the integrated GPU inside your Mac.
The Verdict
There you go, now you have our guide on using an external graphics processor on your Mac. To be honest, if you don't have enough money to spend on the new M1 mac yet, an eGPU will be a great choice. It is a much cheaper and easier way to upgrade your Mac performance. If you have any questions, please let us know in the comments!
Was this article helpful?