The MacBook Pro models from late-2013 to mid-2015 are often configured with 256GB or 512GB of solid-state drive (SSD) storage by default. However, this amount of storage will be running out quickly if you have done a lot of heavy-demand works like photo editing or video. Therefore, an upgrade in SSD is surely necessary. In the past, this upgrade was quite expensive. But now SSDs' price has dropped down drastically, allowing users to upgrade their MacBook Pro's SSD themselves at a much lower cost. In this article, we will provide you a step-by-step guide on How To Upgrade Your MacBook Pro SSD ( late 2012-mid 2015). Let's check it out
Preparation
A Pentalobe T5 (1.2 mm) Screwdriver (5 point star) and a Torx T5 Screwdriver (6 point star). You can also get a Tekton screwdrivers kit that includes both of them
A compatible SSD: Any NVMe SSD should work well, but for 2012 and early-2013 MacBook Pro models, you'll need an mSATA SSD such as the Crucial MX500 1 TB. Most users usually upgrade their SSD to 1TB of storage but the same company's 2TB SSD should work too.
You will need an Apple's SSD adapter that matches the pin on your SSD drive and the pin on your Mac's SSD slot.
An external hard drive that has more space than your laptop's current SSD for a Time Machine backup. If you tend to use iCloud for your Time Machine backup then ignore this.
A flash drive with more than 10GB of space for the installer of the latest version of macOS. There is a chance that some issues with Mac's recovery mode will prevent you from installing macOS through it. It's likely that you will not need this but it's better to be safe than sorry.
Note Before Start
This upgrade guide works on MacBook Pro late 2013-mid 2015 models, MacBook Airs mid-2013- 2017, iMacs (with fusion drive or SSD) late 2013- 2017 (probably 2019 as well), Mac Pro 2013, and Mac mini 2014. In this guide, we will replace the SSD on a late 2013 15″ Retina MacBook Pro with a standard NVMe SSD.
The entire process might take over an hour or two, so be patient
Step 1: Create a Time Machine Back up
If you want to keep all of your Mac's data to the new SSD, you must first create a Time Machine backup. It must be done using iCloud or an external hard drive. You can learn how to do it by following our guide here.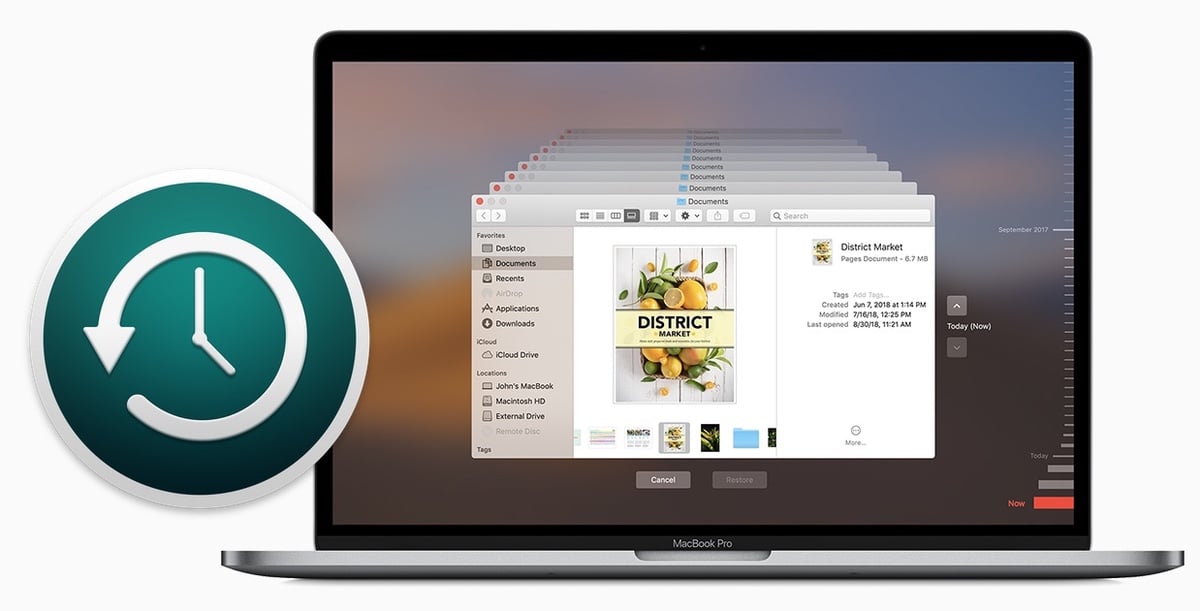 Step 2: Install the macOS Installer on a Flash Drive
As mentioned, you probably won't need a macOS installer drive, but you should do this step just in case there is a software issue when using the Recovery mode later. Here's how to do so:
Insert your flash drive into a USB port.
Download the installer for the latest version of macOS.
Use the Disk Utility app to burn the installer to the flash drive. This will overwrite all the files on your flash drive.
Step 3: Turn Off Your Mac
Now you need to turn off and unplug your Mac to prevent any damage as you will have to open it in the next step.
Step 4: Open Your MacBook's Casing
Use your Pentalobe T5 1.2 mm screwdriver to remove the 10 screws on the underside of your Mac. Be careful and do not lose any screws. You can use a small container to put them in. Each screw will need to go back into the same hole that you removed it from.
Step 5: Detach the Battery
There is a connector next to Mac's battery that needs to be disconnected to prevent issues on other components. Gently budge it on either side with a screwdriver. Be extremely careful as you don't want to damage it and brick your Mac.
Step 6: Remove the Old SSD
Now you need to locate your current SSD on the logic board. It is about the same size as a stick of chewing gum. There's a screw holding this SSD in place. Use the Torx T5 head screwdriver to remove it and place the screw in another container.
Once you have done dealing with the screw, grab the end of the SSD that is opposite from the connection to the logic board. Gently and carefully pull it upwards for about half a centimeter before you pull laterally, away from the connection, to remove the old SSD.
Step 7: Install the New SSD
Connect your new SSD with Apple's SSD adapter. After that. insert t to the same NVMe PCIe slot where you removed the old SSD. Make sure you connect it with the correct side facing up by aligning the off-center pin separation.
Once the SSD is fully in place, the screw hole will be entirely unobstructed. Use your Torx screwdriver to screw it in place and secure the new SSD
Step 8: Reattach the Battery
Now carefully re-align the pins on the battery connector and push it down into its slot. Be sure that both sides of the connector are fully attached
Step 9: Reattach Your Mac Casing
Put the rear casing of your Mac back in place. Use the Pentalobe screwdriver to fasten all of the screws that you in step 4. Make sure each screw goes into the same slot in which you removed it from.
Step 10: Start Your Mac in Recovery Mode
This step requires internet access via Wi-Fi or an Ethernet connection.
This step requires internet access via WiFi or an Ethernet connection. Make sure your external hard drive with the Time Machine backup is with you for the next step. Also, have your flash drive with the macOS installer nearby.
Now plug your Mac in, then Hold down the command+option+R keys and press the power button to boot your Mac into Recovery Mode. Keep holding the keys until you see a globe on your screen.
Step 11: Format your new SSD
First, you will need to use the Disk Utility to format your new SSD. We recommend leaving its Format as Mac OS Extended (Journaled) by default.
Step 12: Recover Your Data From Time
After the formating process is complete, you will move to the macOS Utilities window
To restore all of your old files and applications, connect your hard drive backup to your Mac, select Restore From Time Machine Backup, and hit Continue.
If you want a brand new copy of macOS on the new SSD, select Reinstall macOS and hit Continue.
Note: In case your Mac freezes on a black screen, or a black screen with a white Apple logo, it's time to use the flash drive installer. Force-shutdown your Mac by holding down the power button. After that, connect the flash drive into a USB slot. Now hold the option key and power on the Mac and select the macOS installer when the boot option appears on your screen.
---
And there you go, you have completed all the steps to upgrade your MacBook Pro SSD ( late 2013-mid 2015). Now you can enjoy the extra storage on your machine. If you have any questions in the process, please let us know in the comments!
Was this article helpful?