The new M1 Mac models got a big performance boost thanks to the new Apple Silicone processor, but it also brings some drawbacks. This ARM-based chip no longer supports Boot Camp. But the table has turned recently.  The Parallels team has introduced a new version of its flagship software, Parallels Desktop 16.5 that allows users to run Windows 10 on new Apple Silicon M1 Macs.
So in this article, we will provide you a detailed guide on how to install and cogfigure this software to run Windows 10 on Apple's M1 Macs. Let's check it out!
Before We Start
There are a few things you should know before we come to the actual guide:
Parallels 16.5 works on all M1 Mac models, including MacBook Air, MacBook Pro, and Mac Mini.
In order to run Windows 10 on Apple's M1 Macs with Parallels, you will have to use a version of Windows designed to run on ARM processors, called Windows 10 for ARM 64. 
The software includes a tool that will help you download and install a virtual machine of the right Windows 10 version. However, that version is an "Insider Preview" of Windows 10 for ARM 64, meaning it's still under development.
As the Windows 10 Insider Review is still in development, you may experience some bugs and glitches.
Additionally, ARM32 apps, like the built-in Skype and Windows Store apps, will crash right upon launch. So you might want to try the ARM64 apps only.
If you already have a license for Parallels Desktop 16 for Mac, you can upgrade to Parallels Desktop 16.5 at no additional cost. A new subscription costs $80 per year and a new pro license costs $100. There are also discounts for people upgrading from Parallels Desktop 14 or 15.
Step 1: Download and Install Parallels Desktop
Download the Parallels Desktop installer from its home page
Double-click the .dmg installation file to mount it in Finder, then double-click Install.
Read through the Software License Agreement and click Accept.
Once prompted, enter your local Mac user password to finalize the installation.
Open Parallels Desktop on your M1 Mac.
Log in with your user account.
Activate your license by accessing the app's menu> Account & License.
Step 2: Install Windows 10 for ARM64 Virtual Machine (VM) on Your M1 Mac
Access the Parallels Desktop menu located at the top-left corner
Click New… to access the VM Creating Wizard. Alternatively, you can click on the (+) button in Parallels Desktop Control Center to access the same Wizard

Scroll down and click the Windows 10 Technical Preview button
Click Continue
Click Continue again.
In the next window, you need to choose the language.
Choose the location for the new virtual machine
Then click Download
Now you just need to wait for the files to be downloaded. The amount of time it takes will depend on your internet speed but keep in mind that Windows 10 is not a small download at all.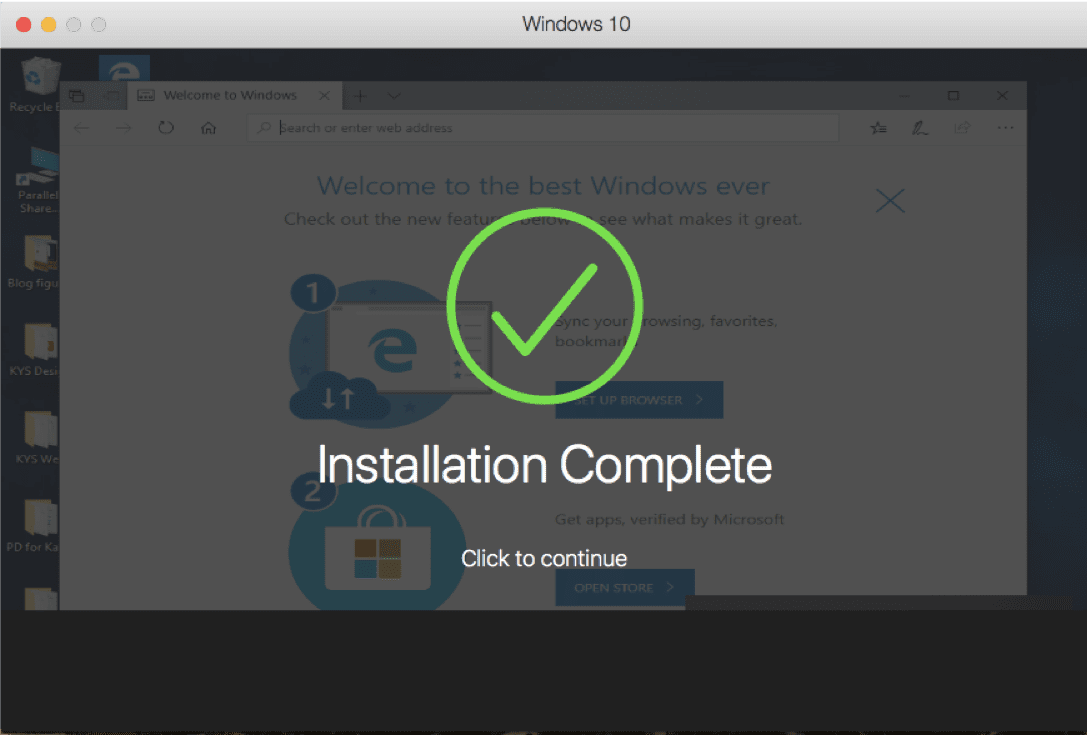 Note: While Windows 10 is installing, you may see dialogs about the installation of Parallels® Toolbox, a separate Parallels product that's bundled with Parallels Desktop. Parallels Toolbox gives you 30+ single-purpose tools for common tasks so you should install it for more convenience during use.
Step 3: Configure Your Windows 10 Virtual Machine
After the process is complete, you can now access Windows 10 Virtual Machine on your M1 Macs. You can then boot it up and use it casually via Parallels Desktop.
By default, Parallels Desktop will add a new user to Windows 10, using your username from your Mac. However, you will need to link your Windows user with a Windows Live account that's opted-in the Microsoft Insider Program. Doing so will allow you to access the Store (Beta) where you can download apps and games from Microsoft.
Step 4: Enable x64 Emulation Support
Next, you will need to enable the x64 emulation Support on your Windows 10 virtual machine in order to install ARM64 apps from other sources rather than the Windows Store. You can learn more about x65 Emulation Support on the Microsoft guide here. To enable this feature, you need to:
Access the Windows search bar, search for Insider and click on Windows Insider Program settings.
Select the Go to Diagnostics & Feedback settings link and turn on optional diagnostic data.
Click Link a Windows Insider account and log in with the account you registered with Windows Insider Program.
In the Insider settings, select Dev Channel to gain access to the most recent updates.
Click the Home button to go back to the main Windows Settings page and switch to the Update & Security tab.
Click Check for updates under Windows Update, the latest Windows 10 Insider Preview will show up.
Select the download and install button beneath the build description to install the latest developer build.
Once all updates are installed and your machine reboots, Parallels Tools will be reinstalled and you'll need to restart once more.
Step 4: Bump Up The Core Allocation
This is not a necessary step, but it's highly recommended to boost your Windows virtual machine's performance by bumping the core allocation from two to four. As all M1 Mac models have 8-core CPUs, your macOS will still retain access to the remaining 4 cores.
To bump up core allocation, you need to:
Shut down Windows
Click Action in the menu bar and select Config
Select Hardware then switch to CPU and Memory tab
Use the drop-down box next to Processors to change it from 2 to 4.
The Advantages of Parallels Desktop 16.5
Despite the lack of optimization on Microsoft's part, Parallels claims that the new Parallels Desktop version will provide a huge performance boost on an M1 Mac. Specifically:
On a Mac with an Apple M1 chip, Parallels Desktop 16.5 uses 2.5 times less energy than on a 2020 Intel-based MacBook Air computer.
The new version delivers up to 60 percent better DirectX 11 performance than on an Intel-based MacBook Pro with Radeon Pro 555X GPU.
Running a virtual machine (VM) of Windows 10 on ARM Insider Preview on Parallels Desktop 16.5 on an M1 Mac performs up to 30 percent better than a Windows 10 VM running on Intel-based MacBook Pro with Intel Core i9 processor.
Additionally, Parallels ensures that the best features of Parallels Desktop work with Apple's M1 chips, including coherence mode, shared profiles, Touch Bar controls, and the ability to customize your keyboard menu and shortcuts. You can find more about these features here.
Was this article helpful?