If you are a huge fan of Apple products, the HomePod Mini will be a worthy purchase. Besides providing great tunes, this smart speaker will keep your devices linked together as well as manage your SmartHome's ecosystem via Siri. However, the HomePod Mini isn't flawless. Like any other tech products, you will also face glitches and annoyances with it. Luckily, most of these issues can be solved by a simple factory reset. The process is easy to do and doesn't take long, but Apple doesn't make it obvious. So in this article, we will show you how to reset your HomePod Mini.
Which Issues Can You Fix By Resetting your HomePod Mini?
Resetting your HomePod can fix issues with audio, connectivity, pairing, and more. It's also the only way to eliminate some of the Wi-Fi issues small number of early HomePod mini adopters are facing.
Note Before Start
Keep in mind that doing a reset on your HomePod Mini will wipe out all the settings on it and you have to set it up all over again. So, you should only reset it when:
Your HomePod Mini is having multiple/serious problems and can't function properly.
You need to send your HomePod Mini in for repair service.
You are planning to sell or give away your HomePod Mini.
Now if everything is ready, let's move on to the methods for resetting your HomePod Mini. The following methods may also work with the regular HomePod as well.
Use The Home App
The simplest reset method you can use is the Home app on your iPhone or iPad. Note that you'll need to use a device that's signed in to the same iCloud account as the HomePod/HomePod Mini you want to reset. Here is what you need to do: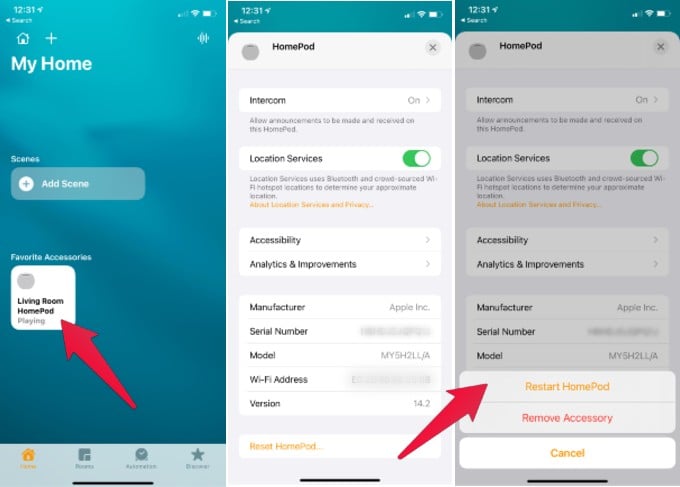 Open the Home app.
Find the HomePod you want to reset under the Home or Rooms tabs.
Tap and hold the device, then select Details.
Select the Remove Accessory option.
This will unpair your HomePod Mini from your devices and reset it in the process. After a few minutes, your speaker will restart and you can begin the pairing process again.
Reset using HomePod only
If your HomePod or HomePod mini does not show up in the Home app, there is another way to reset it, which is the HomePod itself. Here's how to do that:
Unplug HomePod and plug it back in
Press and hold the top of HomePod, keeping your finger on top of the device at all times. If you lift your finger, you'll have to start over.
After you press and hold on the top of HomePod, the spinning white light at the top of the device will turn red and Siri will tell you that your HomePod is about to reset.
Keep pressing the top of HomePod until you hear three beeps.
Reset using a Mac
This method only works for HomePod Mini and won't work with a regular HomePod because it doesn't have a USB-C port. What you need to do is:
Plug your HomePod mini into your Mac using the speaker's USB-C cable.
When the Finder window appears, select your HomePod mini in the sidebar.
Click the Restore HomePod button.
If the issue persists on your HomePod or HomePod Mini, contact Apple Support for further assistance. You may need to send your speaker to the nearest Apple Center for repair.
There you go, now you know how to reset your HomePod and HomePod Mini. If you have any questions, let us know in the comments!
Was this article helpful?