Due to the legal dispute between Epic Games and Apple, Fortnite has been completely banned from the iOS App Store since August 2020. This is a bad news for gamers who love this infamous battle royal game. Up to this moment, there's still no sign of Fortnite coming back to the App Store. The good news is that it's possible to install Fortnite on your iPhone or iPad after the ban imposed by Apple. There are some workarounds for making this possible, but they are either risky or require you've installed Fortnite before. 
So if you don't mind these drawbacks, here is how to install Fortnite on your iPhone after Ban.
Redownloading Fortnite From App Store
This method only works if you have installed Fortnite once before it's completely removed from the App Store.
Open the App Store on your iPhone or iPad.
Tap the Account icon in the top-right – it'll usually be your Apple ID profile photo or Memoji.
Tap All Purchases and switch to My Purchases to access a list of all the apps and games you've ever downloaded.
Search for Fortnite in the search bar.
Tap the download icon to download Fortnite.
If you've already had Fortnite on your device, you can also use this method to update it to the newest version. Currently, Fortnite is at chapter 2 – season 5 with a ton of new events that mark Epic's collaboration with Marvel's superheroes. You will need the latest version of Fortnite in order to access the game's new content.
Use Family Sharing to Get the Game
If you've never played Fortnite on your iPhone/iPad but one member of your family got it on their phone, you can still get the game via Family Sharing. This feature makes it easy for up to six family members to share App Store purchases, Apple subscriptions, an iCloud storage plan, and more. And the best thing about it is that you don't have to share your Apple ID with others.
To set up Family Sharing, you need to:
Open Settings on your iPhone/iPad
Select [your name]
Tap Family Sharing, then tap Set Up Your Family.
Follow the on-screen instructions to set up your family and invite your family members.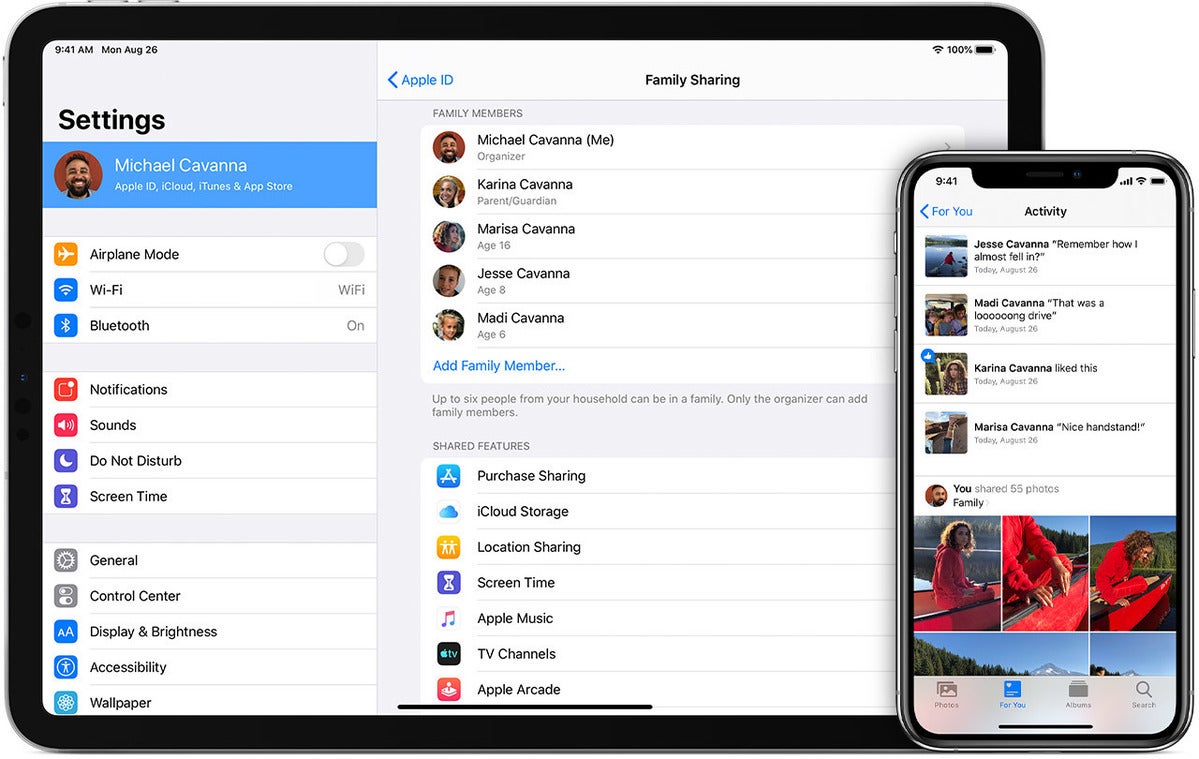 After you've done with the setup, go back to the App Store, and go to Purchased Apps. After that, access your family member's account, then search through their apps to find Fortnite, and download and enjoy.
Buy Fortnite-installed Phone on eBay
No matter how bad the situation between Epic Games and Apple becomes, there are always people who take advantage of it. In fact, some users have listed their iPhones with Fortnite installed and eBay. This kind of thing also happened with the mobile hit Flappy Bird back in 2014. Some people are selling their busted up iPhones with Fortnite installed for thousands of pounds extra.
Buying these devices for thousands of dollars is silly to play the game. First of all, there are barely bids placed for these phones. This is because Fortnite is a free-to-play game that's available on nearly every gaming platform. On top of that, it's a cross-platform game, so you can play with other Fortnite players whether you're playing on Nintendo Switch, iPhone, PC, Xbox One, PlayStation 4, Android, or Mac. So why pay a large of money for a game that you can get for free elsewhere?  Not to mention scammer and tricksters out there to take your money.
We highly recommend you NOT to use this method. But if you don't care about these risks and you have a big budget, just go to eBay, search for Fortnite iPhone, and you will be given a bunch of options. Make sure you follow eBay's advice to minimize the risk of falling for scams and tricksters.
Use GeForce Now to Stream Fortnite on to your iPhone/iPad
Well, there's another way for you to install and enjoy Fortnite on your iPhone after ban without having to download it from the App Store. However, it's not going to be the same mobile version. Instead, you will play the PC version of the game via Nvidia's cloud streaming service – GeForce Now.
Currently, there's no official GeForce app for iOS devices yet, but you can use the web app to stream games to your Safari. You will be able to stream any games that you've already bought on Steam, the Epic Games Store, EA Desktop (formerly Origin), and other independent marketplaces.
You need to set up an Nvidia account first by going to its homepage first. Once you have your account ready, here is what you need to do:
Connect your iPhone/ iPad to a stable internet connection
Add GeForce Now expansion to your Safari browser
Log in with your Nvidia account
Add Fortnite to your library
Open Fortnite, login to your Epic Games account and you should be all set
According to Nvidia, you will be able to play Fortnite on safari with the touch operation. You can also play it with a Bluetooth controller. The DualShock 4 and Xbox One generation pads will work perfectly. NVIDIA  hasn't tested the new DualSense or Xbox Series X controllers but is confident the latter will work given it's only slightly different from the Xbox One gamepad. In case you are more of a Switch-style gamer, you can try out the Razer Kishi. It's fully compatible and you can plug it in directly to your iPhone's charger port. Unfortunately, the mouse and keyboard are not supported for now.
GeForce Now can be accessed for free, but sessions are limited to an hour and you often have to wait for a remote machine to become available. Alternatively, you can pay $4.99 per month for a Founders membership that boost up the session limit to six hours. The membership also gives you priority access and the ability to turn on NVIDIA's RTX ray-tracing acceleration.
The Verdict
And there you go, now you know how to install Fortnite after the App Store ban. For now, using GeForce Now is probably the best way for you to enjoy the game. It's unclear how long Fortnite will stay removed. Hopefully, we can play the game as usual in a near future.
Do you have any questions? Let us know in the comments!
Was this article helpful?