Not many people know about this feature, but it is actually very easy to get SMS messages on Mac. You can get texts, write messages, or reply to your friends who don't even have the iPhone right from your Mac. It's is a useful feature as you can still stay in touch when you don't have your iPhone or iPad with you. In this article, allow me to show you how to get SMS messages on Mac.
Messages On Mac
Apple's ecosystem makes it easy to keep all your devices' data synchronized. Over the years, several apps from the iPhone and iPad have made their way to Mac. And the Messages app is one of them. This application allows you to send messages between Apple devices (iMessage), or send MMS/SMS messages routed by your iPhone. You will be able to keep up your conversation no matter which devices you are using. Everything you need to do is to tweak some settings.
How to Set Up iMessage on Your Mac
Launch the Messages app on Mac – you can find it in your Applications folder. It can also be found in the Dock if you are using a newer version of Mac
You will be asked to log in. Enter the same Apple ID you use with Messages on iPhone and other Apple devices.
If you use two-factor authentication for your Apple ID, enter the verification code.
Now as you logged in to the app, Select Messages -> Preferences in the menu bar.
5. Switch to the iMessage tab and tick the Enable Messages in iCloud box. This option will keep messages ( both iMessages and SMS) in sync between your Mac and iOS device. The feature is not enabled by default, so you will need to activate it on your iPhone/iPad.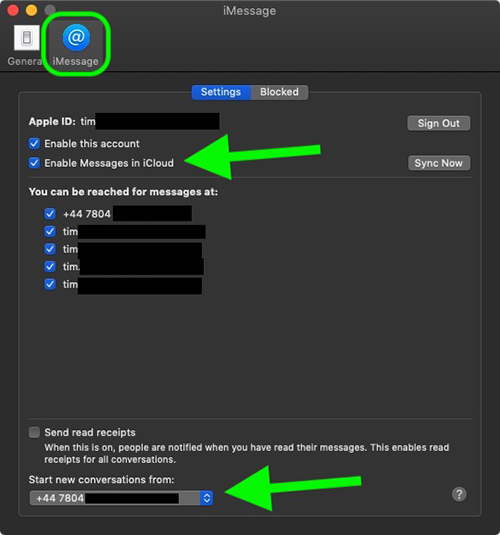 6. Use the drop-down list under Start new conversations from section to choose the phone number or email address you want people to see when you start a new chat.
And now you can start sending as well as receiving texts from other iCloud accounts. Everything you need to do is click on the New messages icon, type in your receiver's phone numbers or emails, and then type in new messages. If your receiver phone numbers and emails are linked to an iCloud account, they will get the text easily as it is sent by Apple sever (You will see a blue box)
However, if your friend is not using an iPhone, iPad, or any Apple devices, things will be a little bit different.
How to Send SMS Messages On Your Mac
If your receivers do not use an iPhone, you will notice that the "To:" box turns red when you add their numbers into it. This means that their phone is not registered with iMessage. You will get an alert saying 'Your message could not be sent' if you try to text them. In this case, you will need to follow the steps:
Open Messages app on Mac
On your iPhone, Go to Settings > Messages. Tap on Text Messages Forwarding.
Now you will see your Mac name on the screen with an ON-OFF slider next to it. Turning the slider to ON will allow your Mac to send and receive standard SMS messages.
You will need to verify your Mac to complete the process. A number series will show up on your Mac. Enter the series on your iPhone to get it verified.
Now you can send messages to your friends who don't use iPhone. The "To:" box will be green when you enter your friend's address. They will now receive your texts in the form of standard SMS messages, which have ben routed via your iPhone. The best thing is that the text message conversation won't be restricted to your Mac, as you will also see it on your iPhone
There you go, now you know how to send and receive messages on your Mac. If you have any questions, please let me know in the comments!
Was this article helpful?