Managing the storage of your Mac is not always a simple task. When your hard drive is full, your device performs poorly, which leads to several technical problems. Therefore, it's a good idea to free up your Mac. In this guide, we have rounded up the best tips on freeing your Mac's storage.
Clean Your Trash
The Trash on Mac behaves the same as it does in Windows. In fact, your files won't disappear when you move them to the Trash. Instead, they stay there for at least 30 days, which may take up your device's internal storage. We recommend you empty your Trash on a weekly basis. To do this, press Ctrl and click or right-click the Trash icon in the Dock and select "Empty Trash".
However, your Mac may have several Trash folders and you will need to empty them all. The iPhoto, iMovie, and Mail apps all have their own Trash sections. If you have deleted media files from within these applications, you need to empty the Trash.
Remove Unnecessary Applications
Since apps installed on a Mac also take up disk space, you should remove unused and unnecessary applications. To do this, open a Finder window, select Applications in the sidebar, and drag and drop the icon of the apps you want to delete into the Trash.
To see which apps take up the most disk space, open a Finder window and select Applications. Click on the Show items in a list icon in the toolbar, then click Size to sort app names by size. 
Clean Cache to Free Up Storage
Temporary files or Cache files also take up disk space, so you will need to clean them as well. Deleting temporary files won't make your Mac perform faster, but it will free up valuable disk space. In addition, clearing your browser cache isn't necessarily a good idea. The browser cache stores file from the web page so that the browser can load the page faster in future visits.
The macOS has a feature that automatically deletes temporary files, but a dedicated software will help you find more temporary files to clean. There are many temporary/cache file deletion tools for Mac, but CCleaner for Mac is one of the most famous ones. Just like the PC's counterpart, this software will assist in cleaning your Mac junkies and managing your disk space. You can get it from the official site. It is very fast and easy to use so you won't have any trouble using it.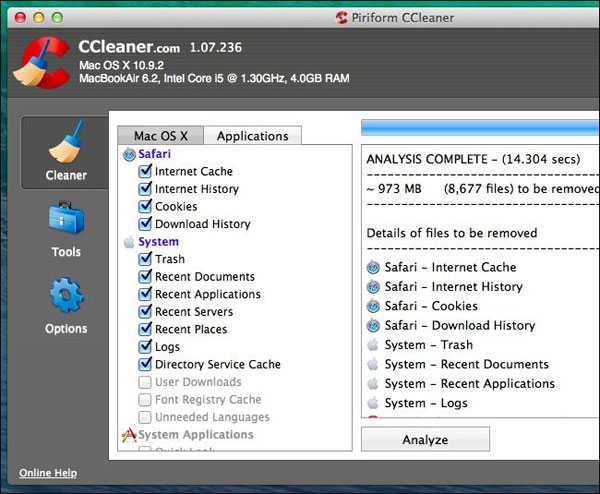 Delete Large Files
Of course, having large-sized files is one of the main reasons why your Mac is running low on storage. In this case, you will need to eliminate the culprits – these big files – to free up your device space. Luckily, you won't have to browse every single folder to find them. If you're running macOS 10.12 Sierra or later, Apple makes it easy to locate these large files. Here is how:
To get started, click on the Apple logo in the top left corner and select About This Mac.
A window will pop up. Now select the Storage tab
You will see a preview of all the file types you have on your Mac and how much memory they are occupying.
Click Manage for more details
On the left side, you will see the main services of your Mac and how much space they are taking up.
Delete any unused files or apps that you no longer need.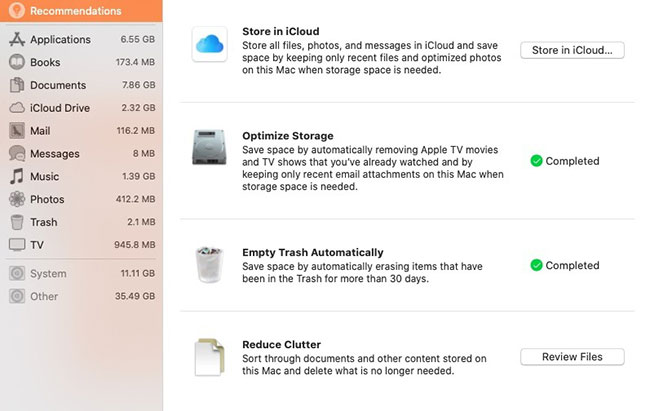 The best part is that the Storage Management window also provides recommendations for optimizing your storage.
Use the iCloud Storage
Apple's iCloud allows you to store and share your files among your devices online. You can still see, read, or do some actions with your files but on your computer. If you really need a file, you can download it again. Therefore, you can save a large amount of disk space on your Mac.
On the Manage window mentioned above, you will see a Store in the iCloud section. Click on it and you will have 3 options: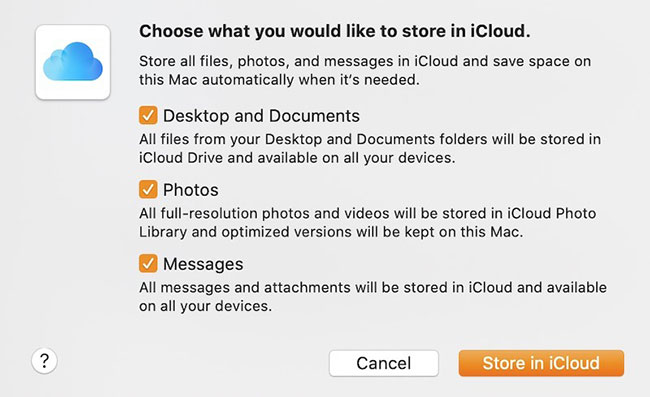 Keep in mind that the base storage capacity of an iCloud account is only 5G. If you exceed this limit, you will have to clean your iCloud storage or buy more. iCloud storage starts at $0.99 a month for 50GB of extra storage.
There you go, now you have the best ways to free up your Mac storage. Do you have any other tips to optimize Mac disk space? Share them with us in the comments!
Was this article helpful?