In November 2020, Apple finally introduced the new generation of MacBook that uses the company's own new Silicone M1 Chipset. The M1 Macs received a lot of compliments at launch with fans praising their amazing raw power and brand new features. However, if your MacBook setup used to include multiple external displays, there is a piece of bad news for you. One of the biggest problems with the M1 Macs is that they cannot natively connect to two or more external displays. So what exactly is this problem and is there any way to deal with it? Here is what we know so far.
External Displays: The Big Problem of the M1 Macs
According To Apple, The new M1 MacBook Air and 13-inch MacBook natively support just one monitor, which can be up to 6K at 60Hz. Meanwhile, the M1 Mac Mini is able to support up to 6k display at 60Hz via USB-C/Thunderbolt and another display that can be up to 4K at 60Hz over HDMI at the same time. This is a massive limitation compared to the previous Intel-based generation Mac.
Each M1 Mac model natively supports 1 less display monitor than the model it replaces. Specifically, The Intel MacBook Air and MacBook can connect one 6K and 5K display or up to two external 4K displays. The 2018 Mac Mini can support up to three 4k monitors or one 5K display and one 4K display together. 
Is there another way To Connect Multiples External Displays to M1 Macs?
There isn't any official method to make this work yet. However, thanks to discovery from the Youtuber Ruslan Tulupove, there is a workaround that allows users to connect multiple displays to their M1 mac. For instance, the YouTuber posted 2 videos demonstrating that it is possible to run up to six external displays from the M1 Mac mini, and five external displays from the M1 MacBook Air and MacBook Pro. This is achieved using DisplayPort adapters and DisplayLink software to drive the additional displays.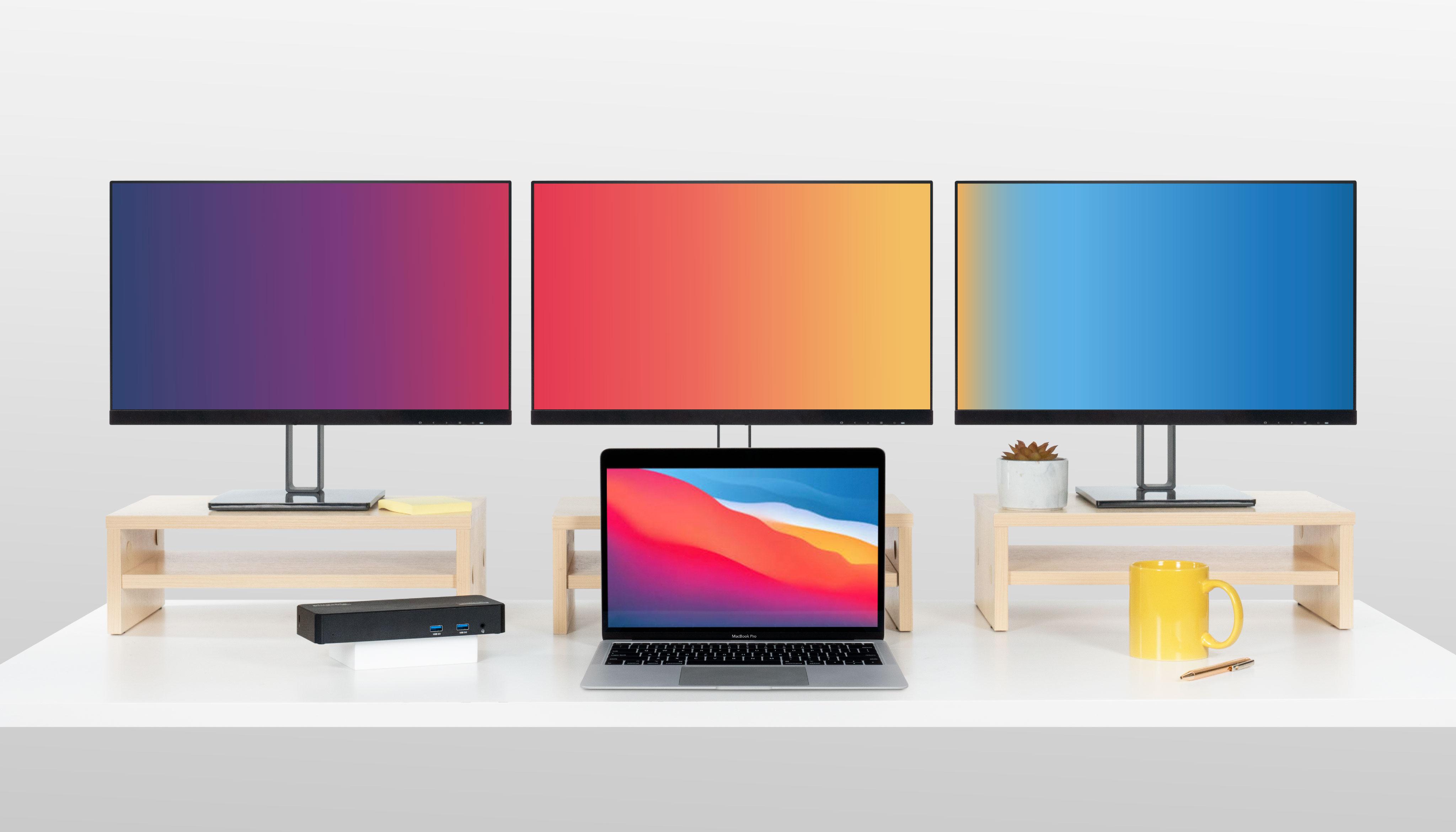 What Do You Need For This Workaround?
The workaround is quite simple to do but you need to prepare something before moving to the actual steps.
First, you will need an external dock for more ports. It's highly recommended that you use a Thunderbolt 3 dock for maximum bandwidth. The Plugable UD-ULTC4K Triple Display 4K Docking Station or the Caldigit TS3 Plus dock are the most popular ones for this task. You will also need various DisplayPort and HDMI adapters. These adapters will turn USB-C and USB-A ports into DisplayPorts so that they can be connected to an external display that accepts DisplayPort inputs.
The Workaround's Steps
As you get everything prepared, here is what you need to do:
Download the latest Mac DisplayLink driver here and install it on Your M1 mac. The newest version of DisplayLink Manager Graphics Connectivity App is compatible with macOS Catalina 10.5 and macOS BigSur.
Connect your MacBook to the external dock.
Now you can plug the first external screen into your dock Display Port or HDMI Port. The screen will then be linked directly to the system's native GPU and it will be handled natively by the M1 processor.  This requires no user driver installation. 
For the next additional external displays, you will need to attach them via the dock's USB-A ports, using an HDMI adapter. These displays won't be handled natively but instead managed by the DisplayLink driver that you've installed. 
Open the DisplayLink Manager app from your Applications folder. Follow the on-screen instructions to grant the app access to your Mac's system. 
Now all the external screens will show up in the System Preferences> Displays. From there you can arrange the displays' location to match your setup. 
And that's basically how you connect two or more external displays to your M1 Mac. You can check out Ruslan Tulupov video here for more details and learn which devices that he used for this workaround.
The Drawbacks
The workaround also has some limitations and downsides. Notably:
You will have to keep your Mac's lid up all the time. DisplayLink does not support laptops' closed-display/Clamshell mode.
It can be costly as you have to buy multiple adapters, cables, and docks if you have many external displays.
The display rotation function might cause terrible refresh rates on the external screens.
Some users report that DisplayLink drivers may take a huge amount of resources on your Mac's GPU and CPU, so it's recommended that you not use this workaround for heavy-load works, especially gaming.
The Verdict
And that's what we know so far about how to connect two or more external displays to an M1 Mac. It's unclear why Apple limits the capabilities of multiple monitor support on the M1 Generation. Some would say this feature is reserved for upcoming higher-end Mac models. But for now, using DisplayLink is the only workaround available.
So, what do you think? Share your opinion with us in the comments!
Was this article helpful?