At the "Hi, Speed" event, Apple introduced a new smart speaker called the HomePod Mini. This is a smaller, cheaper version of the HomePod speaker that Apple launched in 2018. This Mini version retains all the significant features of the 2018 HomePod, including high-quality sound, an elegant design, and smart home AI support, while introducing a smaller body design that fits any space in your room. So if you are wondering if you should get the HomePod Mini or not, check out our HomePod mini 2020 review.
Price and Availability
The HomePod Mini has a price of £99 / $99 / AU$149. In fact, it is one of the cheapest products that Apple ever released on the market. There are 2 color options: Grey and White. Currently, it's only available in Australia, Canada, France, Germany, Hong Kong, India, Japan, Spain, the UK, and America.  
Compact Design
The HomePod Mini is really small. Measuring 8.4cm in height and 9.8cm wide. It's just about half the size of the similarly-priced spherical Amazon Echo. In fact, the HomePod Mini is even smaller than the new Echo Dot.
The latticed fabric shell blends nicely into the background and the small spherical design takes up far less space than the original HomePod, so it will be easier to fit in any room. When your music is playing, the top glows with a pleasing light. You may find this feature annoying as you can't turn it off or reduce the light brightness especially when you are trying to sleep.
Great Audio Performance
Audio performance is the main reason to buy the HomePod Mini and you won't be disappointed with this speaker. HomePod Mini delivers highly detailed and emotional sound quality, thanks to the fact that it uses a proprietary audio algorithm to deliver the highest possible audio performance.
To gets high and quality volume with just a compact design, the Apple A5 chip inside the HomePod Mini uses advanced software to analyze the acoustic properties of music, thereby optimizing the loudness and dynamics of the sound as well as controlling the driver's oscillation and passive radiator in real-time. The exclusive internal driver from Apple is composed of neodymium magnets and a pair of passive radiators that will deliver deep bass with detailed and sharp highs.
Apple also integrates the HomePod Mini with the proprietary sound wave navigation technology. This tech will navigate the sound to the bottom of the speaker, thereby providing listeners with a 360-degree sound experience. The spherical design also allows users to place the speaker in any position while still offering optimal sound quality. You will have high-quality and realistic music experiences no matter which genres you are playing.
The HomePod Mini also has a 3-microphone strip that supports the "Hey Siri" command. It also gets an inward-facing microphone to isolate the sound coming from the speaker for better command reception even when it is playing music.
Siri
Like the 2018 HomePod, the HomePod Mini features Apple's virtual assistant Siri. This AI assistant offers users a personalized entertainment experience in great detail. Siri can recognize who is commanding the HomePod Mini and customize music or podcasts queue according to their preferences. This is something that Alexa is unable to do. It also responds to individual requests such as accessing messages, notifications, scheduling appointments, making, and receiving calls, and more. Siri can also provide a series of general information useful for your working day.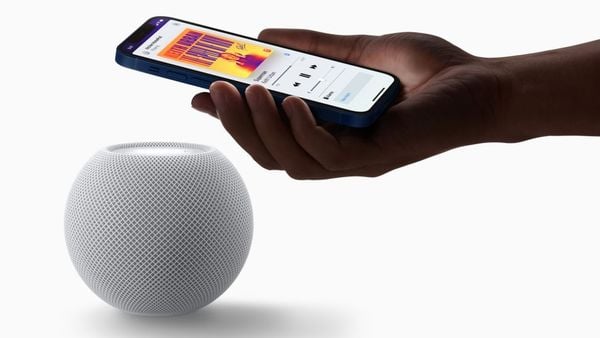 The HomePod Mini works seamlessly with Apple devices. You can easily receive calls on your iPhone/iPad, listen to music on your Mac, or enhance sound quality from AppleTV. When listening to music with the iPhone, you can place your smartphone near the HomePod Mini and continue listening to music on the speaker without interruption.
Smart Home Control and Intercom System
The HomePod Mini lets you control Smart Home devices easily with voice commands. You can tell Siri to turn off the lights, adjust the temperature, lock the doors, or change the decorative theme. The HomePod Mini's HomeKit creates an amazing home hub network for you to control your smart home whether you are at home or not. However, it seems like Apple needs to work on this feature as sometimes you need extra commands to make a certain device work.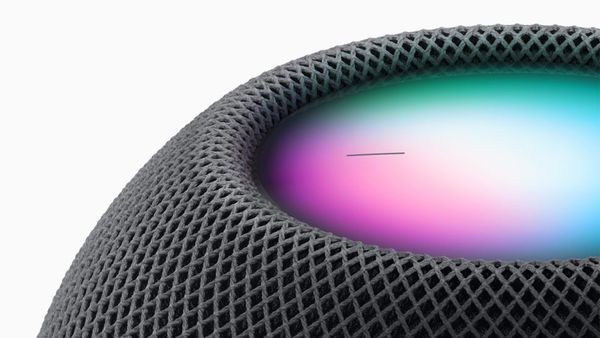 The new Intercom feature makes it easy for family members to connect with each other. A family member can send voice messages from an Apple device to a specific HomePod or HomePod Mini on the same network. For example, you are working upstairs and you need your kids to do something for you, you just need to send an intercom messenger to their room's HomePod. They will know what to do and you don't have to leave your room. How convenient that is? Intercom is compatible with iPhone, iPad, Apple Watch, AirPods, and CarPlay so all family members can send notifications to each other anywhere.
Music Platforms
This is where the downside of the HomePod Mini shows up. For it to be fully functional, you must have an Apple Music subscription. The speaker can directly access Apple Music, Apple Music Radio, and Apple Podcasts, iHeartRadio, Radio.com, and TuneIn radio stream. On the other hand, Apple really doesn't support third-party Music services. For example, you can't command the HomePod Mini to play anything through Spotify, which can only be enabled through AirPlay. The BBC podcast is an icon in the UK, but you cannot access BBC radio stations via the Siri commands.
Currently, Amazon Music and Pandora are one of the few music services that work with the HomePod mini. You can select the HomePod mini as a audio input option within the app.
The Verdict
Here are the Pros and Cons of the Apple HomePod Mini
| | |
| --- | --- |
| Pros | Cons |
| Compact Size and Sleek Design | Less support for third-party software |
| Great Sounds Quality | Siri and the smart home features need work |
| Many Useful Features | Need Apple Music to fully function |
| Very Affordable | The light can be annoying |
That's our HomePod Mini 2020 review? What do you think? Let us know in the comments!
Was this article helpful?