Even though macOS is not an ideal operating system for gaming, it offers users a perfect environment for working and processing data. In fact, the Mac models are favorites when it comes to video editing/processing. The operating system is well-optimized apps for video editing or rendering tasks. iMovie and Final Cut Pro X, are the most popular editing tools that you can find on macOS. They both offer unique features that suit your needs.
So in this article, we will make a small comparison between iMovie and Final Cut Pro X in some key factors to see which one is the better video editor for your Mac. Let's find out.
The Verdict
Here are the key differences between iMovie and Final Cut Pro X:
| | | |
| --- | --- | --- |
| Comparison parameter | iMovie | Final Cut Pro |
| Interface | Simple and intuitive | Complicated for beginners |
| Video-editing tools | Basic | Advanced |
| Sharing option | Yes | No |
| Support by mobile devices | Yes | No |
| 4K video support | Yes | Yes |
| 360° video editing | No | Yes |
| Target group | Beginners | Professionals |
| Price | Free | $299,99 |
Ease of Use
iMovie is designed for a beginner editor. Its interface is straightforward and simple. If you have a simple project that involves mixing together a few clips, you will find everything you need in iMovie.
On the other hand, Final Cut is also a very user-friendly application. But the additional effects and graphics may take some more time to get used to if you are planning to create a video with simple cuts and text titles.
Interface
The interfaces of iMovie and Final Cut are similar. Because Final Cut has more tools, it gains an extra toolbar on its menu. On top of that, Final Cut  has different interfaces specialized for the process you're involved in. Whether it will be editing, compositing, or color correction. Both editors offer a magnetic timeline that helps you put the clips into place and shifts all clips automatically over when removing or replacing a clip. 
Winner: Final Cut Pro X
Basic Features
iMovie has all of the features a basic video project might require, including transitions, sound effects, speed adjustment, and photo overlays. Unfortunately, the options for these effects are quite limited and rather be simplistic.
Meanwhile, Final Cut's effects have a wide range of variations and can be combined in many ways to achieve your desired result. For example, you can precisely adjust the frames using the color checking tool and keyframe feature. Final Cut also offers a huge bank of preset effects, but you can also create and save your own effects if needed.
Winner: Final Cut Pro X
Text Features
iMovie provides users with preset motion-based graphics for text. In this editor, it's very easy to add titles to a project, but you're limited in adjustment options. Basically, all you can do is change the font, size, and color of the letters – and that's it. In Final Cut Pro, on the other hand, you have many more options for your creativity. Of course, more choice means more effort needed when adding the text titles on Final Cut.
Sharing Features
After you're done editing your video in iMovie, you can share it directly on Facebook, Vimeo, or YouTube. In addition, iMovie is not only available on Mac. Apple has also developed an app that can be used on iPhone/iPad. This is very convenient if you want to edit your video but you don't have a Mac or you are travelling constantly. Meanwhile, Final Cut Pro is aiming for professionals thereby lacking these kinds of features.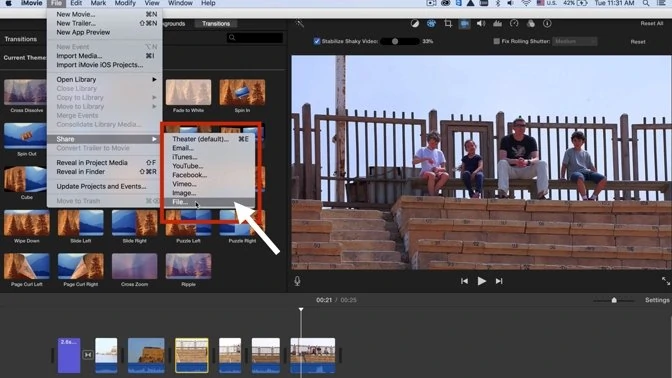 Winner: iMovie
Rendering Speed
Both products are only compatible with Apple products. This means that the operating speed compared to their competitors is fast. However, it may take some time to boot up on older Mac models. Since iMovie has fewer effects, transitions, and layers, it's a little bit faster when it comes to video editing. Videos made with Final Cut Pro are usually much larger in size, thereby taking more time to render.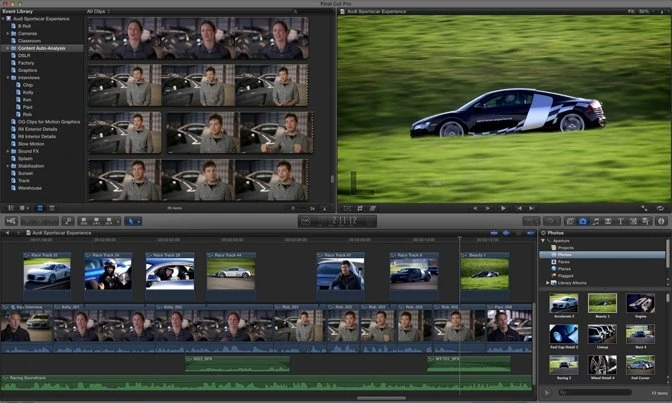 Winner: iMovie
Workflows
The workflows of Final Cut and iMovie are similar. Both programs import footage, use a magnetic timeline, and add effects with presets in a similar way. The only difference in workflow is that Final Cut offers a LOT more tools and effects to use for professionals and people hoping to learn more about editing.
Winner: a TIE
Advanced Effects
Both editors provide you the famous Ken Burn effect, which allows you to slow zoom in or out on a video or photo clip. In addition, you can also edit and export 4k videos with both of them.
With iMovie, you can add clips into your timeline, add preset transitions between scenes, create titles to overlay on clips, add photos, record voiceover, add preset sound effects, edit the sound effects, manipulate the speed of clips, and export for specific uses. That's all.
Final Cut offers much more advanced editing effects. With Final Cut, you can also adjust the colors in your footage with tools like their color inspector. You also have a full control over the keyframes in Final Cut Pro, which totally steps up the level of compositing motion graphics when compared to iMovie. Furthermore, you will be able to import and edit 360-degree video with Final Cut.
Winner: Final Cut Pro X.
Color
The color correction features enabled in Final Cut are far superior to those of iMovie. In fact, the iMovie color correction features are made for enhancing the quality of the footage. Meanwhile, you will have total customization on the colors of your footage to suit its tone and mood  in Final Cut Pro
Winner: Final Cut Pro X.
Pricing
As it's aimed for professional use, Final Cut Pro X has a price of $299.99. You can find it on the Apple Store. This price often comes with a discount if you purchase your mac with the software already installed or you are a student. You can also enjoy a 14-day free trial before buying the full license.
On the other hand, iMovie used to cost $14.99 on the AppStore. However, Apple ditched this pricing in 2013 and now this editor is pre-installed for free on every Mac device.
Winner: iMovie
Final Thoughts
Final Cut Pro X is clearly the superior software between these two but it comes with a hefty price.
If you are new to video making and looking for beginner software to help you start, choose iMovie. It offers everything you need to create a colorful video. It is a basic video editor which will help you to create an original video in a few steps.
But if you are a professional video maker and want to engage your video editing in detail to create high-quality movies, Final Cut Pro is the one for you. It' is a fast and all-around solution for video editing.
Share your choice with us in the comments!
Was this article helpful?