On 15th September, Apple has hosted an event to introduce its new products. Due to the COVID-19 pandemic, this September event is also streamed online like the prior WWDC event. There was a lot of rumors spread among the fan about which products will be released. Apple Watch Series 6 is one of the Apple products introduced in the September event along with the iPad 8th Generation. So what are the new features in Apple Watch Series 6? Here is our brief review to help you.
WatchOS 7
Watch OS 7 will be the base operating system for Apple Watch Series 6. Like some rumors predicted, this year WatchOS 7 adds more important health features. This including a new Sleep app which will help you keep track and improve your sleep. A handwashing auto-detection to remind you to wash your hands once in a while. However, what the rumors did not predict and become the most important features of Watch OS 7 is the new VO2 Max measurement.
VO2 Max is the index showing the maximum ability of a person's body to transfer and use oxygen during exercise. This number is expressed in milliliters of oxygen per kg of body weight per minute (ml/kg/min). VO2 is a reflection of one's physical strength and endurance. This means that the higher your VO2 Max, the greater your endurance. In short, the VO2 Max measurement is a great way to predict your health condition. Normally, it is measured in only some specific clinics. But now with WatchOS 7, your VO2 Max will be measured regularly. Based on the data collected, you will get not tips to improve and alert when your VO2 Max dropdown.
Design
Basically the Apple Watch Series 6 is not too different from Series 5. This has been predicted since before Apple has not leaked any information other than the newline does not change the screen.
The biggest difference in the appearance design of the Apple Watch Series 6 compared to the previous generation lies in the strap. Now the Series 6 will come with two new styles, respectively Braided Solo Loop and the Solo Loop. Both the aforementioned strap models have no padlock, made in one piece, and have high elasticity. They come in with a variety of wrist size options so they will fit any users.
The cases of the Apple Watch Series 6 continues to have two versions made from aluminum and steel. However, Apple's chief operating officer – Jeff Williams said that Apple Watch Series 6 is their most colorful lineup eve. There will be 4 new unique case colors: Blue-Aluminum, Classic Golden Stainless Steel, Graphite, and the brand new Apple Red Product.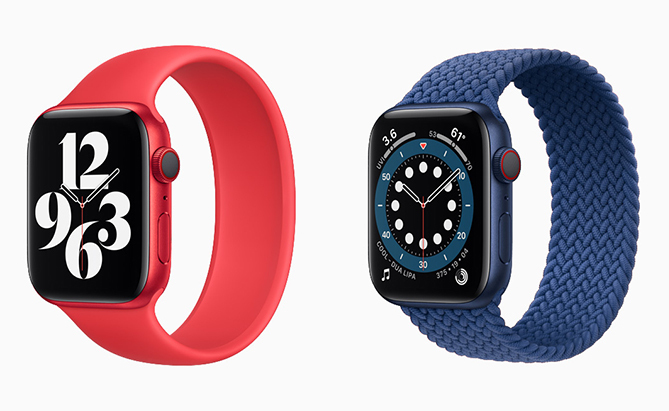 Specs
Apple Watch Series 6 will use the 6th generation Apple S6 chip based on the A13 Bionic chip. The chip is said to be 20% more powerful than the 5th series. This means applications can open and operate faster. Although there is no display change, Apple says the new smartwatch's Always On Mode will be 2.5 times brighter than before.
Most notably, Apple has for the first time integrated a sensor for measuring blood oxygen level (spO2). This is helping to turn the Apple Watch Series 6 into a more complete personal sports-medical watch. However, a lot of fans do not consider this a big breakthrough. Many brands like Garmin and Polar have had one or two generations of products that measure the concentration of oxygen in the blood.
Apple also installed an Ultra-Wideband antenna system that allows users to use Series 6 to unlock your car. The rest of the basic features such as heart rate measurement, abnormal heart rate detection, step counting, and altimeter measurement with barometer will continue to be maintained by Apple.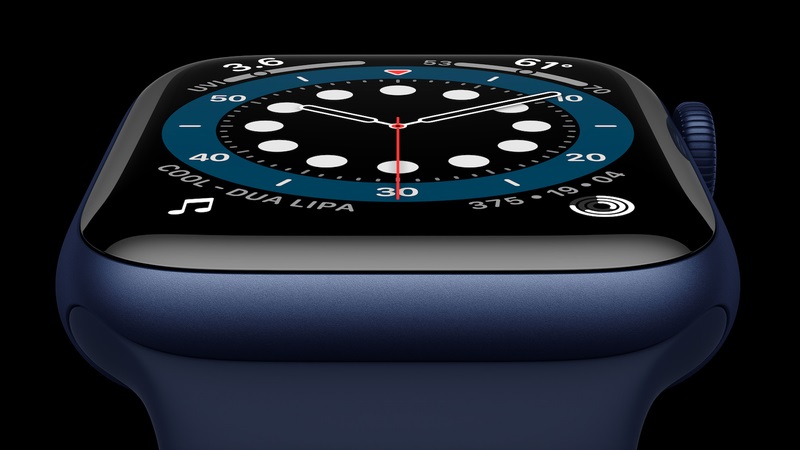 Features
The blood oxygen level feature is added. This is considered the most prominent function in Apple Watch Series 6. Now you can measure your blood oxygen level right from your wrist. With a new health sensor, the Series 6 blood oxygen app will take you only 15 seconds to do a measurement. According to experts, this feature is quite useful in the fight against COVID-19 and also traditional challenges such as asthma and other cardiovascular diseases.
Apple Watch Series 6 will support full night sleep tracking thanks to up to 18 hours of battery life and can be fully charged in 1.5 hours. Apple also revealed a host of new features in the new Fitness+ service in which users can discover themselves during use. On top of that, Apple introduced the new Family Setup feature. In which you can use your iPhone to pair watches for your family members an manage them all.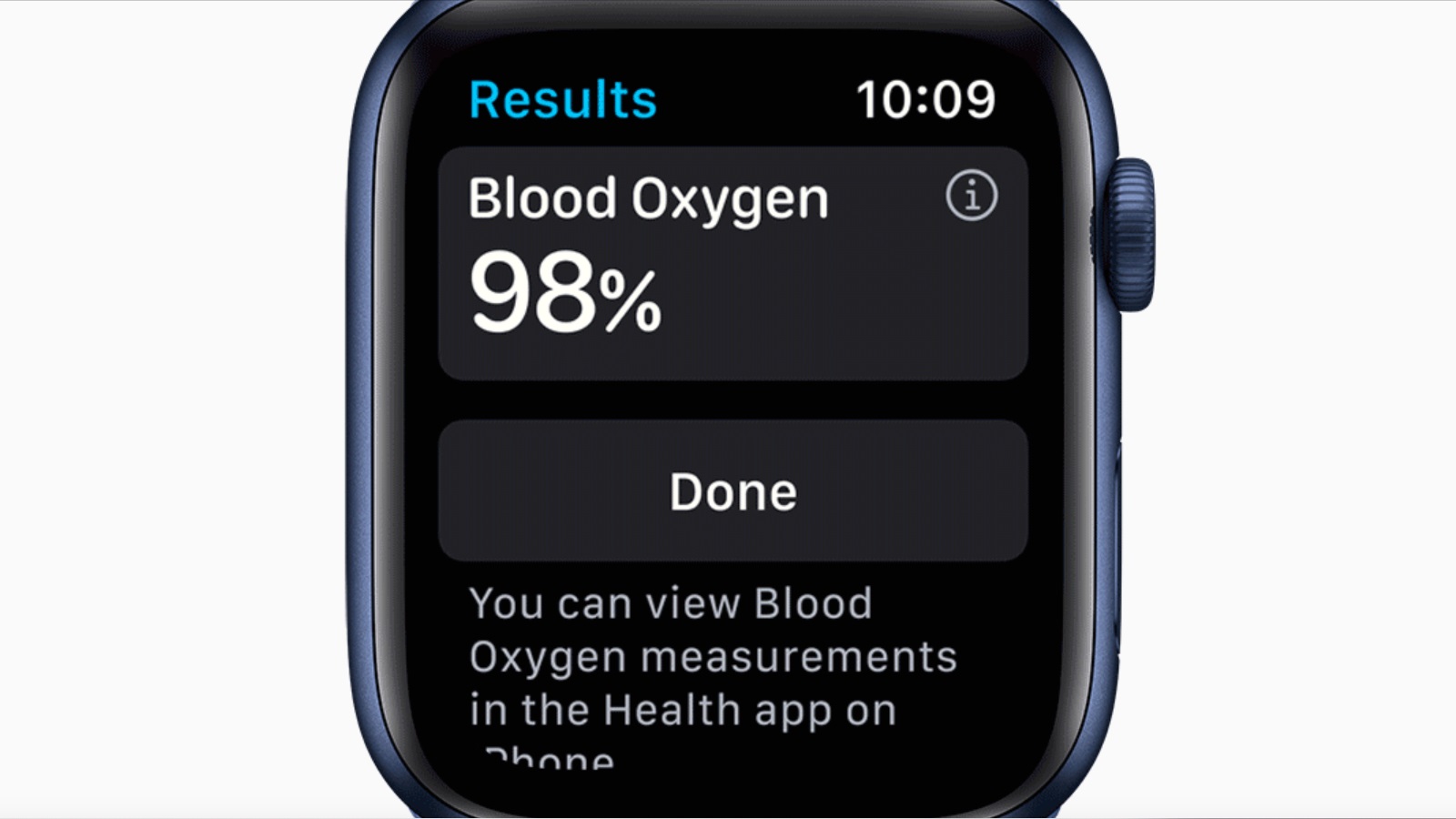 Price
Apple Watch Series 6 will start shipping on September 18 but you can place your order from now on. There will be different versions with different price, which include:
The Apple Watch Series 6 GPS + aluminum case will have a price from $ 399 for the 40 mm version and from $429 for the 44 mm version.
The Apple Watch Series 6 GPS + LTE can install SIMs card and have the price of $499 and $529 USD for 40 mm and 44 mm version respectively.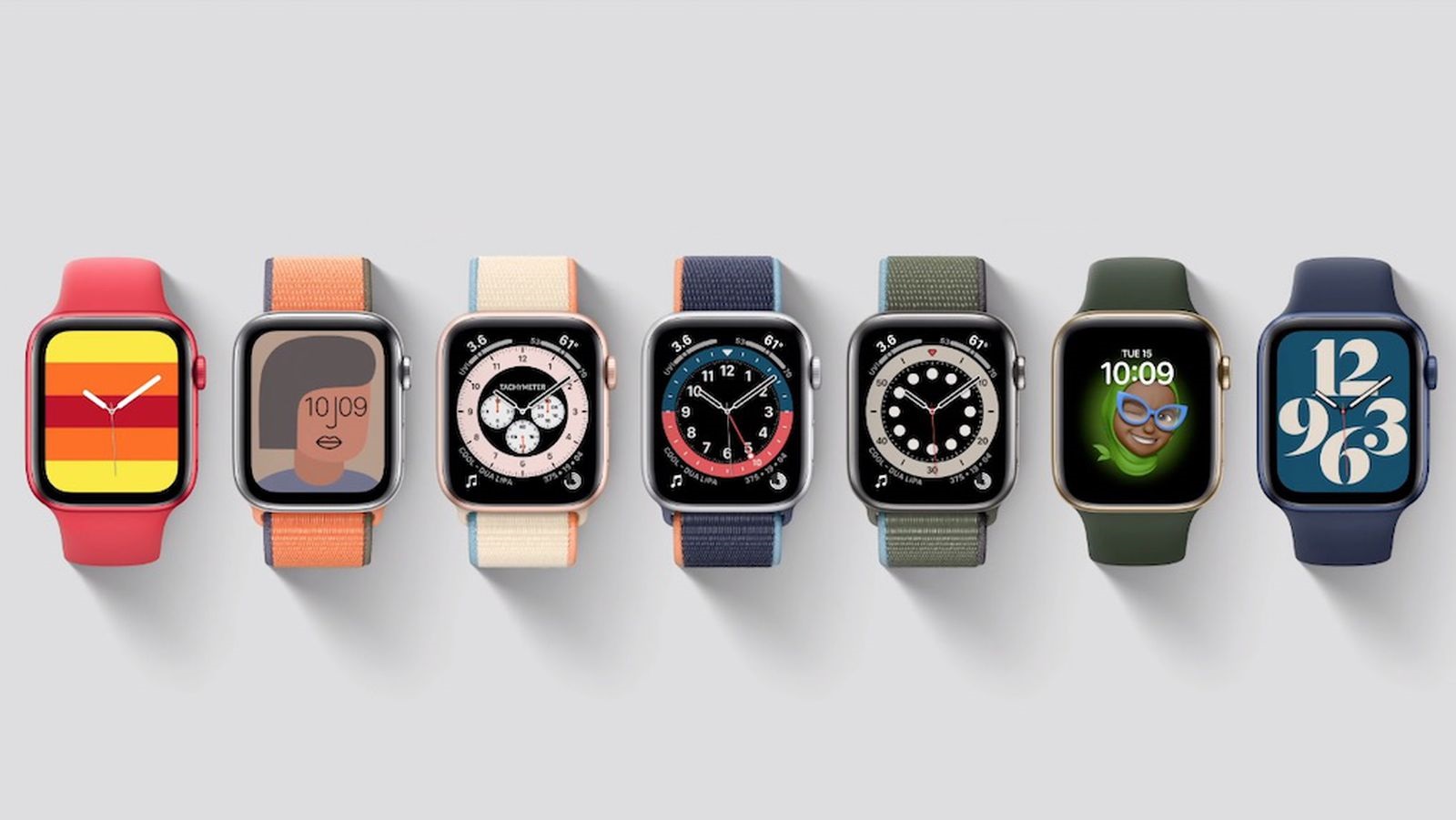 There you go, now you have our brief review on Apple Watch Series 6. You can get the full details of the new lineup on Apple's site. What do you think about the new Apple Watch? Let us know in the comments!
Was this article helpful?