A torrent is a file that contains metadata for various information. Typically, this kind of file will have a .torrent extension name and is only a few kilobytes in size. On the other hand, Torrent clients are applications that use the metadata stored in torrent files to download media files, ebooks, games, programs, website hosting details and other data types varying in size using the BitTorrent protocol. In short, using torrent clients is an extremely easy and useful way to execute and manage your downloads. There are a lot of Torrent Clients nowadays, but not all of them work on a Mac. So in this article, we will provide you with the best torrent clients on macOS Big Sur.
qBittorent
Price: Free
Overview:
If you looking for an entry-level torrent client, qBittorent will not be a bad choice at all.
It's easy to use, free, and open-source, yet it's packed with features. It has a well-integrated and extensible search engine, RSS feed support, a torrent creation tool, IP filtering, support magnet links, and many more. The UI is simple and straightforward, so you won't have any problem learning how to use this app.
The best thing about qBittorrent is that it doesn't have any ads. Let's be honest, nobody wants to use a program that has endless adverts that keep popping up. By giving you the freedom to download files without unnecessary add-ons, your downloads will be much faster and consume fewer resources.
This torrent client is generally safe to use, but you should be aware that it can be prone to malware and bugs, as it's open-source software. Furthermore, users complain that it can take up a big amount of RAM and may freeze sometimes, especially when handling multiple downloads at the same time.
qBittorrent supports macOS Sierra, High Sierra, Mojave, Catalina, and Big Sur.
Pros:
Built-in torrent search on many trackers at a time
Super user-friendly user interface
No ads
Lightweight installer
Cons:
Torrent downloads sometimes freeze
Consume too much RAM
Doesn't handle large numbers of torrents very well
uTorrent
Price: Free
Overview:
Like qBittorent, uTorrent is also one of the most popular torrent clients for macOS.
uTorrent comes with a lightweight installer and it stays small in size afterwards, so you will save some storage for other files. Despite having a compact size, it still offers a great number of features.  Some notable features are bandwidth caps, remote download management via mobile app, and RSS Feeds. Like qBittorent, this torrent client also has an intuitive user interface that can be easily figured out. uTorrent allows you to manage your torrents by using scripting, automation, remote control, and other features.
One of the most unique features of uTorrent is the online torrent player that allows you to search for content, download them, and even stream them while they are downloading. It's quite fast, so the downloads won't influence your online presence. In addition, uTorrent can be a portable downloader that you move to a USB stick.
Unfortunately, the Free version is full of ads and include other app's installations. uTorrent has been flagged by some antivirus software which may be a result of its ads – so it's uncertain how safe it is to use.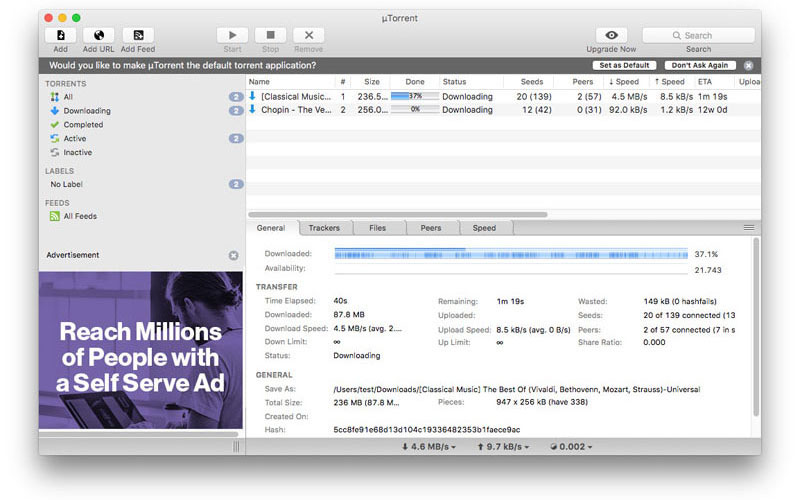 You always have the option to upgrade the client to premium for ads removal and advanced security features, including a built-in VPN feature for your downloads.
Pros:
Compact size
Easiy to use
Scheduling options
Free version offer a wide range of useful feature
Cons
No built-in torrent search
The free version includes ads
The free installer will try to push other installations
Folx
Price: Free
Overview:
Folx is probably the most well-rounded and compatible torrent client for macOS. In fact, it's currently the only client that is fully compatible with macOS Big Sur.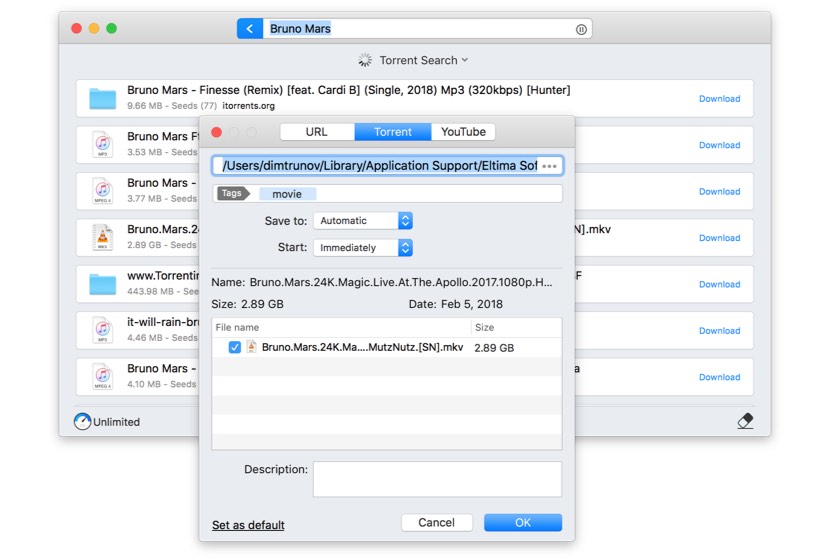 As it is designed exclusively for Mac, Folx comes with a beautiful user interface that's consistent with the macOS UI. It offers a convenient way of downloading torrent files: set the priority, regulate download and upload speed, tag downloads for quick search through the content. This function will be extremely useful if you are downloading multiple parts of a big file or folder. With Folx, you can download torrents from trackers, as well as via magnet links. You will also be able to split downloads into 2 threads for faster downloads and automatically resume interrupted downloads.
There's an option for upgrading to the PRO version, which costs $19.95, for even more features. Notably, the Pro version lets you search for torrent content directly from the app, so there is no need to browse through multiple torrent trackers. You just need to enter a search word in Folx, and it will go through the vast list of torrent trackers and display the relevant results.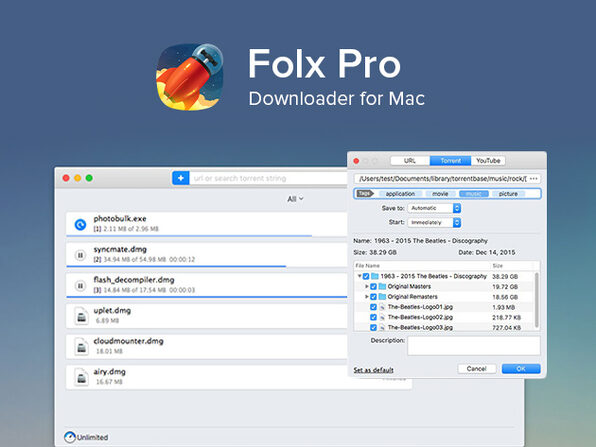 The downside of Folx is that it will take quite a large space of your Mac and you probably have to buy the PRO licence for full features. 
Pros:
Great organizing functions
Ad-free
Beautiful and friendly interface
Highly customizable
Able to create and share torrents
Handles large numbers of torrents easily
Automatically resume interrupted downloads
Cons:
Built-in torrent search only available in the PRO version
Heavy in size
Transmission App
Price: Free
Overview:
If you're looking for a light and straight-to-the-point torrent client for your Mac, then Transmission is the best choice for you.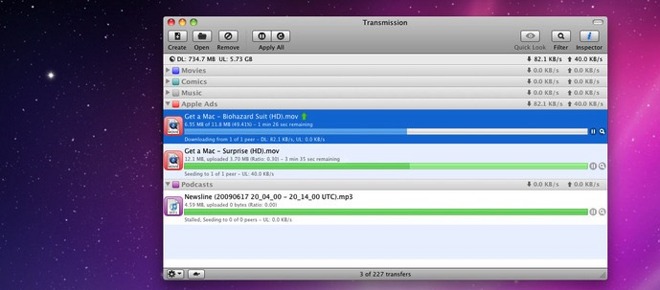 Transmission is s a free and open-source BitTorrent client with no ads. It comes with the ability to automatically classify torrents into different groups as well as a location that is based on their categories. Unlike other clients, this app is very light on RAM as it uses just a small amount of resources. It has a minimalistic interface. There are no fancy features like a video player or a VPN in this app. Transmission simply helps you analyze, download, and manage your torrents in the most straightforward way.  It supports magnet links and can locate local systems connected to your system. Some other features include a web interface, exchange peers, encryption, support, DHT, tracker editing, and a file opener.
Of course, as it comes in extra minimalistic, you can't expect its functions to be as optimized as other apps like uTorrent or Folx. Besides, some users might feel that the default window that consists of just torrents and their progress bars might provides some more information or functionality.
Pros:
Minimalistic and straightforward interface
No ads
Full encryption, DHT, PEX, and magnet link support
Lightweight and consume less resources
Cons:
Can't preload magnet metadata
No built-in search engine
Too minimalistic sometimes
No proxy server support
---
And there you go, these are our best torrent clients on macOS Big Sur. Each client has its own advantages and disadvantages, so make sure you check them out to get the best Torrent app for you.
If you have other torrent clients that work great on macOS Big Sur, please share them with us in the comments!
Was this article helpful?