It's undeniable that the Apple Watches is currently the king of the smartwatch thanks to their advanced features and iconic sleek-design. Of course, that quality comes at a high price as well. But this doesn't mean that you cannot afford an Apple Watch. In fact, there are plenty of deals, discounts, and offers for these smartwatches that might suit your budget. In this article, we will provide you the best Apple Watch deals for January 2021. The deals may vary depending on the retailers as well as size, colors, and connectivity options for your Apple Watches.
We will cover the deals for Apple Watch Series 6, Series 5, Watch SE, And Series 3. Let's check them out!
Apple Watch Series 6
The Apple Watch Series 6 will be ideal for anyone who is looking for the newest and most advanced Apple Watch.
The Series 6 was introduced back in September 2020 and is currently Apple's newest generation of smartwatch. These watches come with a dozen of new features, notably the ability to measure your blood oxygen levels directly through your watch. It also comes with a hand-washing reminder that remind you to wash your hand regularly. Experts believe that these groundbreaking features will be extremely helpful for Covid-19 patients while they stay quarantined at home.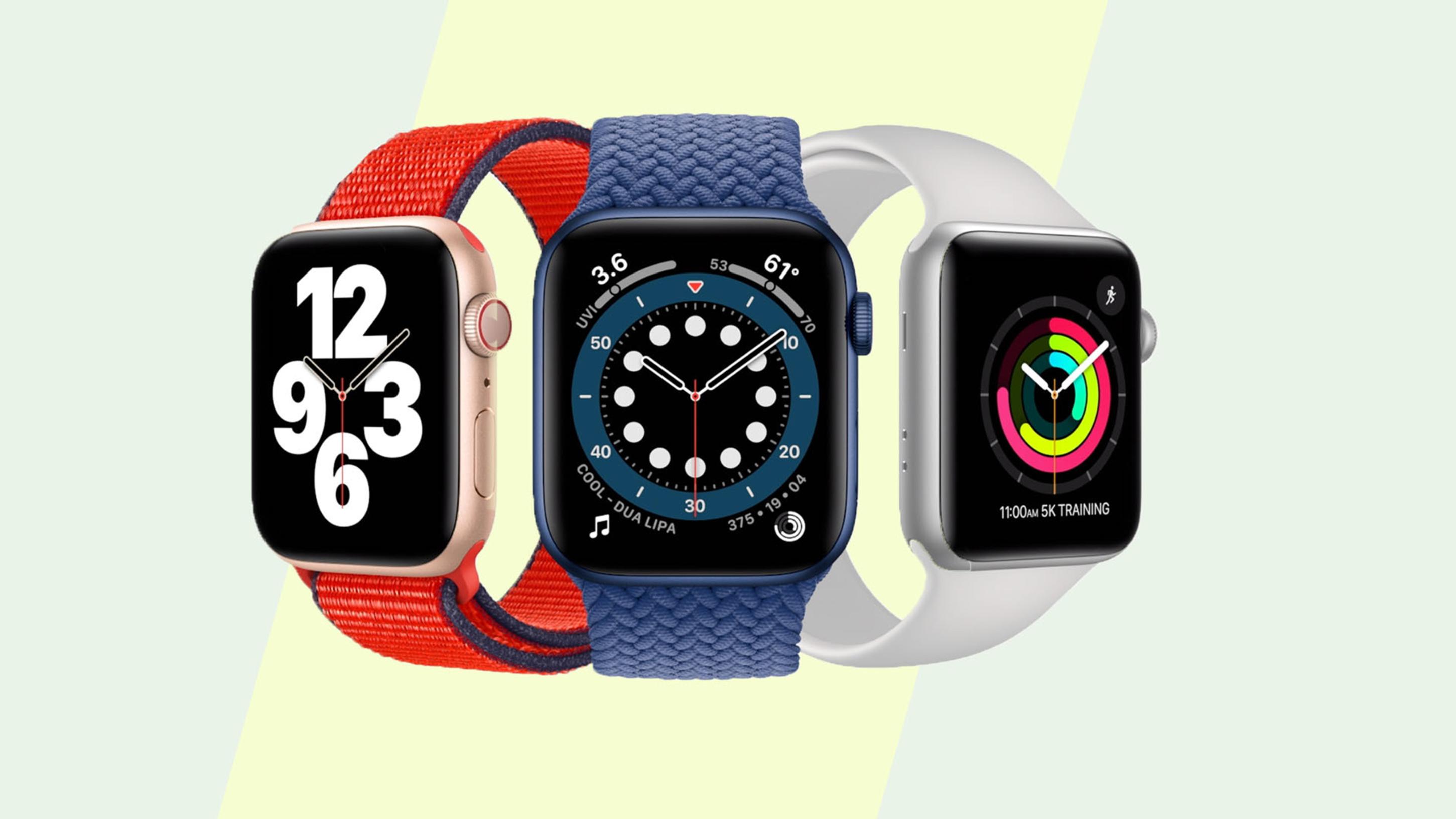 Some other new features on the Apple Watch Series 6 include a brighter screen, more fun watch faces with Animoji, and sleep tracker. There's also a family setup so your kids can have their own Apple Watch numbers, which allows you to communicate and track them with ease. On top of that, Apple equipped the Series 6 with the latest A13 chip and watchOS7 to make them 20% faster than previous models. The flagship Apple Watch comes in two sizes, 40mm and 44mm, with respective starting costs of $399 and $429.
Here are the best deals for Apple Watch Series 6 in January 2021
Apple Watch Series 5
Getting an Apple Watch Series 5 is not a bad choice at all as they may get some price drops due to the release of the Series 6. Apple still provides software updates for the previous flagship regularly, so you won't have to worry about your new watch being outdated. The Series 5 may not have the blood-oxygen measuring features, but they do offer fitness/health tracking options, Always on Display, and walkie-talkie function. Apple Watch Series 5 is also the first version that Apple equips with a Bleeding-edge display on their smartwatch.
There are 2 different kind of cases for the Apple Watch Series 5: Alluminum and Stainless Steel. The Aluminum case normally costs around 400$ while the Stainless Steel version can cost up to 700$. This Series also comes with 2 size options including 40mm and 44mm.
Here are the best deals for the Apple Watch Series 5 in January 2021:
Apple Watch SE
The Apple Watch SE is probably the most considerable choice for Apple Watch that you can have now.
The Watch SE does not have a premium design like the flagship Apple Watch Series 6. In fact, it takes a lot of design hints from Series 3 and Series 4. However, the Apple Watch SE has many of the same features as other siblings. You can find the basic and useful functions of the flagship Series 6 models on the SE. These include a built-in accelerometer, hand-washing detection, sleep tracking, family setup, fall detection, and waterproof.  The only thing that's missing is the Always-on display. While it is not equipped with the A13 chip, the Watch SE has Apple's S5 processor, which makes it faster and more powerful than any older version. This affordable smartwatch will also run the latest OS7.
Apple Watch SE has the price starting at $279 for a 40mm version or $309 for the 44mm.
Here are the best Apple Watch SE deals in January 2021:
Apple Watch Series 3
Apple Watch Series 3 is the cheapest Apple Watch you can find on the market.
Despite being quite outdated in terms of design, the Series 3 is still an excellent smartwatch. It's a great entry-level Apple Watch if you are looking for a smartwatch with reliable battery life at an affordable cost. It offers many of the same features found in the newer models like solid fitness tracking, a water proof design, and Apple Music streaming capabilities. The fitness tracking features on the Apple Watch Series 3 are still among the best ones that you can find on any other smartwatches. This is thanks to the built-in barometric altimeter that Apple equipped on this series.
The regular price for the 38mm Series 3 is $199 and $229 for the 42mm
Here are the best Apple Watch Series 3 Deals in January 2021:
And there you go, these are the best deals for Apple Watch that you can get in January 2021. We will continue to update this article if any new deal pops up. So make sure you stay tuned.