The long wait is over! Apple's September event is here. On 10 a.m September 15th, Apple has held its new product launch event. As expected, the event was hosted as the form of a live stream like the recent WWDC due to the COVID-19 pandemic. But instead of taking the stage to go over everything new like in the WWDC, this event uses the Apple Park as its stage. So what products did Apple introduce? Here is our review of this morning event to help you have a better look at it.
Apple Watch Series 6
The first product introduced in this event is the Apple Watch Series 6. Jeff William – Apple's chief operating officer took responsibility to reveal this product. Along with the new watch, WatchOS 7 was also introduced. This year, WatchOS 7 adds several important health features including a new sleep app, handwashing auto-detection, and especially the new VO2 Max measurement. The VO2 Max measurement is an approved method to predict your health state.
According to Jeff, the Apple Watch Series 6 will be the most colorful lineup ever. There will be 4 new unique case colors: Blue-Aluminum, Classic Golden Stainless Steel, Graphite, and the brand new Apple Red Product. The watch band's design also gets improvements. Now they will use a simple one-piece band called the Simple Loop with no claps, no buckle, and made from silicone
The blood oxygen level feature is also added. This is one of the most expected features to come in the new Apple Watch Series 6. Now you can measure your blood oxygen level right from your wrist. With a new health sensor, the Series 6 blood oxygen app will take you only 15 seconds to do a measurement.
Series 6 is equipped with a powerful dual-processor based on the A13 Bionic of the iPhone 11. In addition, there are bigs improvements in the display especially Watch Faces. Now you can add more features to the faces, use Memoji as a watch face, or get specific faces that suit your work. The new series also get a Family Setup feature in which you can use your iPhone to pair watches for your family members an manage them all.
Apple Watch Series 6 price now is From $399
Apple Watch SE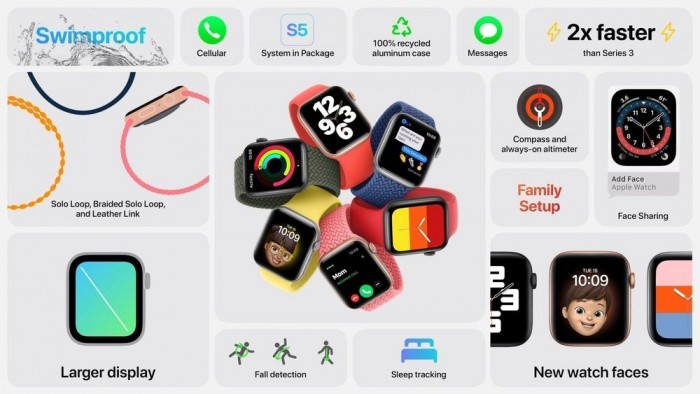 The SE version was previously revealed that it is based on the Apple Watch Series 3 and is intended to lower the threshold for Apple's smartwatches. However, the Apple Watch SE has still integrated the core of Series 5, which is twice as fast as the Series 3. 
This version will have an expansive Retina display so you can see more at a glance. It is also equipped with advanced sensors to track all the ways you move.  Powerful features to keep you healthy and safe. There will be cellular models that can make phone calls or messengers even without your phone. SE version will have the same accelerometer, heart rate monitor, electronic compass, gyroscope, motion sensor, fall detection, and other functions as the Series 6.
You can get the Apple Watch SE with a more affordable price: From $279
New Fitness App – Apple Fitness+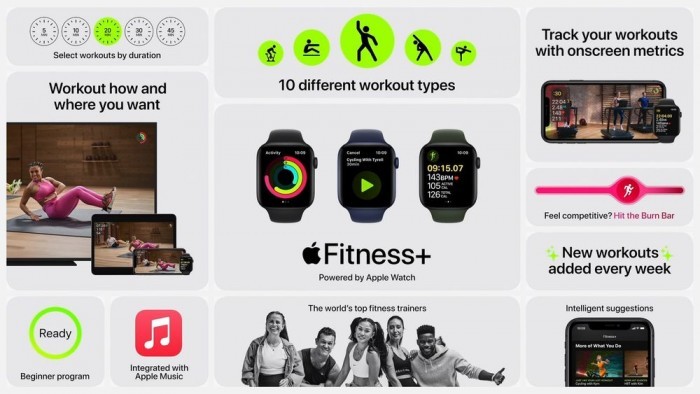 Fitness+ is a new service powered by the Apple Watch to inspire you to get fit and stay fit. You will find this service inside the Fitness app on your iPhone With Fitness+, you can simply choose a type of workout you want to do in the catalog videos on your iPhone, iPad, or Apple TV. When you start the videos, they will initiate the correct workout in your Apple Watch workout app. Everything you need to do is follow the trainer's instruction in the video to begin your workout. There are 10 different types of workout in this service so everyone can use Fitness+ to get fit. This including yoga, cycling, dancing, strength, treadmill, core, and rowling.
Your training metrics like heart rate, calories burned, or time lasted will be recorded by your Apple Watch. Those metrics will also be sent to the screen you are viewing the workout by real-time. The activity ring on your screen will let you know how the workout is helping you make progress towards close your rings for the day. If you manage to close one of your rings during the workout, you won't miss a congratulation notification. After you finish a workout, all the data captured will display on the summary screen. And if you also an Apple Music subscriber, you can play your playlist easily from the app during your workout.
The registration fee for the Fitness + service is $9.99 per month or $79.99 per year. You can also share your account with family/friends. This service won't launch until later this year, and will only be available in select countries. Consumers who purchase a new Apple Watch Series can enjoy this service for free for 3 months
Apple One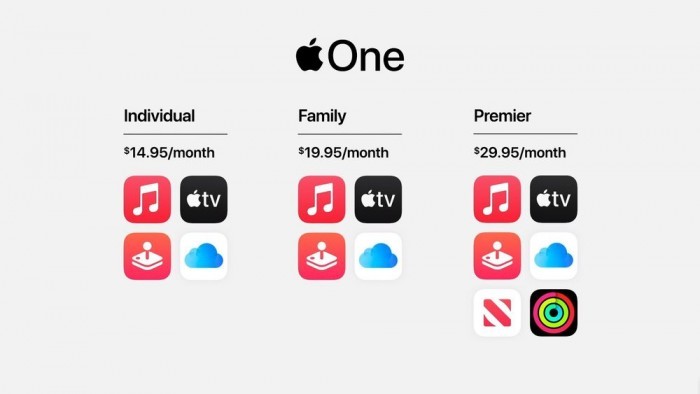 This service is introduced to deal with multiple subscriptions. Apple One bundles up to six amazing Apple services into one easy subscription. This including 3 different plans with different price. You should get a plan that's right for you or for your whole family. Starting with the individual plan, which will offer you the best of entertainment. This plan is including Apple Music, Apple Arcade, Apple TV+, and 50GB of iCloud storage. Next, the family plan lets you share all those services with up to 5 family members plus 200GB of iCloud. And all members have private access to each service, across all their devices. The Primer plan will only available in some countries with all the mentioned services plus Apple News+, Fitness+, and 2TB of iCloud.
Apple One will be available this Fall. The Individual plan is $14.95 per month, the Family plan is $19.95 per month, and the Premier plan is $29.95 per month.
iPad 8th Generation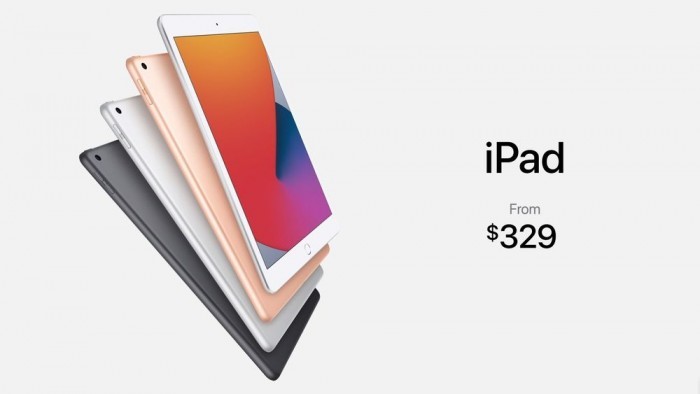 The new iPad generation is much more powerful than ever. In terms of appearance design. Now the chip inside has been upgraded to A12 Bionic, CPU performance has increased by 40%, and GPU performance jumped by 2 times. The new Neural Engine even enables powerful features like handwriting recognition in Notes. However, there are not many changes in appearance in the new iPad 8th Generation. They will have a 10.2-inch Retina display with incredible detail and vivid colors. The built-in FaceTime HD camera and 8MP back camera allow you to snap amazing photos, shoot epic videos, scan documents, make FaceTime calls, and experience AR
The 8th Generation will fully support Apple's accessories including the Apple Pencil which will improve note-taking, drawing, or designing experience on the iPad. And you can pair an Xbox Wireless Controller with Bluetooth, PlayStation DualShock controller, or MFi game controller with your iPad to create the ultimate portable game console.
The iPad 8th Generation price starts at $329 and $299 for education customers. You can order this product right now and it will be available this Friday.
Redesigned iPad Air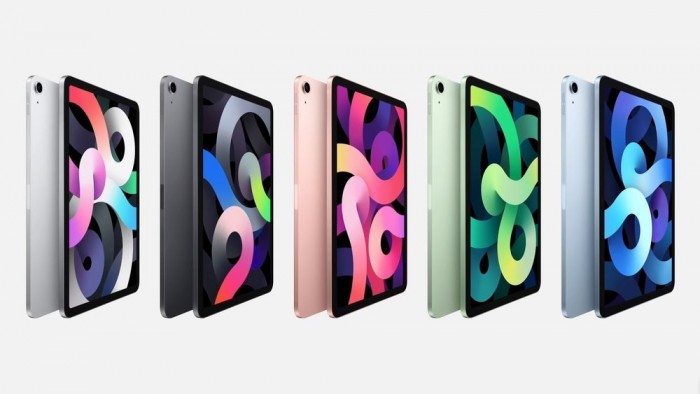 The new iPad Air has a thin and light closure and no border design. It features a beautiful all-screen display with a 10.9‑inch Liquid Retina display. The new design comes in 5 gorgeous colors including the new rose gold, green, and sky blue finish. Touch ID is now built into the top button for fast, easy, and secure authentication.
Like the new iPad 8th Generation, iPad Air also gets a big upgrade in power. Now it has an A14 Bionic chip featuring 40% faster CPU, 30% faster graphics, and 2x faster machine learning with next-generation Neural Engine. The front 7MP camera supports 1080p video calling. The 12MP back camera supports 4K + enhanced anti-shake video recording. On top of that, iPad Air will support Wifi-6 and LTE to help you get the fastest connection anytime, anywhere. As it also supports the Apple Pencil, Magic Keyboard, and Smart Keyboard Folio, you will have no problem creating your own masterpiece on this tablet. In addition, iPad Air features the USB-C multi-function interface that can be easily connected to peripherals such as digital cameras.
The new iPad Air starts at $ 599 and will be available next month
The Verdict
There you go, now you know all the news products that Apple introduced in this September event. Unfortunately, iPhone 12 was not released this time and we only get the new Apple Watch Series 6, iPad 8th Generation, and new iPad Air. Tomorrow, iOS 14, iPadOS 14, and watchOS 7 will be released. So what do you think about the new Apple products? We'd love to hear your opinions in the comments!