The newly-released Mac models are all equipped with the same M1 chip. Although they all offer an impressive performance, choosing between the two comes down to RAM options. Of course, it is important to get the M1-based Mac with the right amount of RAM since there is no upgrade option from Apple. However, is it really worth an extra $200 to upgrade from 8GB to 16GB? Knowing this struggle, Max Tech, a well-known YouTuber made a video to show some performance differences between the 8GB and 16GB RAM options of 13-inch M1 MacBook Pro. If you haven't watched this video yet, here are a couple of things you need to know about.
Geekbench 5 CPU Test and Cinebench 23 CPU Stress Test
These are the first tests that Max Tech went through. As these tests are mostly CPU-based, the benchmark scores on both 8Gb and 16Gb version of the M1 Mac Pro are not much different
Logic Pro Music Production Test
Next, Max Tech lets both models render over 90 music tracks in the Logic pro music production test. The test really put all models through its paces as it took up so much RAM and the finish time was the same. In fact, when the tester added more tracks to the test, the 16GB version got a System Overloaded error while the 8GB didn't. Therefore, RAM is probably not a big deal at least when you run multiple tracks of music at the same time.
Max Tech XCode Benchmark
Max Tech also used Xcode to mimic the compiler code. The 8GB version took about 136 seconds to compile code. Meanwhile, the 16GB version only took 122 seconds, which means the 16GB model is only about 10% faster than the 8GB variant.
Lightroom Classic Photo Editing
This is one of the most RAM-intensive apps on Mac. So Max Tech used this app to see how both models performed when it comes to exporting 8K RAW R3D to 4K. And this is where the biggest difference showed up. The 8GB version will take 13 minutes and 57 seconds to complete this task. Meanwhile, it only took 5 minutes and 59 seconds for the 16Gb to complete it. This is a very impressive speed on the 16GB model. In fact, it can be on par with the $3,499 16 -inch MacBook Pro 2019 with Core i9 and 32GB of RAM.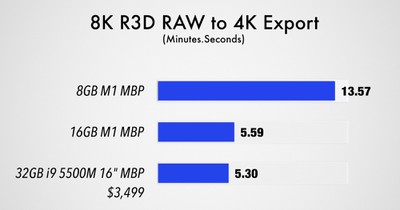 There are also some small differences when it comes to Lightroom Classic 50 42MP RAW export tests. The result between these 2 models was quite close. However, the 16GB M1 MacBook Pro even beat out a $2,300 iMac on this test.
4K H246 Video Editing
When exporting 4K video with this app, both 8GB and 16GB finished in the same amount of time. This is because the video encoder has limited the speed on the 16GB model. However, both devices showed an impressive speed as they even surpassed the 16 -inch MacBook Pro 2019.
The Verdict
There are surely some differences in performance between the 8GB and 16GB RAM options of the M1 MacBook Pro 2020. However, the differences aren't exactly night and day to the point where it might be worth shelling out extra money for more RAM. Max Tech's video has shown that the 8GB RAM model never felt slow or sluggish due to the lack of RAM. Meanwhile, the 16GB offers better performance when handling more complicated or intensive tasks.
So which one suits you? If you are an user with basic need, the 8GB variant is good enough for your daily need. Meanwhile, the 16GB model is a better option for those who want to do some video editing and rendering.
Was this article helpful?