Although it is not the ideal operating system for gaming, when it comes to working and processing data, the macOS is still a great choice. In fact, there are a lot of apps on the Appstore that are well-optimized to help you in your work. If you are in need of a good, reliable sound recording software for everyday work, entertainment, music mixing, or video making, I have some for you. Here are the best sound recording Apps for Mac
Audacity
Price: Free
Audacity is an extremely useful sound recording and processing software that is available for FREE on Mac. If you are new to sound recording and music making, this app won't let you down. It has an user-friendly interface so you will not have any trouble getting used to it. You can easily record, edit, trim, or add effect on sounds. These apps also allow you to work on multiple tracks or songs at the same time
Features:
Clean interface, easy to use
Support for direct recording for both sound and music.
Great noise reduction.
Different effects for editing sounds, such as: Compressor, Amplify, Normalize, Fade In/Fade Out, and Adjustable Fade
Support importing/exporting sound files in different formats
Check out Audacity here
Apowersoft Audio Recorder
Price: Free
Apowersoft Audio Recorder is a handy software that provides the easiest way to record high quality audio. You won't find any other app with better UI out there. It not only helps you record conversation and chats via microphone, but also allows you to capture the audio from media players, browsers, streams, or even other apps. Basically you can record anything you want.  
Features
User-friendly recording tool
Record any sound from different platforms
Easy to Use.
Smart songs recognition.
Split recordings into separate audio files. 
You can add ID tags to your file for better organization
Supports the most popular audio formats
Get Apowersoft Audio Recorder at its home page
Adobe Audition
Price: $20.99/ month
Adobe Audition is one of the best apps for sound recording for macOS. It has a very clean and user friendly interface so you can get used to it easily. However, it is equipped with powerful plugins and tools. This app will help you in simple jobs like recording and editing sounds or even professional studio works.
Features
Nice and clean UI, good for starters
Provide all the tools you need for sounds recording and processing
Enchant and improve the sound quality of your records
Supports all the audio formats
Powerful VST / AU plugins set for professional works
Turn an ordinary and poor quality song into a work of art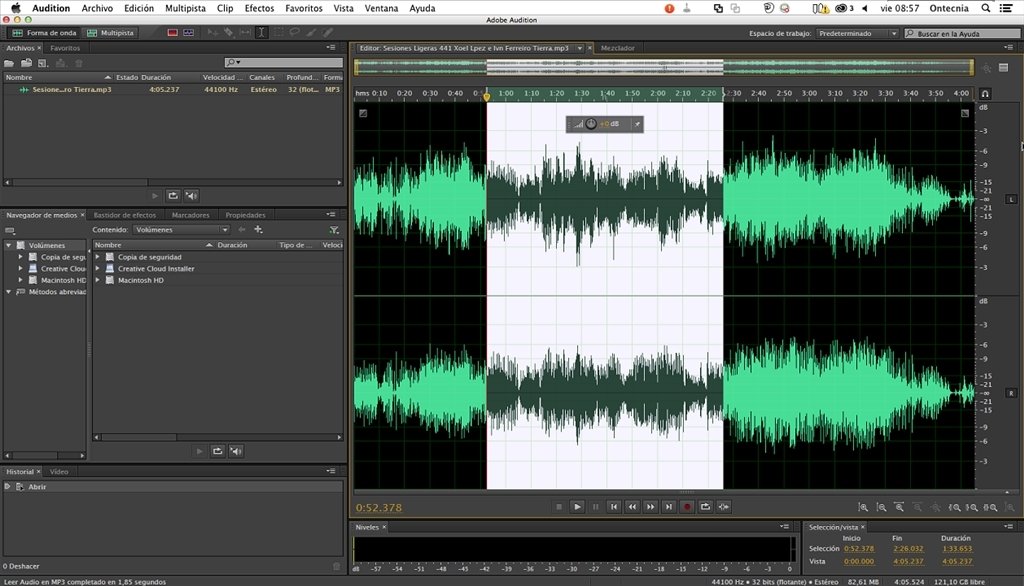 You can subscribe to an Adobe plan here to get this app.
WavePad
Price: Free
WavePad is a free and functional audio editor for MacBook. It supports a large number of audio file types. The best part about WavePad is that it allows you to work on multiple files at the same time, up to thousands of files .The app supports audio highlighting, a variety of common effects, and a number of text-to-speech and speech-processing tools. The multi-window interface takes a bit of getting used to, but as a free WAV or MP3 editor for Mac, it's well worth a look.
Features
Recording and editing music, voice and audio files.
Lots of effects and tools, including Split, Join, Cut, Copy, Auto-trim, Silence, Pitch Shift.
Import and export more than 15 popular audio and music file formats.
Processing batches of files at the same time.
Support advanced tools like text-to-speech, voice changer and audio spectrum analysis.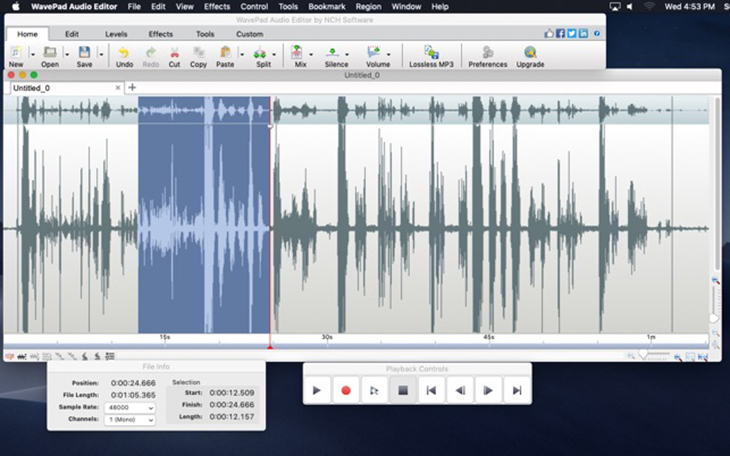 Get WavePad here
There you go, this is my top 4 best sound recording apps for Mac. Do you have any other apps that you love? Let me know in the comments!
Was this article helpful?